CHAPTER III.
The Spirit of Plantation—Attempted Plantation of Sir Thomas Smith—of the Earl of Essex—The War of Desmond—Munster pacified—Plantation of Munster Settlement of the Montgomeries in the Ardes of Down.
The plantation of James, though the most consummate and finished of all the Irish plantations, was by no means an original thought. From the first settlement of the English in Ireland, they had but one object—the acquisition of estates at the expense of the natives. Hence the latter were always considered in the light of enemies, who were to be exterminated; or barbarians, who were to be civilized by the simple process of robbery. Religion gave another excuse to fraud and plunder; the Catholics, who were the owners of the soil, chiefs and people, required the purifying influences of the Reformation, and these they received by the confiscation of their lands, and the violent seizure of their property.
Whatever was the pretence, the end was the same. To punish "disloyal rebels and traitors"—to civilize a barbarous people—to establish true religion;—for such wise and Christian purposes there appeared to the English government in Ireland, and the "hungry vultures that haunted the Castle," no surer means than to rob and defraud the natives, to root them out by the sword, and to plant Scotchmen and Englishmen in their ancient homes. And there are not wanting philosophic historians who look complacently on this process of civilization, and pious divines who can see nothing but the extension of true religious principle in acts of wholesale national spoliation.*
The reign of Elizabeth, so pregnant with every form of oppression, was abundant in instances of the systematic spoliation to which the name of Plantation has been given; and it is expedient before proceeding to detail the projects and performances of James, that we should give a cursory glance at the attempts made by his sensual, selfish, and despotic predecessor.**
Cox presents us with the germ of systematic plunder. "He says that so far back as the year 1559 it was one of the instructions given to the Earl of Sussex when he came over as Lord Deputy "to people Ulster with English." But Sussex was sufficiently engaged in Leinster, where he had reduced Leix and Offally into shire land by the name of King's and Queen's County, and where he was spreading civilization by the usual agencies of fire and sword, and he had no time to fulfil these commands of the English court. An offer was, however, made ten years later by Sir Thomas Gerrard of Lancashire for the planting of the Glynnes and Clandeboy. His proposal is of the date of the 15th March, 1569. But, however agreeable any scheme of the kind might have been to the taste of the court, no steps were at that time taken in pursuance of Gerrard's proposition.
The first attempt that was absolutely made was that of Sir Thomas Smith, the Secretary to the Queen, in 1572. Sir Thomas Smith was of a speculative turn and had a family to provide for. He did not look abroad for foreign settlements, f but conceived the sensible notion of making an ample provision for a bastard son, by a grant of Irish lands; and circumstances favoured his paternal intentions. In the Parliament of 1569 Shane O'Neill had been attainted for various treasons, conspiracies, and rebellions, and a great part of his territories of Antrim and Down had been forfeited to the Crown. From the Glynnes of Antrim to the Ardes of Down, all passed by this forfeiture, and Sir Thomas Smith represented to the Queen the propriety of colonizing the forfeited estates with English settlers, who having an interest in the soil, would be willing to oppose the natives without expense to the Crown.
*Hume, Hallam, and Reid passim. Reid is a Presbyterian, one of the old Scotch spawn of James's Plantation. It would be strange if, in his impartial eyes the scheme of plunder which James executed would not find special favour; and it has.
**In 1582, Sir John Perrott presented to Elizabeth his "opinion for the suppressing of rebellion, and the well governing of Ireland," in which he recommends the cutting down the wood for the navy and the settlement of shipwrights in convenient places, Cork, Youghal, Wexford, and Belfast. Nothing appears to have come from this plan of an useful plantation. It was not sufficiently acquisitive for the taste of the Queen's advisers.
The adventurous youth was commissioned to lead his colony into the Ardes in Down—an ancient territory of the O'Neills. It is a peninsula eighteen miles long. To every footman of his goodly company of plunderers were granted one hundred and twenty acres; to every horseman one hundred and forty at the moderate rent of a penny by the acre. The result was that the districts they settled in became a wilderness of savage warfare; when unfortunately for the interests of "English civility" and of the youthful planter, "the whole design was defeated by the assassination of young Smith, who fell by the treachery of one of the O'Neills."
Another, and equally unsuccessful, attempt to plant Ulster, was made in 1573, by a more distinguished minion of the Queen, Walter Devereux, Earl of Essex. Elizabeth embarked with that noble Earl in his project of colonizing Clan-aodh-buidhe, in Ulster.* The first attempt at colonization had turned a fertile and quiet district into a scene of war and desolation; and a similar attempt with similar results was now to be made under the auspices of the Queen and the Earl.
The contract between Essex and Elizabeth is variously stated. Lodge in his sketch of the Earl, states, that Phelim O'Neill had possessed himself of a portion of Clan-aodh-buidhe, (or Clan-hugh-boy, or Clandeboy,) from which Essex undertook to dislodge him, on condition that Elizabeth would grant to the conquerors and their leader one half of the subdued district, for the defence of which he stipulated that he would maintain for two years, at his own cost, two hundred horse and four hundred foot; and to provide himself with the means, he mortgaged his estates in Essex to Elizabeth for ten thousand pounds.** Lingard says, that the agreement was, that the Queen and the Earl should furnish each half the expense, and should divide the colony when it should be peopled with 2000 settlers. This bargain of fraud and crime was sealed by Essex with a desperate act of villainy.
On his arrival in Ulster, he met a most formidable opposition from Phelim O'Neill, which resulted after a great deal of hard lighting in a solemn peace between them. "However," say the manuscript Irish annals of Elizabeth's reign, "at a feast wherein the Earl entertained that chieftain, and at the end of their good cheer, O'Neill with his wife were seized; the friends who attended were put to the sword before their faces; Phelim, with his wife and brother, were conveyed to Dublin, where they were cut up in quarters. (Anno. 1573.) The execution gave universal discontent and horror."
*Amongst the crimes which stain the memory of Elizabeth, one of the worst is that of having been a partner of Sir John Hawkins, the great seaman, in prosecuting the slave trade. I mention it, because it indicates that cupidity of nature and that indifference to human suffering, which caused Ireland to endure so much at her hands. The renowned mariner, who had, like most of the seamen of the day, a dash of the pirate in him, made several voyages to the coast of Africa for negroes—bartering hides, sugar, and ginger for the human commodity. In 1567 he fitted out a piratical fleet of six vessels for the purposes of this traffic, and it depends much on the estimate we have formed of Elizabeth, whether we shall be greatly surprised at learning that two of the largest pirates belonged to her. This adventure was not much more successful than her bargain with Essex— Lingard vol. 8, p. 259. The edition of Lingard used in this book is Dolman's, London 1844.
**Lingard, vol. 8, p. 128. Mr. Shirley in his excellent book, says, that the State Paper Office contains many interesting documents connected with this, as it proved, unfortunate expedition. "A note of the Indenture between the Queen and the Earl of Essex, dated July 23, 15th of Elizabeth, touching the moiety of Clanhuboy," and a paper amongst the Carew manuscripts entitled, "The offer of Walter, Earle of Essex, touching the inhabitinge of the North of Ireland." It appears by these documents, that Essex received from the Crown, a "Grant of the dominion of Clanhuboy, Rowte, Glynnes, Raughlins, and all other lands belonging to those countries in the Earldome of Ulster, and all lands and tenements from Knockfergus Bay, including the river of Belfast directly to the next part of the Loghe end, from the Loghe to the Bann, and so to the sea along the Bann, and from the Bann all about the land by the sea coast, including also the Isle of Raughlins and all the Isles upon the sea coaste, till Knockfergus Bay and all lands within that district."—Shirley's Dominion of Farney, p. 49.
But this atrocity was of little service to the Earl's plantation. His provisions were unsound, and his troops ill provided with arms: he was abandoned by Lords Dacre and Rich, and many other gentlemen adventurers, and the authorities in Ireland threw every obstacle in his way. He relinquished in disgust his government of Ulster, and the lands which he had seized upon reverted to their old possessors, a Scotch clan of the Mac Donnells, who had made settlements there and intermarried with the natives.* The only relics of the attempted Plantation, the only blessings it left behind were the founders of the noble families of Downshire, Templetown, and Massarene. Others also of the officers of Essex, less noble, remained; such as the Dalways and the Dobbs, &c. Neither Essex nor his mistress profited much by this foray.
The greatest Plantation (before that of James) was that which ensued at the termination of the war against the last Desmond, and after the entire destruction of his princely house. The great earl possessed vast estates, upon which the eyes of the English adventurers and undertakers had long been lovingly cast. In Kerry, Cork, "Waterford, and Limerick, his prodigious principality extended over 150 miles, and contained 574,624 acres, on which were built numerous houses and castles.
This extensive territory was covered with great herds of cattle, and presented an aspect of high cultivation. The Earl was Lord Palatine of Kerry, and Lord of Imokilly. His vassals were numerous and there were above 500 gentlemen of his ancient lineage.** He possessed various rights of tolls, wrecks and other royalties. His barbaric wealth and splendour were too tempting, to escape the acute and watchful spoliators who formed the retinue of English government in Ireland—his doom was sealed by his very greatness; nor did the partizans of government affect to deny that his estates were too enormous and his dignities too numerous to be enjoyed by a subject.
At the commencement of the great Geraldine war, the earl had stood aloof; he had denounced the atrocities committed by his brother Sir John Desmond; but his professions of royalty were disregarded, and Sir William Pelham, the Lord Deputy, summoned him to surrender himself a prisoner within 20 days. He refused, for he well knew what his fate would have been if he were mad enough to trust himself to the hands of an English Deputy. "It is quarrel and cause enough to bring a sheep that is fat to the shambles."
*Walter Devereux died suddenly in Dublin, some said poisoned by the procurement of Leicester, who had, during Essex's absence in Ireland, two children by his faithless Countess. There is a great deal of immoral gossip about the matter, which will be found in a note in Lingard's History, vol. 8, p. 129. Elizabeth was much annoyed with Leicester's intrigue with the Countess. But Leicester was then in high favour with the maiden Queen.
**He levied coyne and livery upon his tennants in Limerick. He had all the wrecks of the sea in the ports and creeks of Kerry, and a certain sum out of every fishing boat in the port of Ventry and Ferreter's Island. It was said that he was able to raise, at a call, 2000 foot and 600 horse."—Smith's History of Cork, vol. 1, p. 51.
He was thus precipitated into war, which he waged with great spirit and energy against Pelham, and afterwards against the inhuman Grey. Never in the annals of cruelty, not in those of Pizzaro and Cortes or any other of those foul adventurers who under the banners of the Cross performed all the atrocities of hell, has the war with Desmond been equalled for its horrors.*
*"After Desmond's death, and the entire suppression of his rebellion, unheard-of cruelties were committed on the provincials of Munster (his supposed former adherents) by the English commanders. Great companies of these provincials, men, women and children, were often forced into castles and other houses, which were then set on fire. And if any of them attempted to escape from the flames, they were shot or stabbed, by the soldiers, who guarded them. It was a diversion to these monsters of men, to take up infants on the point of their spears, and whirl them about in their agony; apologizing for their cruelty by saying, that 'if they suffered them to grow to live up, they would become popish rebels.' Many of their women were found hanging on trees, with their children at their breasts, strangled with the mother's hair."—Lombard. Comment, de Hibern. p. 535, &c. The killing of infants and ripping up of women appear a favourite device of brutal English cruelty. A historian, certainly not partial to Ireland, says "That Sir Willam St. Leger, (Lord President of Munster,) was so cruel and merciless, that he caused men and women to be most execrably executed; that he ordered amongst others a woman great with child to be ripped up, from whose womb three babes were taken out, through every one of whose little bodies his soldiers thrust their weapons."—Carte's Ormond, vol. 3, p. 51. Yet this great brutality is not original to the barbarians of the fifteenth and sixteenth centuries; its practice may have been left in England with other monuments of the most savage of her many conquerors, the Danes.
"Let it not be imagined that our Irish annalists have drawn an exaggerated picture of Danish barbarities. The English historians portray their cruelties in equally strong colours. The cruel Gutrum, (says one of these historians,) arrived in England, a.d. 878, with an army of heathenish Danes, equally cruel as himself, who, like barbarous savages, destroyed all before them with fire and sword, involving cities, towns and villages with their inhabitants in devouring flames, and cutting those in pieces with their battle-axes who attempted to escape from their burning houses. And again, hoary, headed old men were seen lying with their throats cut before their own doors, the streets covered with the bodies of young men and children without heads, hands, or feet, and of matrons and virgins who had been first publickly dishonoured, and then put to death, and indecently exposed to public gaze."—J. Wallingford apud Gale, p. 536. "These barbarians, say the English writers, were accustomed to tear babes from the bosoms of their mothers, toss them up into the air, and catch them in their descent, on the points of their spears, as if cruelty and infanticide were sports congenial to their souls."—Anglia Sacra, t, 2. p. 155. The English in their campaigns in Ireland appear to have been animated by relentless enmity to the natural fertility of the country:—"The soldiers," as we learn from Moryson, "encouraged by the example of their officers, every where cut down the standing corn with their swords, and devised every means to deprive the wretched inhabitants of all the necessaries of life. Famine was judged the speediest and most effectual means of reducing them. The like expedient was practised in the northern provinces. The governor of Carrickfergus, Sir Arthur Chichester, issued from his quarters, and for twenty miles round reduced the country to a desert. Sir Samuel Bagenal, with the garrison of Newry, proceeded with the same severity, and laid waste all the adjacent lands."—M'Skimmin's Carrickfergus, p. 38.
Leland says, that Desmond who had engaged in the rebellion inconsiderately, (and from a man so purely English in his politics, this may be taken as an exculpation,) now saw "the whole extent of his territory ravaged and depopulated without mercy. His miserable vassals were abandoned to daily slaughter, or to the still more horrid calamity of famine." Fire, famine, and slaughter were let loose upon the doomed districts, and the worse than cannibal English soldiers relentlessly destroyed men, women, and infants. One of the plunderers who afterwards profited by the spoil of the Geraldine, and whose sweet poetry has earned for him a fame for gentleness, his political writings scarcely merit, has, in terse and picturesque language, chronicled the horrors which made his fortune.* Amongst the most distinguished for rapacity and bloodthirstiness in this campaign was Sir Walter Raleigh; he executed every bloody order he received from Grey without remorse; and when we remember his conduct in Ireland we are almost involuntarily reconciled to that sure but slow dispensation of providence which at length reached and crushed him.**
*Leland, vol. 2, p. 277. t Golden Fort surrendered at discretion. Grey decided on an example, and ordered the garrison to be butchered. Raleigh executed the butchery; and the gentle Spenser defended it. He calls Grey "the good Lord."
**By a singular propriety, he was found guilty of treasons he had not committed, and ordered for execution by the meanest tyrant that ever swayed a sceptre. There was much to redeem his early crimes. He was an ornament to literature, a good historian, and a graceful poet.
The house of Desmond fell before the arms of England, and its last Earl met an obscure and painful death at the hands of a traitor whose name has been preserved to infamy.* His death ended the war though not the butcheries of the soldiers, and when Munster was pacified by extermination, (the most feasible mode of pacification as yet adopted,**) and the Queen was declared to be reigning over ashes and carcasses, the Parliament was summoned, 1585, and the late Earl of Desmond was attainted. A feoffment made by him was produced to save the forfeiture, which was said to be of a date prior to the rebellion; there were some honest men in the house, and they were about to decide in favour of the point. But an original document, being the minute of an association to be formed against the Queen's government, was produced by the crown, bearing date before the feoffment. The document was received and the feoffment was declared fraudulent, though after the drawing up of the former and before the latter, Desmond had submitted and had been received into favour. The late Earl of Desmond and about one hundred and forty of his associates were then attainted, and all their honours and estates declared to be forfeited.***
*Daniel Kelly of Morierta. He was, though first rewarded for his services, afterwards hanged at Tyburn.
**Moore's "Captain Rock," p. 50, a good history of Ireland.
***An inquistion was afterwards held to discover the persons who were engaged in Desmond's rebellion. The following list may be interesting; and it must be remembered that nearly all these were attainted:—" Patrick Condon, of Cloghleigh, esq.; Sir John Desmond, knt.; John Pigott, esq.; Sir John Fitz-Gerald, knt.; Sir James Fitz-Gerald, knt.; Edmund Fitz-Gerald Fitz-Gibbon, of Curribehy; Edmund Power, of Ballyinn; Donnough Mac Cormac Oge, of Loughfaily; Dermot Oge O'Leary, of Carrignecuragh; Richard Fitz-Garret, of Drumada; Dermot Mac Edmund Oge, of Bantry; Teig Mac Edmund Oge, of the same; Conogher Mac Daniel Mac Rory, of the same; Teig Mac Daniel Mac Rory, of the same; Teig Roe Mac Fineen, of the same; Dermot Mac Eineen, of the same; Eugene Mac Fineen, of the same; Daniel Mac Conogher Mac Mahony, of Rossbrin; Maurice Fitz-Gerald, of Carigoline; Ulick Barret, of Curribehy; Cormac Mac Carty; David Mac Gibbon, of Coshnekily; Maurice Fitz-Edmund Garret of Rathcourcy; John Fitz-Garret Mac Shane of the Great Wood; Gibbon Roe Mac Shane Oge, of the same; Conogher O' Mahony, of Castlemahon; Rory O'Donoghoe, of Ross-Donoghoe: John Barry, of Ballygoran; James Mac Conogher, of Drumbeg; James Fitz-John, of Poulinkerry; John Fitz-David Condon, of Kilbree; Richard Fitz-David, of Rahenisky; Feneen Mac Art, of Downbolloge; Gerald Fitz-Richard, of Ballynaclashy; Art Mac Donnel Mac Art, of Glanprehan; Thady O'Keif, of Knockaregan; Edward Barry, of Bragoge; Richard Magner, of Castle-magner; John Fitz-Edmond, of Ballymarter: John Fitz-James Fitz-Edmond, of Tymacmague; Garret Fitz-Richard Fitz-Morris, of Ballintemple; John Fitz-Garret, of Dromada; Martin Fitz-Richard Fitz-Gibbon, of Curribehy; John Fitz-Edmond, of Ballycrenan; Patrick Callaghan, of Clonmeene; Richard Rynferk, of Rinkinfecky; Garret Fitz-John, alias Max; Robinson, of Ballymacudy; John Supple, of Ightermurragh; Fordorough Mac William Mac Brien, of Kilnatoragh; William White, of White's-island; Edmund Fitz-William Oge, of Garran-James; Richard Mac Morris, of Lisquinlan; Gerald Supple, of Ightermuragh; Thomas Mac Carty, of Kilbolane; Theobald Roch, of Creg; James Gare, of the Island of Inchydonny; Teig Mulrian, of Owny O'Mulrian. In the same Inquisition, the manor of Glyn, alias Cullin, the castle and 30 carrucats of land of Cloghroe, the island of Inchydonny, and the ancient corporation of Ballynemony, were found to belong to the Queen.
The same jury enquired into the death of James Barret, of Barret's country, and made a return thereof.
They also presented the names of all persons whom they suspected were apt to work mischief, and were ill disposed to the government. They also made a return of all the abbeys and religious houses which were in this county, and became annexed to the crown. They presented the names of such persons, in this county (Cork), as held lands of the Queen, by knights service in capite; and died, leaving their heirs in minority, with the quantity and value of all such lands. They returned all such as alienated their lands without license; also, an account of lands concealed from her majesty in this county, which fell to the crown by escheat, attainder, suppression of abbeys, and who were then in possession of them. At the same time, there is another presentment of the grand jury of this county, shewing how, and in what manner, the earl of Desmond's rents were paid; and a list of all the Irish poets, chroniclers, and rhymers, that were then in this county. All which presentments are preserved in the Lambeth library, according to a catalogue of them among the MSS. in the library of Trinity College, Dublin Smith's History of Cork, vol. 1, pp. 51, 52.
The plunder which fell to the lot of the Queen and her English subjects was enormously large. Desmond's estates alone amounted to over half a million of acres. And thus, to use the language of her admirers, was every obstacle removed to Elizabeth's favourite scheme of re-peopling Minister (after having burned its towns, destroyed the dwellings of its people, and depopulated its broad lands) with an English colony. She forthwith ordered letters to be written to every county, to encourage the beggarly cadets of families to become undertakers in Ireland.* The forfeitures were divided into seignories, and granted by letters patent to English knights, esquires, and gentlemen, and they undertook to perform certain conditions mentioned in the Queen's articles for the plantation of the province. Hence the ominous name of Undertaker. Seven years were given to effect this desirable crusade of "civility" and reformation. The following is an abstract of these conditions:—
"'All forfeited lands were to be divided into manors and seigniories, containing 12,000, 8,000, 6,000, and 4,000 acres each, according to a plot laid down. The undertakers to have an estate in fee farm, yielding for each seigniory of 12,000 acres, for the first three years, £33 6s. 8d. sterl., viz. from 1590 to 1593, and from Mich. 1593, £66 13s. 4d. sterl., and rateably for every inferior seigniory, yielding, upon the death of the undertaker, the best beast, as an heriot. To be discharged of all taxes whatsoever, except subsidies levied by parliament. Bogs, mountains, &c. not to be included, till improved, and then to pay 1/2d. for each English acre. Licence to the undertakers to transport all commodities, duty free, into England, for five years. That none be admitted to have more than 12,000 acres. No English planter to be permitted to convey to any meer Irish. Every owner of 6,000 acres to inpark 600 for the breeding of horses, &c, and the other seigniories, a rateable proportion. The head of each plantation to be English, and the heirs females to marry none but of English birth; and none of the meer Irish to be maintained in any family there.
"'Each freeholder, from the year 1590, to furnish one horse, and horseman armed. Each principal undertaker for 12,000 acres, to supply three horsemen and six footmen, armed; and so rateably, for the other seigniories; and each copy-holder, one footman, armed. That for seven years to come, they shall not be obliged to travel out of Munster, upon any service; and after that time, no more than ten horsemen and twenty footmen, out of one seigniory of 12,000 acres, and so rateably; and such as serve out of Munster, to be paid by the queen.
"'That the queen will protect and defend the said seigniories, at her own charge, for seven years to come. All commodities brought from England, for the use of the same seigniories, to be duty free, for seven years. The acres to contain 16 feet and 1/2 to the perch, after the manner used in England. Dated 27th of June, 1586, 28 Eliz.'
"The plot of the queen's offer for the peopling of Munster: "'For a seigniory containing 12,000 acres the gentlemen were to have, for their own demesnes, 2,100 acres. Six farmers, 400 acres each. Six freeholders, 100 acres each; and lands to be appropriated for mean tenures (of 50, 25, 10 acres), 1,500 acres; whereon 36 families, at least, must be established. The other seigniories, of 8,000, 6,000, and 4,000 acres, were laid out in the same manner, in proportion. Each undertaker was to people his seigniory in seven years.'"
*There is an elaborate argument in the Desiderata Curiosa Hibernica on a subject not apparently requiring much logic, namely, that it would be highly beneficial to younger brothers to have a share in the confiscations.—Des. Hib. Cur.
These bountiful terms were construed with great liberality on behalf of some of the most deserving of the Queen's servants in Ireland. Though 12,000 acres were fixed on as the largest undertaker's portion, the Queen, remembering his services at Golden Fort, granted to Sir Walter Raleigh, 42,000 acres in Cork and Waterford. The letters patent to Raleigh are dated 16th October, 1586. The other grantees of note in Cork were, beside Sir Walter—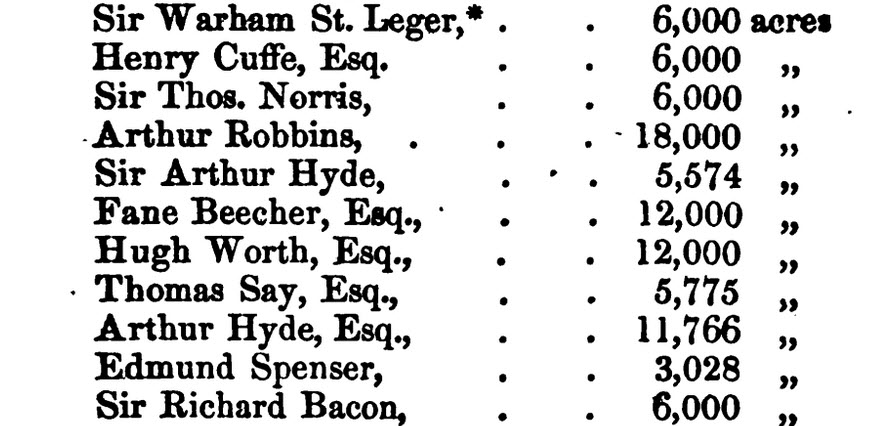 The grants in Limerick, Kerry, Tipperary, and Waterford were very great.
In Eilcoleman Castle, near Doneraile, in the County of Waterford, which had been one of the ruined residences of the Earl of Desmond, and which stood on the banks of a fine lake in the midst of a vast plain, terminated to the east by the Waterford Mountains, Spenser wrote a great deal of his Faerie Queene. "It must have been," says Smith, "(when the adjacent uplands were wooded) a most pleasant and romantic situation." The same writer adds, that it is a pity "that some friendly stone, which might be placed at a small expense in the ruin of the Castle, does not point out its once immortal inhabitant." His State of Ireland is probably a sufficient memorial of the poet.
*Ancestor of the Viscounts Doneraile. He was killed near Cork, in a battle with Hugh Maguire, Chief of Fermanagh, 4th March, 1600.
The date of Spenser's grant—"his exile to a region of barbarism," as the compilers of the "Encyclopedia Britannica" civilly say—was 1586. In the great war of the Irish League, his house at Kilcoleman was attached by the "rebels," and the poet escaped, leaving behind one of his infants, who was destroyed in the conflagration ensuing upon the attack. Worn down by the calamity, and ruined in circumstances, he died in an inn in King-street, Westminster, in 1598—9, and was buried near the grave of Chaucer (where he had always expressed a wish to lie), at the expense of the unfortunate Robert, Earl of Essex. Ben Jonson, in his conversations with Drummond, stated, "that the Irish, having robbed Spenser's goods, and burned his house, and a little child newly born, he and his wife escaped; and after, he died for lack of bread in King-street, and refused twenty pieces sent by my Lord of Essex, and said 'he was sorrie he had no time to spend them.'" One would pity the gentle poet, but that the calamity he met with "originated in his own rapacity of disposition, for being dissatisfied with his large grant of 3,000 acres, he attempted to add to their amount by oppression and injustice to the poor people around, and it was vengeance, and not what they called "rebellion," which brought this great misfortune to his door. His " State of Ireland" was not published for thirty-five years after his death.
The most striking feature in the conditions of this Plantation was, the exclusion of the owners of the soil from even the subordinate station of tenantry. No Irish were to be admitted to stand in that humble relation to the successful plunderers who usurped their lands—a provision of tyranny possibly the most impudent that ever was made. But it was disregarded; and historians of the school of Hume and Leland have the coolness to regret that the Plantation of Munster was a failure, because Raleigh, Hatton, Norris, St. Leger, Bouchier, and others of note, who shared most largely in the enormous fruits of spoliation, did not respect the wise provisions of "the plot of the Queen's offer;" and because, Leland says, "leases and conveyances were made to many of the Irishry." In many instances the lands were abandoned to the old possessors; and where the undertakers entered upon their seignories, they did not reside, but appointed idle, ignorant, corrupt, and oppressive agents. Neither did they comply with a still more necessary and wise condition of the "Queen's plot," namely, to make provisions for effectual defence. They were thriftless gamesters, these undertakers; they would enjoy as largely as they could the property of the people, but they were not honest enough to discharge the noble duties of proprietorship, nor wise enough to make due provision against the natural and just enmity of those whose plunder had enriched them. Behold a signal example of their story!— The most brilliant of these honourable robbers, Edmund Spenser, died a broken-hearted beggar in London, the capital of that country which he so splendidly enriched by his genius. What availed him then his three thousand acres in ancient Desmond?
The Munster Plantation, then, may be said to have entirely failed in its objects. The subsequent war of 1641* very materially unsettled the condition of things which the contrivers of the Plantation sought to establish—it neither naturalized in the south the Protestant religion, nor planted there an English population. It failed to fulfil the humane view of its devisers. It did not extirpate and utterly destroy the native growth of the soil—the strong Celtic tree that bends to the blast but is not broken, withstood the mighty shock—and failing in this it still more signally failed to effect what was after all but the base and lying pretence of the English legislation of these days, the introduction of a new "civilitie" amongst the unenlightened and barbarous natives.
*I am happy to say, that Mr. Chas. Duffy is charged with the duty, congenial to his patriotism and his feelings, and suited to his genius, of vindicating this great uprising from the fantastic calumnies of the fools of bigotry and the lies of history. The theme of a future volume of this library will be the "Rising of the North in 1641."
We have now seen something of the systematic Plantations which preceded our immediate subject. But there were some other settlements of a different nature, of which, to make our view complete, it is proper to give a fuller notice.
The fine, fertile, and generous soil of Ulster, probably because it was nearest to Scotland, the prolific mother of undertakers, appears to have been the favourite ground of planting speculation.* There the maiden hands of Gerrard, Smith, and Devereux were tried, and there the sweet taste of confiscation was acquired and cultivated.
About the year 1584. a thousand Scottish Highlanders, called "Redshanks," of the septs and families of the Cambiles (probably Campbells), Macdonnells, and Magalanes, led by Surleboy, a Scottish chieftain, invaded Ulster. Other marauding parties of their nation had already possessed themselves of the lands of Irish chieftains in the Glinnes and the Route in Antrim.**
*England, however, supplied her share in colonists, as we shall see:—"Early in James's reign a considerable colony had been brought from Devonshire by Sir Arthur Chichester, of which one part settled about Carrickfergus, and another in the district of Malone, adjoining to Belfast, where their descendants are still to be distinguished by their looks and manners, but particularly by the air of comfort about their dwellings, and a fondness for gardens and orchards. Near Belfast was likewise a colony from Lancashire and Cheshire, settled there, as it is said, by Sir Moyses Hill; but from Malone to Lisburn, and thence over the greater part of the barony of Massareene, and the southern part of the barony of Antrim, but especially towards the West, the country is mostly occupied by the descendants of English settlers, and some Welch, who came over in the reign of Elizabeth in great numbers, and also in the beginning of James I., with the different great families, that at various times obtained grants of land here."—Dubourdieu's Stat. Survey of the County of Antrim, Dub. 1812, p. 443, quoted in Historical Collections relative to Belfast, pp. 9, 10.
**These few facts are stated in a work entitled " The Government of Ireland under Sir John Perrott." London. 1626. See also "Reid's History," vol. i., p. 79.
It was at the beginning of the fifteenth century that the settlement of the Mac Donnells took place in Antrim. They were a younger branch of the Mac Donalds, who were "Kings and Lords of the Isles." One of them, Angus Oge, Lord of the Isles, married the daughter of O'Cahane, the chief of the O'Cahanes of Arachty. The marriage portion this distinguished lady brought her husband consisted of a number of "handsonme young men," whose posterity are yet in the Isles (1789), and are known by the peculiarity of their names to belong to that race.
John of Isle, the second son of John, Lord of the Western Isles, or the 'AEbrides, was established at the Glynnes, in Argyleshire; his descendants settled in the north of Ireland, one of whom was Alexander, who got a gold sword and silver gilt spurs from the Earl of Sussex, in 1557, for his services in Scotland, and the monastery of Glenarm and its lands were given to him. His son was Sorlebuidh (commonly written Surleboy), whose son was the first Earl of Antrim. Sorlebuidh married Mary, daughter of Conn O'Neill.
These invaders in time intermarried with the Irish, and became the most formidable enemies of England in her designs of settlement. It was ostensibly to root out this Scottish colony that Elizabeth sent Essex to Ireland; but his failure only fixed them more firmly in their place, and in 1603 James confirmed Sir Ronald Mac Donnell in the principality of the Route.
But a more singular settlement than this of the Scotch Redshanks was one effected by private speculation, namely, that of the Montgomeries in the Ardes of Down. The Montgomeries were a fertile and cunning race, but they came with clearer hands and a fairer title into our country than any of the Scotch or English speculators who have elbowed the people out of their lands since the English arrival. A pleasant, gossipping narrative is "the Montgomery Manuscripts,"* professing, as it does, to be "An Account of the Colonization of the Ardes in the County of Down, in the reigns of Elizabeth and James," and being, in fact, a collection of biography, illustrating the rise and progress of the Montgomery family, and the successful speculations they made in Ulster, where, "foreseeing it to be the stage to act upon, it being unsettled, and many forfeited lands thereon altogether wasted, they concluded to push for fortunes." From this work the facts connected with the fulfillment of these laudable expectations are derived.
*These Manuscripts, prepared by one of the family, which are collected into a book, and published in Belfast (at the News-Letter Office, 1830), originally appeared in the columns of that paper. They deserve republication in an attainable form.
From this work the facts connected with the fulfillment of these laudable expectations are derived. The head of this new and important settlement in the Ardes, was Hugh Montgomery, the sixth Laird (Esquire,) of Braidstane in Scotland; his father had married the daughter of Montgomery, Laird Haislhead, an ancient family descended of the Earls of Eglintown. The first laird of the name Robert Montgomery, was second son of Alexander Montgomery Earl of Eglintown. Hugh, the leader of the Montgomeries into Ireland, was thus a well descended adventurer, and in addition to his good birth, he possessed spirit and talent. The circumstances which led to his settlement in Down are these: In 1603, an affray took place in Belfast, between a party of soldiers and some servants of Conn O'Neill,* who had been sent with runlets to bring wine from that town to their master, "then in a great debauch at Castlereagh with his brothers, friends, and followers." The servants came back with more blood than wine, having got into a melee with some soldiers, who captured the runlets and sent home the messengers with a severe handling. They confessed to Conn that they were more numerous than the soldiers, on which, "in rage he swore by his father and by all his noble ancestors' souls, that none of them should ever serve him or his family, if they went not back forthwith and did not revenge the affront done to him and themselves by those few Baddagh Sassenach." The result was a violent affray, and some of the soldiers were killed. An office of inquest was held upon Conn and his followers, and a number of them were found guilty of levying war on the Queen. O'Neill was sent to prison to Carrickfergus, and Elizabeth, in the mean time, dying, the Laird Montgomery who knew these matters well, with thrift speed which became his country, made his humble applications to the new Scotch Monarch for half Conn's estates, leaving the remainder to Conn himself. But this modest proposal was not accepted, and he hit upon a happier expedient, which was to obtain a grant from Conn O'Neill himself of half his lands,** on the condition of effecting his escape and giving him a shelter. This escape was effected, and Conn went to Scotland, where he was received by the Laird and Lady of Braidstane, joyfully and courteously. The contract was here consummated, and the deeds executed; the original agreements were indorsed and registered in the town council book of the Royal Burgh of Air or Irwine, and the original indenture to Montgomery was burned in the house of Rosemount, (the residence of the compiler or author of the Montgomery Manuscripts) in 1695.
*"A drunken sluggish man, but he had a sharp nimble woman to his wife." Manuscript quoted by Reid, vol. 1, p. 86. This lady, it appears, was the person who made Conn's bargain with Montgomery, and under the circumstances it was a good one, "for saving his with a part of his estate was better than to lose all."
**His territory was very extensive, consisting of the entire parishes of Breda, Knock, Kirkdonnell, Hollywood, Donaghdee, Gray Abbey, St. Andrews, and a great part of the parish of Drum. The remains of Conn's Castle were to be seen (1817) on the summit of a hill near Belfast, and commanding an extensive prospect of the town and surrounding country. A rivulet, by the name of Conn's water, between Belfast and Dundonald, was probably called from this Chieftain Historical Collections of Belfast, p. 7.
The Laird and Conn went to Westminster, and the former using his interest obtained Conn's pardon. The latter was graciously received at Court—as others of the name were received there before—and orders given under the privy signet for letters patent of the great seal of Ireland, confirming his Majesty's pleasure in the matter of the grant to Hugh Montgomery, under condition, (and this is the most remarkable, characteristic, and significant part of these letters patent,) that the lands should be planted with British Protestants, and that no grant of fee farm should be made to any person of mere Irish extraction. Some change was subsequently made in these letters, by the intervention of a courtier of the name of Sir James Fullerton,* one of "the busiest bodies in all the world in other men's matters which may profit themselves," who, having an eye for a friend, Mr. James Hamilton, and anxious to obtain for him a share of Conn's lands, represented in a courtier's way, that the two moieties granted were too large for two men, forgetting or omitting the small circumstance that they were their own by right, and prevailed on the King to make a fresh division. "But the King sending first for Sir Hugh, told him (respecting the reasons aforesaid) for what loss he might receive in not getting the full half of Conn's estate, by that defalcation, he would compensate him out of the Abbey lands and impropriations, which in a few months he was to grant in fee, they being already granted in lease for twenty-one years, and that he would also abstract, out of Conn's half, the whole great Ardes for his and Mr. James Hamilton's behoof, and throw it into their two shares; that the sea coasts might be possessed by Scottish men, who would be traders proper for his Majesty's future advantage, the residue to be laid off about Castlereagh (which Conn had desired) being too great a favour for such an Irishman." Hamilton was sent for to Court, and in some time after knighted, as Hugh Montgomery had been before; Sir James Fullerton, the useful go-between, who "more loved ready money, and to live in court than in the wilderness in Ulster," got gold in his purse; and Sir Hugh Montgomery, Sir James Hamilton, and Conn O'Neill executed tripartite indentures to the effect of the King's pleasure as above intimated; but by a cunning arrangement of Hamilton, the King's patent was passed only to him, and he was declared trustee for Conn O'Neill and Sir Hugh Montgomery. Though Hugh Montgomery and James Hamilton were created knights at the same time, it was the pleasure of the King that Montgomery should take the precedency, being an inheritor under James and his vassal in Scotland. Besides James saw that Hamilton "through the efficiency of wit and friendship"—his scholarship had done him a service—had made a better bargain than Montgomery had, and had obtained the better share of the dividend though he came later into the field. For he had managed in the patent to engross many more church lands than Montgomery, "and," says an old chronicler, "he was so wise as to take, on easy terms, endless leases of much more of Conn's third part, and from other despairing Irishes than Sir Hugh had done." These Knights having received their well-gotten booty, were entitled Lord Montgomery of Ardes, and Lord Hamilton of Claneboy. Verily these "noble families" seem to be made up of the very heart's blood and sustenance of these poor "despairing Irishes."
*Mr. M'Gee states, that Fullerton and Hamilton were engaged in educational pursuits, and that they taught James Usher, the great Archbishop. Hamilton had a Fellowship in the University; but he relinquished the Muses, and took to more profitable pursuits in the Ardes of Down M' Gee's Irish Writers of the Seventeenth Century, p. 46. After James's accession, Fullerton was knighted, and Hamilton was created Lord Clandeboy. The date of his peerage is 1622. Whilst engaged ostensibly in teaching, they were in fact acting as agents to secure the Stuart succession.
Conn's welcome on his return home with his pardon, though not immediately referring to the subject of this book, is too graphic and characteristic of the manners of the day, to be omitted:—
"Conn then returned home in triumph over his enemies (who thought to have had his life and estate,) and was met by his friends, tenants, and followers, the most of them on foot, the better sort had gerrans, some had pannels for saddles, (we call them back bughams) and the greater part of the riders without them; and but very few spurrs in the troop, yet instead thereof they might have thorn prickles in their brogue heels (as is usual), and perhaps not one of the concourse had a hat; but the gentry (for sure) had on their done wosle barrads, the rest might have sorry scull caps, otherwise (in reverence and of necessity) went cheerfully pacing or trotting bare-headed. Conn being so come in state (in Dublin equipage) to Castlereagh, where no doubt his vassals (tagg-ragg and bob-tail) gave to their Teirne More, Squire Conn, all the honour and homage they could bestow, presenting him with store of beeves, colpaghs, sheep, hens, bonny blabber, rusan butter (such as it was); as for cheese I heard nothing of it, (which to this day is very seldom made by the Irish), and there was some greddan meal strowans, with snush and bolean, as much as they could get to regale him; where I will leave him and them to congratulate each other's interview, till other occasions to write of him offer themselves."*
*This reception I fear, is but an invention of the playful author. He was a Montgomery; and they who win may laugh.
Conn O'Neill, as might be expected, was not long left his thirds. For on the 14th March. 1606, specifying certain considerations, he executed to Sir Hugh Montgomery a feoffment of all his lands, and also a deed of sale of the timber growing on four of his townlands. The latter deed bore date 22nd of August, 1606.
And now the Montgomery Plantation began in right earnest. Montgomery found that the land he had succeeded in becoming proprietor of was without inhabitants. The "despairing Irishes," for the most part, were gone, for good reasons that they had; the soil had been reaped with fire and sword, and was desolate; head rents must be paid to the King, and there were no tenants to pay them. The parishes were more, wasted, says the Montgomery Manuscript, than America when the Spaniards landed there (the comparison is apt); and to repair these evils, the Undertakers, "having got a good bargain for themselves," made some of their friends and retainers sharers under them as freeholders and labourers. There came several farmers under Montgomery, "gentlemen from Scotland,"* of the names of Shaws, Calderwoods, Boyds, and Keiths. Many Hamiltons followed Sir James, "all of them worthy men, especially his own brothers;" and other farmers, as the Maxwells, Rosses, Barclays, Moores, Bayleys, and others, whose posterity hold there to this day. By the Montgomeries some foundations were made for towns, as Newtown, Donaghadee, Comber, Old and New Grey Abbey; and Hamilton also founded towns and incorporations, as Bangor, Hollywood, Kilileagh (with a strong castle), and Ballywalter. When these things were done, and a fair promise thereby given that the new settlements would have their towns and marts of trade, the Scots came there willingly and numerously, and became tenants and subtenants to their countrymen, and the land, though not with its own children, came to be peopled again.** Amongst those who accompanied Montgomery, were Patrick Shaw, Laird of Kelseland; Mr. Thomas Nevin, brother to the Laird of Monck-Roddin; and Mr. Cunningham, gentlemen, (who appear to have been what in Ireland we now call Montgomery's "wise men"); Patrick Moore, of Dugh; Neill, and Catherwood, to all of whom he granted lands in fee farm, in the parish of Donaghadee. Others came, too, on whom he bestowed tenements in freehold, and parks by lease; they built stone houses, and they traded to France, Flanders, and Norway.**
*There appears in all the Plantations to have existed a much greater readiness in the Scotch than in the English to participate in the toils and troubles of settling. "The English (says the Stuart Manuscript) being a great deal more tenderly bred at home in England, and having better quarters than they could find in Ireland, were unwilling to flock thither. Besides, the marshiness and fogginess of the island was found unwholesome to English bodies, more tenderly bred and in better air." But the Scotch, who could not be worse off any where than at home, with its inclement clime and reluctant soil, flocked in numbers to the more genial air and willing land of the parent country. It was at the time thought fortunate that the Highlands and Lowlands of Scotland were not more populous, for there would not have been room enough, even with a few more rebellions and more confiscations, for all that could have been spared to Ireland.
**The account I have given of this Plantation is that given by Stewart, which I think is preferable either to that of Lodge, in his "Peerage of Ireland," or to the "Montgomery Manuscripts." The latter, though very valuable, are a family biography, and have all its attractions and its faults—circumstantiality, gossip, self-adulation, and minuteness See Appendix II.
***Montg. MSS., p. 48. The North enjoyed an export of manufactures and a foreign trade long before this plantation. Her serges were exported to Italy, and had a high reputation Stuart's Armagh, p. 145. In the Dittamondi of Fazzio Delli Uberti, a Florentine poet, (1357), we have the following testimony:—
"Similimente passamo en Irlanda
La qual fra noi e degna di fama
Per le nobile saie che ci manda."
Thus translated—" So did we pass into Ireland, favourably known at Florence for the serge, worthy of all commendation, which she sends to us." This is a valuable testimony to the great antiquity of our exporting enterprise.
The first arrival of a new population like this, coming to occupy the land from which its natural owners had been expelled by violence, or out of which they had been purchased with money, will always present features of peculiar interest. In this case the settlers found a desolate and uninhabited peninsula, in the whole of which there were not thirty cabins, nor any stone walls; the marks of war and sacrilege met their eyes— here and there were seen ruined and roofless churches, the overturned monuments of ancient piety and the violated fanes of ancient peace. There were a few vaults at Grey Abbey, and a "stump of an old castle" in Newtown, in each of which some "gentlemen from Scotland" sheltered themselves at their first coming there. But they improved their circumstances shortly; they made cottages and booths; for the sods, and the saplins of ashes, alders, and birch trees,* with the rushes for the thatch, and the bushes for the wattles, were near at hand; and they constructed, as it were, a palace for the great chief of the movement out of the remains of the old castle; in which the first Montgomery that ever settled himself in the land of O'Neill enjoyed for the time his well-earned repose. This was Sir Hugh's chief residence; it was six miles from Belfast, and was thence supplied with all the requisites of life. During the summer time, two or three times in the week, intercourse was frequent between Scotland and. Newtown; but the communications between that country and Donaghadee were more frequent, as it was but three hours' sail from Portpatrick.
*The Montgomery Manuscripts remark, that the original planters found a soil not at all encumbered with large woods to be felled and grubbed. But Ireland had undergone a great revolution in the department of the Woods and Forests. "There was so much wood in Ireland in the earliest ages, that one of the names which it had from foreigners was, the 'Island of Woods;' given to it, say the old historians, by one whom Ninu, the son of Bel, sent to discover it. Indeed, by all the writings and monuments of ancient time, whether there is any truth in the old Irish saying or not— 'that it was thrice under the plow-share, thrice it was wood, and thrice it was bare'—it appears that as long as the land was in possession of the native Irish, it was full of woods on every side. Thus in digging out the earth for a new canal from Loughneagh to Dublin, for an inland navigation, a forest, as it may be called, was discovered under ground: a vast number of fallen trees of ash, oak, alder, &c., lying near a mile in length under a covering of earth, in some places six, in others eight foot deep, many of them of large bulk tumbled down one over another, some lying in straight lines, and others in a transverse or oblique position. Many discoveries of this kind are continually made all over the island; and there is scarce a bog but what affords plenty of timber buried in it, cut down, no doubt, by some of the first inhabitants, in order to make room for tillage and pasture: but in a long course of time they have been covered over by a stagnation of waters, which the trees themselves, being thus felled and disposed of, might have first occasioned, and by the high lands being dissolved with repeated rains, and, together with the earthy particles of rain water, lodging upon them. The names of many forests thus reduced are still preserved; and they were in that early times so numerous as to be a great incumbrance, as appears from many instances in the ancient history. But since the conquest, in order as well to furnish timber for their houses, and convert the land into more profit, as to deprive the rebels and robbers of their lurking holes and places of refuge, the greatest part of the woods have been reduced to arable and pasture ground, or turned into bogs. Indeed, they hare been so much reduced, that the inhabitants in general not only want wood for firing, but to carry on the business of building and repairing houses."—Warner's History of Ireland. vol. i., p. 46.
The destruction of the timber of Ireland went on very rapidly. Originally, as we have seen, the island was called "woody," the people near Cork were called Vodie, signifying dwellers in a woody country, and the name of Youghal is said to have a similar meaning. Spenser and others commemorate Ireland as abounding in shade and foliage; and Stanihurst (quoted by Moore, vol. i., p. 45) says the natives were accused of savagely living in the depths of their mighty forests; yet, in less than a century after Spenser wrote, and when the Munster and Ulster wars and plantations had effected a great "clearing," we find Piers, in his Description of Meath, complaining of the want of forest trees, " wherewith Ireland was anciently well stored."—See Moore, ubi sup. Cambrensis, in his time, complaineth that Ireland had excess of woods and very little champaign country, but now the English Pale is too naked; turf and seacoles is their most fuell."—Campion's Historie of Ireland, chap. 3.
In the summer months of 1607, Newtown had become quite a place of resort from Scotland. People arrived from Stranraer, a town there, took horses at the port of Donaghadee, came to see their friends at Newtown, with their wares and provisions—thus mingling business with friendship—sold their commodities, dined, and returned in the evening to Scotland. "Such," says, my authority, "was their encouragement, from a ready market, with their kind desires to see and supply their friends and kindred; which friendly commerce quite took away the evil report of wolves* and woodkerns which "envyers of planters' industry" had raised, to disturb this bees' nest of thriving Scotchmen.
The Planters were active and stirring; and if we give credit to their historian, they had an example of industry in their Lord and Lady, they both being active and intent on their work, " as birds after pairing to make nests for their brood." Accordingly, one might see streets and tenements growing up by the rare power of industry, and houses springing as it were out of the ground, "like Cadmus' colony."
But whilst the grosser sort were working for the mere material necessities of the new Plantation, their pious leader—"for indeed our forefathers were more pious than ourselves," as well they might—had made preparations for the performance of divine worship. When "the stump of the old castle," which appears to have been the first consideration, was repaired (in the spring of 1606), so that there might be shelter for that year's summer and harvest, and for Sir Hugh and his servants, then his piety made some good store of provisions in those fair seasons towards roofing and fitting the chancel of the church for the worship of God; but his virtue was not without good calculation, for "therein he needed not withdraw his own planters from working for themselves, because there were Irish Gibeonets and Garrons enough in his woods (alas! these poor despairing Irishes!) to hew and draw timber for the sanctuary." Before winter it was decently serviceable; and Sir Hugh had brought a supply of three chaplains over with him. In summer, 1608, some of the walls of an old priory were roofed in for the lady and children and servants (which were many) to live in. It was a strange hospitality which the houses of an old faith thus tendered to the Planters of a new race and a new religion.
*"King Edgar is said to be the first who attempted to rid this kingdom of such disagreeable inmates, by commuting the punishment for certain crimes into the acceptance of a number of wolf's tongues from each criminal. However, some centuries after, these animals were again increased to such a degree, as to become the object of royal attention; accordingly, Edward the First issued out his mandate to one Peter Corbet to superintend and assist in the destruction of them. They are said to have infested Ireland long after they were extirpated in England; however, the oldest men in that country remember nothing of these animals; and it is probable that there have been none there for more than a century past. Scotland also is totally free."—Goldsmith'* Animated Nature, vol. ii., p. 210.
Lady Montgomery, who would seem to have well deserved the eulogium bestowed upon the wife of Conn O'Neill, of being "a sharp, nimble woman," caused watermills to be built in all the parishes of her husband's principality, of which she stood in need in working about her gardens, carriages, &c. The arrival of "a commodity" of Scotch millers freed the colonists from the necessity of grinding their corn with the old and simple but troublesome machinery of the quairn stones, an inconvenience they were forced to undergo at their first coming.
Her ladyship had farms at Grey Abbey and at Comber, as well as at Newtown, both to supply her own domestic circle and the new importations of Montgomerys who were daily coming over; nor did she find any difficulty in getting a supply of labourers. For,—and as a means of testing the station and condition of some of those who first planted English civility and the Gospel among us, the fact is worth observation— many came over who had not the means to plant and take leases of land, but whose available capital was "a cow or two, or a few sheep, for which she gave them grass and so much grain per annum, and a house and garden plot to live on, and some land for flax and potatoes, as they agreed on, for doing their work, and there be at this day (1698—1704) many such poor labourers amongst us; and this was but a part of her good management, for she set up and encouraged linen and woollen manufactory."
Nothing can surpass the agreeable picture given of the settlement in the Ardes. Every body—a thing which is equally rare in old and new settlements—minded his own business at the plough and the spade, and building, and the nursing up orchards, and the planting of fruit trees, and the making of ditches. The old wives spun, whilst the garrulous murmur of their tales mingled with the industrious noises of the spinning wheel; young girls plied their nimble fingers and nimbler tongues, and every one was innocently busy. "Now the Golden peaceable age was renewed: no strife, contention, querulous lawyers, or Scottish or Irish feuds, between clans and families, and sirnames, disturbing the tranquillity of those times; and the towns and temples were erected, with other great works done (even in troublesome years.)"
This was the mere planting of the seed. The seed time passed, and the harvest came. Cadmus had well planted his teeth, for we are told that in a few years from the beginning of the Plantation, Lord Montgomery brought before the Muster-Master of the King, one thousand fighting men; and by letters patent Newtown was created a Corporation, whereof the Lord Hugh is named Provost, and the Right Worshipful the Burgesses are also named. And so was consummated the Plantation in the Ardes of Down;* and so was the first stone laid of the greatness of the Montgomerys and the Hamiltons in the land of the O'Neills!
*"This corporation hath divers priviledges, the most remarkable are that every Parliament they send two Burgesses to serve therein ; the other is that it can hold a Court every second Friday for debt, trespass, and damage, not exceeding three score six shillings and eight pence, sterling. The town hath in it an excellent piece of freestone work of eight squares, called the cross, with a door behind; within are stairs mounting to the towers, over which is a high stone pillar, and proclamations are made thereon; on the floor whereof at each square is an antique spout which vented claret, King Charles the 2d being proclaimed our King of Great Britain, France, and Ireland, &c. A°. D°. 1649."