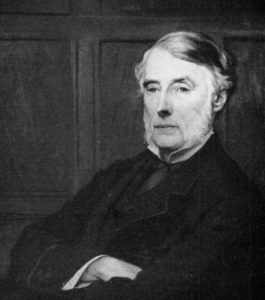 Dictionary of National Biography, 1885-1900, Volume 57
Tuke, James Hack
by Miller Christy
TUKE, JAMES HACK (1819–1896), philanthropist, was born at York on 13 Sept. 1819. He was a son of Samuel Tuke [q. v.] grandson of Henry Tuke [q. v.] and great-grandson of William Tuke [q. v.] men who took an active part in public life and in the affairs of the Society of Friends. Daniel Hack Tuke [q. v.] mental specialist, was his younger brother.
James was educated at the Friends' school in York, and in 1835 entered his father's wholesale tea and coffee business in that city. There he remained until 1852, when, on becoming a partner in the banking firm of Sharples & Co., he removed to Hitchin, Hertfordshire, which from that time became his home. During his early life at York he devoted constant thought to educational and kindred subjects, as well as to the management of the Friends' asylum known as 'The Retreat,' which his great-grandfather had been largely instrumental in establishing. He read much. Natural history interested him specially; and, in conjunction with his brother William, he devoted considerable attention to the study of ornithology. Many interesting observations made by the brothers are recorded in Hewitson's 'Eggs of British Birds.' In 1842 Tuke purchased for 5l. an egg of the great auk, which sold in 1896 for 160l. In the autumn of 1845 he accompanied William Forster (1784–1854) [q. v.] and Joseph Crosfield on a tour in the United States, undertaken for rest and change. During this journey he visited all the asylums for the insane that came within his reach, and noted his observations on them for the benefit of his father and others interested in 'The Retreat.' He also, in 1846 and 1853, read before the Friends' Educational Society papers (afterwards published) on the 'Free Schools' and 'Educational Institutions' of the United States.
Throughout his life he devoted whatever leisure he had from business to public objects. He worked on nearly all the important committees of Friends' associations, schools, &c., assisted in founding others, was treasurer for eighteen years of the Friends' Foreign Mission Association, and chairman for eight years of the Friends' Central Education Board. His sympathies were wide, and he supported all kinds of charitable institutions.
Tuke was one of the first to enter Paris after its evacuation by the Germans in 1871. He, with other Friends, had undertaken to distribute 20,000l., subscribed by English quakers for the relief of those whose property around the city had been destroyed during the siege. Their work was nearly completed when the revolution of the 'Commune' broke out. The 'permit,' issued a few days before, signed 'Jules Ferry, Maire de Paris,' was no longer of use. Application was therefore made to the 'Comité Centrale,' and a free pass, signed by 'Fortune Henry,' was issued to 'Citoyen James Hack Tuke.' They then finished their work and left Paris, after braving the dangers of the revolution for five days. Of this experience Tuke published a brief account (London and Hitchin, demy 8vo, 1871). In 1879 he published 'A Sketch of the Life of John Fothergill, M.D., F.R.S.,' the founder of Ackworth school (London, cr. 8vo, n.d.).
It is by his philanthropic work in Ireland that Tuke will be best remembered. His interest in Ireland was first aroused during the terrible famine years of 1846–7, when, in company with William Edward Forster [q. v.] and others, he actively assisted Forster in the distribution of the relief fund subscribed by English Friends. Reports of this distribution, by Tuke and others, were printed by the society. Tuke published his own observations on the condition of the country in a pamphlet of sixty pages, entitled 'A Visit to Connaught in 1847' (London, demy 8vo, 1847), which attracted much notice at the time and was largely quoted in the House of Commons by Sir George Grey and others. In 1848 Tuke suffered from a dangerous attack of fever, contracted when visiting the sheds provided by his father for some starving Irish who had sought refuge in York.
The impression produced upon his mind by the scenes he had witnessed in Ireland in 1847 was never effaced; and early in 1880, when the threatened acute distress in the west of Ireland was absorbing public attention, Tuke, urged by his old friend W. E. Forster (afterwards chief secretary), spent two months in the distressed or 'congested' districts, distributing in relief 1,200l. privately subscribed by Friends. His observations were recorded in letters printed for circulation among his friends, in letters to the 'Times,' in an article in the 'Nineteenth Century' (August 1880), and more fully in his pamphlet 'Irish Distress and its Remedies' (London, demy 8vo, 1880). The pamphlet was instantly recognised by the members of all political parties as an authoritative statement of the economic position, and ran rapidly through six editions. Holding that Irish distress was due to economic and not to political causes, he advocated the 'three f's,' state-aided land purchase, the gradual establishment of peasant proprietorship, the construction of light railways in remote districts, and the fostering by government of fishing and other local industries—suggestions all of which he lived to see adopted. For the smallest and poorest tenants, whom no legislation could immediately benefit, he urged 'family emigration.' He next spent some time in Canada and the States, afterwards publishing his observations (Nineteenth Century, February 1881). As a result, Forster inserted a clause in the Irish Land Act, 1881, to facilitate state-aided family emigration by means of loans, but this proved unworkable. Twice during 1881, and in February 1882, Tuke visited Ireland, again publishing his views (Contemporary Review, April 1882), with the result that at a meeting held at the house of the Duke of Bedford on 31 March, an influential committee was formed to adminster 'Mr. Tuke's Fund,' and 9,000l. was subscribed to carry out a comprehensive scheme of 'family emigration.' By 4 April 1882 Tuke was again in Ireland, and within a few weeks twelve hundred emigrants had been sent to America at a cost of nearly 9,000l. On his return to England he demonstrated the vehement desire on the part of the people for further assistance (Nineteenth Century, July 1882). His committee then prevailed on the government to insert a clause in the Arrears of Rent (Ireland) Act granting 100,000l. to further assist family emigration from Ireland. Part of this sum was expended by government, and the rest was entrusted to Tuke's committee for expenditure in Mayo and Galway. In 1883 the number of emigrants was 5,380. Owing to the continued demand for emigration, the 'Tuke Committee' next obtained from government under the Tramways (Ireland) Act of 1883 a further grant, by means of which, during 1884, 2,800 persons emigrated, making about 9,500 in all. The labour involved in this work was enormous, and it was largely carried out during severe winter weather, in districts which lacked railway communication. Tuke personally superintended most of the work, which included the selection of suitable families, arrangements for their necessary clothing, their conveyance to the port of embarkation (often a distance of fifty miles by road or boat), as well as their reception on landing in the United States or colonies, and their conveyance to their destinations. The total expenditure of the 'Tuke Fund' amounted to 70,000l., nearly one-third of which was raised by private subscription. Of the beneficent results of this work Tuke subsequently published conclusive evidence (Nineteenth Century, February 1885 and March 1889).
In the winter of 1885–6 distress again became acute in some of the western districts, owing to failure of the potato crop. The conservative government made a relief grant, but appealed to Tuke to avert famine by supplying seed potatoes, a request which was repeated by the succeeding liberal government. Tuke raised by private subscription a sum of 5,000l., with which seed potatoes were purchased and distributed under his personal supervision. His 'Report of the Distribution' of this fund contained some 'Suggestions for the Relief of the Districts' (London, 8vo, 1886). These and his letters to the 'Times' (reprinted in the form of a pamphlet, entitled 'The Condition of Donegal,' London, royal 8vo, 1889) again pointed out the measures he deemed necessary for the permanent improvement of the 'congested districts.' His recommendations bore fruit in 1889, when the government passed a bill for promoting the construction of light railways, and again when the Irish Land Act, 1891, established the 'Congested Districts Board,' with an income of 40,000l. a year, having for its object the continuous development of these districts. Tuke was closely associated with the planning of both these measures, which realised nearly all that he had advocated, and the results have proved most satisfactory. Until 1894, when his health failed, he was an active member of the board (which is composed of unpaid commissioners, presided over by the chief secretary), and he visited Ireland every month to attend its meetings.
In 1884 the committees of both the Athenæum and Reform clubs elected Tuke a member honoris causa. It was largely through his efforts that the 'Emigrants' Information Office,' a department of the colonial office, was established in 1886. He was more than once invited to stand for the parliamentary representation of York, an honour which he declined, as his father also had done, for personal reasons. He died on 13 Jan. 1896, and was buried at Hitchin.
Of slight erect figure, and of medium height, Tuke possessed an unusual grace and courtesy of manner and an almost magnetic influence over others. The unique position which he held may be inferred from the fact that, for the last sixteen years of his life, his advice on nearly all Irish questions was sought by the chief secretaries of both political parties. If it is too much to say that, in economic matters, their policy was his, it is at least true that almost all he advocated was in the end carried out. Still more striking is the fact that, although an Englishman and a valued adviser of the English government in Irish matters in the most stormy times, his personal integrity was never, and the wisdom of his projects was seldom, called in question by Irishmen of any political party.
Tuke was twice married: first, in 1848, to Elizabeth, daughter of Edmund Janson of Tottenham, who died in 1869; and secondly, in 1882, to Mary Georgina, daughter of Evory Kennedy, D.L., of Belgard, who proved an able helper in his work.
Source: Wikisource

James Hack Tuke : A Memoir: