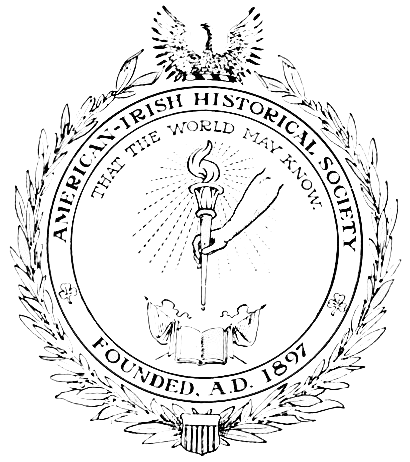 THE JOURNAL OF THE AMERICAN-IRISH HISTORICAL SOCIETY (Vol. I)
1898
On a certain April morning, one hundred and twenty-two years ago, Samuel Adams prophetically remarked, "What a glorious morning is this!" and, as I stand here, I cannot restrain the feeling that the shade of that illustrious and honored American makes use of the expression with much greater emphasis to-day.
For the accomplishments of his country during the past four generations, her marvelous strides in acquiring and attaining a potent position among the world's nations, the tremendous development of her magnificent natural resources, the genius and perseverance displayed by her children, the prosperity and importance of her institutions, the advance of her people in culture, the triumph of her principles of democracy, with its lesson to the world that "the people can be trusted with their own," are surely causes for congratulation and satisfaction. And all this reality dates from an incident comparatively slight in the world's history, but which is an important epoch in the story of America.
The period of resistance by the Colonies to British tyranny antedates April 19, 1775, by many years, but the culmination of a series of oppressive acts was realized on that day, and in the exciting events preceding and following the fight at Concord and Lexington, the town of Cambridge acted well its part, and contributed its blood and treasure to the common weal.
All Cambridge knows and feels a glow of patriot's pride in the Declaration of Independence of the people of Cambridge, made months in advance of the Declaration of the Continental Congress, when the town instructed its representative that if the Provincial Congress should for the safety of the Colonies declare them independent of the Kingdom of Great Britain, "we, the said inhabitants, will solemnly engage with our lives and fortunes to support them in the measure."
In all the preliminary work of the period Cambridge was active and conspicuous, and the animosity aroused by the opposition of her citizens doubtless inspired the hatred of the retreating soldiery of Britain, and caused the shocking brutality which has been told and so often retold. But the history of the time records all these events, and it is needless for me to recite them.
The British troops landed at Lechmere Point on the night of April 18, and marched across the marshes to the Milk Row Road in Charlestown, now Somerville, thence by Beech Street and the present Massachusetts Avenue to Menotomy, Lexington, and Concord. Captain Thatcher and his Cambridge men were among the first to rally for the public safety, and the militia of Cambridge improved the opportunity to attest its loyalty to principle. The muster roll shows that they marched on the alarm, and did service as far as Concord.
Paige, Cambridge's historian, tells us that from Lexington line to Beech Street the passage of the British troops in retreat was "through a flame of fire." Despite the fact that the conflict of this day is generally known as Concord Fight or Lexington Battle, the carnage in Cambridge was greater than in any other place, greater than in all others combined; for, according to Rev. Samuel Abbott Smith, in his address at West Cambridge, "at least twenty-two of the Americans, and more than twice that number of the British, fell at West Cambridge."
Of the fierceness of the conflict we can to-day present ocular proof. The large number of bullet holes in the house then owned by Jacob Watson, some of which may be seen at this time, is one indication of the amount of fighting done in Cambridge; while the spoliation of Cooper's Tavern in Menotomy and the Memorial stones all along the line of march teach the heat and bitterness of the strife. In our ancient burial ground, by which Lord Percy's battalion marched to the relief, will be found a neat granite monument over the remains of John Hicks, William Marcy, and Moses Richardson, and in memory of these and of Jason Russell, Jabez Wyman, Jason Winship, buried at Menotomy—men of Cambridge who fell in defense of the liberty of the people.
These things are the inspiration which the Cambridge boy and girl breathe at every step, impelling influences to love of country and fearlessness in her defense.
The Journal of the Provincial Congress estimates the loss of property in Lexington at £1761, in Cambridge at £1202, and in Concord at £274.
But when we consider these exciting events of that memorable day and read the stories of individual heroism, we feel a particular pride that our race was permitted to be a factor in the great result. It would be to us a matter of sincere regret if Ireland, who had contributed so much that was noble and sublime to the military history of other nations, had been deprived of the opportunity to manifest her sympathy by active participation in the "Lexington Fight." More especially as the feeling of the people of Ireland was well known to Britain and Britain's rulers, as is evident from the records of the House of Parliament in 1775, where it is of record that Governor Johnstone, in the debate at the opening of the session used these words:
"I maintain that the sense of the best and wisest men of the country is on the side of the Americans; that three to one of the people of Ireland are on their side; that the soldiers and sailors feel an unwillingness to service; that you will never find the same exertion of spirit in this as in other wars. I am well informed that the four field officers in the four regiments now going from Ireland have desired leave to retire or sell out."
Again, Mr. George Washington Parke Custis, the adopted son of Washington, says that Ireland contributed men to the Continental Army at the rate of 100 to 1 of any nation before the coming of the French. General Lee—Light Horse Harry—said that one-half of the Continental Army was derived from Ireland. It is an undoubted fact that two hundred and fifty soldiers served in the Revolutionary War who bore the Christian name of Patrick. It is also undoubted that the rolls of the soldiers who served at Bunker Hill contained over one hundred and fifty typical Irish names. Verplank referred to the services of Irishmen in the Revolutionary War in these words: "Both in that glorious struggle for independence and in our more recent contest for American rights, England's penal laws gave to America the support of hundreds of thousands of brave hearts and strong arms." I might repeat many more instances did the time permit. Sufficient to say that the opportunity was accorded to Ireland's sons to do glorious work in the first conflict of the Revolution.
Cullen says: "The Irish came into the full light of colonial history at Lexington and Concord. The cry of Paul Revere roused them to take their share in the defense of the common cause. Among them was Hugh Cargill, the Ballyshannon man. To his prompt response Concord owed the safety of her records."
Rev. Mr. Maccarty is heard from in Worcester on that eventful morning of April 19, 1775. Lincoln's history of Worcester states that as the minutemen were paraded on the green, under Capt. Timothy Bigelow, a fervent prayer was offered up by Rev. Mr. Maccarty, after which they took up their line of march.
"Another prominent name in the accounts of Concord and Lexington is Dr. Thomas Welsh, who was army surgeon to the patriots. He it was who met brave Dr. Joseph Warren as he rode through Charlestown at about 10 o'clock on the morning of that April day."
With the evidence of participation indisputable, cannot we of Irish lineage feel the glory of this day as our own right, purchased by the self-sacrificing effort of our predecessors?
And can we not, in fullest measure, in dwelling on the great and famous events of April 19, 1775, exclaim with America's noble son, "Thank God, I also am an American!"
Cullen (pp. 86, 88) gives the following names found on the rolls of minutemen at that period:
Joseph Burke,
Richard Burke,
Daniel Carey,
Joseph Carey,
Peter Carey,
Patrick Carroll,
Joseph Carroll,
Cornelius Cockran,
Daniel Connors,
William Connors,
James Dempsey,
Philip Donahue,
Joseph Donnell,
John Donnelly,
Andrew Dunnigan,
John Farley,
Michael Farley,
John Flood,
William Flood,
John Foley,
Matthew Gilligen,
Richard Gilpatrick,
James Gleason,
Daniel Griffin,
Joseph Griffin,
John Hacket,
Joseph Hacket,
John Haley,
John Kelly,
Patrick Kelly,
Peter Kelly,
Richard Kelly,
Stephen Kelly,
Daniel Lary,
John McCarty,
Michael McDonnell,
Henry McGonegal,
John McGrah,
Daniel McGuire,
Patrick McKeen,
John McMullen,
John Madden,
Daniel Mahon,
James Mallone,
John Mahoney,
John Murphy,
Patrick Newjent,
Patrick O'Brien,
Richard O'Brien,
Daniel Shay,
John Shea,
John Walsh,
Joseph Walsh.
Some Ways in which History is Falsified.
When the American-Irish Historical Society was organized a year ago in Boston, it declared its purpose to be the investigation into, and the recording of, the influence of the Irish element in the up-building of the American nation. We said then that the work and contributions of the Irish race on this soil had received scant recognition from the writers of American history; and we announced that whether that omission sprang from carelessness, ignorance, indifference, or design was not so important as the imperative necessity of remedying such a state of affairs in the interest of historical accuracy and racial fair play. For the past year our society has been in its formative stages; in the coming years I have ample faith that numbers, funds, earnestness, and enthusiasm will enable us to do our work effectively.
American history is being rewritten; the legendary and sentimental method of writing it is growing in disfavor; a scientific age demands the truth, and under its insistence new data are coming to light and old myths are passing away. It is beginning to dawn on American minds that this republic is the child of Europe and not of England; that old man of buckram—the Anglo-Saxon—is having a hard time with that new man of straw—the Scotch-Irishman; and when science gets the latter on the dissecting table there won't be much left of him but rags and papier-maché.
To-night I will try to direct your attention to "Some Ways in which American History is Falsified"; and by falsification I do not mean so much the deliberate perversion of facts as I do the false effects produced by evasion, distortion, wrong point of view, and the physical and mental limitations and defects of writers, which in their results are quite as mischievous as those produced by perversion and design.
I will for my purposes group my object lessons under four heads, illustrating each with a writer passing current as an historian.
1. Mental Invalidism. The disease of certain literary doctrinaires whose natural defects have been aggravated by education and fixed by training. Prof. John W. Burgess, of Columbia University, is a fine type of this arrogant school of dogmatism.
2. Legend and Sentiment. The exploitation of legends, inherited ideas, race and family myths, made current and passing into literature by the efforts of those whose faith in folklore as historical data is profound, and to whom facts and documentary evidence are unimportant. Senator Henry Cabot Lodge, an amateur historian, is the high priest of this cult; he is the custodian and incense swinger of the deified Puritan, the marvel and fountain of the graces of the modern age.
3. Imagination. The school of writers who add to the gayety of nations, who make history from their own inner consciousness, and who record it as they imagine it ought to be, not as it is. Under this head comes that humorless horde of scribblers, the Scotch-Irish littérateurs, and the intellectual giant of Tennessee, Judge Temple, author of Covenanter, Cavalier, Puritan.
4. Carelessness and Credulity. Writers who accept any evidence stated with solemnity and the air of authority, but who subject it to no tests to ascertain its verity and genuineness. Under this head I take exceptions to the statements made by Prof. John Fiske in a recent work, a writer hitherto regarded as safe and reliable.
I will now devote a few minutes to a work entitled Political Science and Constitutional Law, written by Prof. John W. Burgess, of Columbia University, and designed to be a text-book for that and other educational institutions.
Mr. Burgess is a rampant type of what a coldly critical and remorselessly correct writer, John M. Robertson, of London, calls a Celtophobe—a Celt hater. The learned Professor asserts dogmatically that the Celt never has, never can, and never will amount to anything nationally or politically; and that all law, order, and scientific government have sprung from and are due to what he calls the Teutonic races. Professor Burgess is a product of German training and education, and his views have received the cordial endorsement of such a calm and dispassionate authority as the London Times. The careful writer in stating his theory will fortify it with facts and figures and marshal his authorities before proceeding to erect a fabric on it; but Professor Burgess isn't that kind of a man. He states his theory with an air of profound conviction and authority and goes ahead. His theory, like a good many other fabrics "made in Germany," looks well, is calculated to deceive the unwary and unthinking, but under very ordinary scrutiny proves to be very commonplace, shoddy.
Let me show you a few of the gems from his treasury:
"Only the Teutonic races have produced national states…. The National State is thus the most modern and most complete solution of the whole problem of political organization which the world has as yet produced; and the fact that it is the creation of the Teutonic political genius stamps the Teutonic races as the political nations par excellence, and authorizes them in the economy of the world to assume the leadership in the establishment and administration of states."
This brilliant outburst winds up a series of equally impressive statements. Just what the Professor means by National States and political nations I do not know, nor am I sure he knows himself. At any rate, he appears to lay down a doctrine very delightful to these governments which bully nations and steal territories, if not quite so agreeable to those bullied and plundered.
Now listen to his views on the unfortunate Celt; they have the old familiar ring of anti-Irish hysteria, for which familiarity has bred Irish contempt.
"Personal attachment in small bodies to a chosen Chief is the peculiar political trait of the Celtic nations…. The effect of such a political character has always been the organization of the Celtic nations into numberless petty military States, in each of which individual rights have been ignored; between all of which civil war has been the permanent status; and against which foreign force has been continually successful…. Violence and Corruption have always marked the politics of Celtic nations."
Let us stop for a moment to analyze this tremendous blast from Columbia University, remembering that Germany and England are Professor Burgess's ideal Teutonic nations.
From the time of the Roman retrocession from England until the landing of William the Norman at Hastings, that unfortunate land was in the hands of one of the dullest, most unimaginative, worst-governed, and worst-governing races history mentions—the Saxons—for six hundred years; it had become a congeries of warring, military chieftainship, in which civilization was almost obliterated, learning had disappeared, religion was at its lowest ebb, life and property had no safety, the people were enslaved, and the coast harried by foreign and victorious foes. The advent of a strong conqueror—a mixed Celt and Norseman—changed all this, hammered England into a strong military kingdom, connected her with the civilization that has made the world what it is—the Latin—and did in six years what the pure Teutonic race had signally failed to do in as many centuries.
Prior to the historic event known as the Reformation, Germany had as much peace as her neighbors—which wasn't much—and all she had she owed to her intercourse with the Latin South, to her touch with the civilization and religion of Rome. After that event Germany was torn into factions, military chiefs sprang up, petty military states were made, violence and corruption were the rule, civilization retrogressed, the people were degraded and the land devastated. Germany was without unity; her mercenaries were for sale to the highest bidder; she was terrible only to her children, the prey of foreign forces, with civil war a permanent status. The advent of Napoleon was a blessing; he hammered a lot of petty principalities out of existence and formed two or three monarchies out of the bewildering many. The fall of Napoleon saw Germany a confederation, much after the fashion of pre-Reformation days, with Austria on top. Again came wars and dissensions, and finally the strong conqueror who united Germany against a common foe and made her what she is to-day. Germany, I take it, is the highest political expression of the Teutonic race, according to the dictum of Professor Burgess. What is it?
A military despotism of the most mediæval type, governed by an autocrat of doubtful sanity, whose person is more sacred apparently than that of the Deity; a land whence the people fly to seek safety, peace, liberty; a government that is a constant threat to the peace and civilization of the earth and that embodies all the reactionary principles a free people hate.
One does not expect the German professor, his disciple, or the mole in the earth to see what is going on in the sunlight.
If we turn to Ireland we see nothing but violence, corruption, and plunder in the methods of the Teutonic race ruling there; and we observe improvement in Irish affairs only with the decrease of English influences and the increase of Irishmen in Irish affairs.
It is a favorite axiom of the Teutonic writer of the Burgess type, wherever English and German rule is a failure, that the people ruled are unfit for government. Did it ever occur to them that the shoe is on the other foot—they are unfit to govern?
The unfitness of the English to govern Ireland is historic; it was exhibited in America, as some may recall; it is notorious in India and round the earth. The best-governed possessions of England are the lands where Englishmen are least in evidence. Germany in Africa is producing the usual harvest of Teutonic "genius"—depopulation and devastation.
But Mr. Burgess has a theory, and he does not propose to hamper it with facts. He asserts that the government—the political organization—of Spain, Italy, and Portugal are the results of Teutonic genius. This will probably be news to the world; but if the debility, decay, and general rottenness of those kingdoms are the result of Teutonic genius, the sooner they try the genius of the negro and the Chinaman the better for them. He covers whatever political good may exist in Greece, Bulgaria, and Roumania by attributing it to the impecunious German princes now adorning the rickety thrones in those lands. The idea is original, but not impressive. Why not attribute the political condition of Scandinavia to the presence on its throne for ninety years of Bernadotte, the French (Celtic) military adventurer, and his wife, the daughter of the Irish merchant Cleary, and their children? The logic is as good, or as bad, in one case as the other.
But why go on with this tissue of professional rubbish?
Nations are made what they are by climate, environment, peace, war, and economic and industrial conditions. Groups of men learn as does the individual, in the school of experience. Nations have no genius for anything; the botch work we call government to-day at its best is hardly a manifestation of genius. Nations may have temperaments, the product of experience, but only the individual has character.
Professor Burgess is merely a mental invalid, an hysterical Celtophobe. He either forgets the existence of Rome and Greece, or he fails to understand the value of civilization and human experience; he is a kind of literary phonograph, repeating the slanders and absurdities which a school of race egotists have raised to a cult. He is a decidedly unsafe man to educate a coming generation of Americans, for the writer of solemn and dogmatic nonsense is unfit to train the American youth. Certainly no self-respecting man of Irish-Celtic blood should permit his children to attend a university where they are taught that the perpetrators of ages of outrage and wrong are divinely selected beings, chosen "to assume leadership in the establishment and administration of States."
If we desire that sort of rubbish taught, it is just as easy to secure professors at Bloomingdale as it is at Columbia.
The legendary and sentimental makers of history seem to thrive best in New England; and a fine type of the cult is the so-called "scholar in politics," Senator Henry Cabot Lodge, of Massachusetts and Nahant. There is in China a religion whose principal tenet is the worship of ancestors, the placation of ancestral manes. This religion is called Tavism; and possibly the purest type of Tavist, outside of China, is the junior senator from Massachusetts.
Mr. Lodge is firmly convinced that the Puritan represents the perfect type of man; that the history of the world began in 1620; that the Puritan derived most of his excellence from being of English blood; and that, while Puritans were Dutch, French, Scotch, and even Irish, the lack of English blood somehow made them incomplete. While the ordinary English Puritan was a wonderful personage, the one who landed in Massachusetts was a genuine marvel, but when he settled around Boston and Nahant, he began to ooze genius and take on wings and halo. To this legend is added, sometimes by direct statement and sometimes by implication, the intelligence that all the great and good things that make this republic different from and superior to other lands are due to the miraculous powers of the Puritan. He is the creator of human freedom, the father of religion, liberty, and tolerance, the founder and originator of free schools, and the reputed author of so many ideas totally at variance with his narrow creed that were he to rise from his bed of clay in New England into the sunlight of to-day, he wouldn't know himself.
This is the school of historical incubation of which Mr. Lodge is the high priest. Mr. Lodge has many admirable qualities; but his mental vision is defective, strabismal, and his ancestral credulity amazing. I am satisfied that Mr. Lodge would not knowingly do an unjust, intolerable, or dishonorable thing; but he is so en-webbed in tradition and so steeped in myth and legend that his rôle of historian is a decided misfit. How else can we account for the absurd theories he has exploited and the conception of historic events he has fathered in literature?
Anybody who has even read his history of the Thirteen Colonies will learn that the success achieved in building them up was due to the Puritans; and one is convinced that had some wandering vagabond from Massachusetts been cast away on the coast of Spanish-America, the Latin Republics south of us would now be the model governments of the earth and probably be called "Anglo-Saxon" nations. Everything that makes for success he attributes to the Puritan; and he does it with such a solemn, awe-stricken lack of humor that the irreverent are moved to Homeric mirth.
Now, as a matter of fact, the Puritan was a hard and fast bigot, who hated and persecuted everybody who differed from him religiously, and tolerated nobody; he was as priest-ridden as a Scotch Presbyterian, and he set up a system of Church and State that amounted almost to a theocracy. The climate and soil of New England made him a hard worker; his environment and neighbors, a stout fighter; but if his laws and records tell us any story, they say his morals and practices were no better than they ought to have been.
New England in colonial days produced some shrewd and levelheaded men, but if she ever produced a great one, I have failed to catch his name. When the hour of her struggle came the same phenomenon was exhibited in New England as elsewhere in the Colonies; her natural leaders, the people of education and wealth, followed the fortunes of the oppressor, and the common people took up the cause of freedom. New England in the Revolution did her whole duty, but the other Colonies did not shirk, and furnished not only men and money, but the theater of war.
Mr. Lodge is now furnishing "The Story of the Revolution" for Scribner's Magazine, and already we can see his peculiar defects of historical vision in what he has written. Here is a hint of his ideas: "He [Washington] entered on the war with an army composed wholly of New England men. He ended the Revolution with an army, after seven years' fighting, largely made up from the same New England people." He does not say so in so many words, but he leads us to infer that the army between those two periods was made up of New England men. This sort of writing is as absurd as it would be to say New England did nothing. Has Mr. Lodge never heard of the 40,000 men on the Revolutionary rolls of New York? Has it ever occurred to him that Pennsylvania, Virginia, and other Colonies furnished some men, money, and leaders? Have his historical researches ever led him far enough to learn that Yorktown might have been a waste of blood but for the armies and navies of France? Does he know that the soldiers of America's ally were the regiments of a brigade immortalized on every battlefield of Europe,—the Irish Brigade?
It is very doubtful. I sometimes wonder if Mr. Lodge knew what an Irishman was before he went into politics.
In his account of Bunker Hill he hasn't a word to say of Sullivan, whose capture of Fort William and Mary with its supplies of precious gunpowder made Bunker Hill possible; yet he has much to say of the lack of powder during the siege of Boston.
He says the American soldiers engaged at Bunker Hill were "of almost pure English blood, with a slight mingling of Scotch-Irish from Londonderry." I note among the dead killed there the following "Scotch-Irish" names: Broderick, Collins, Dalton, Dillon, Doyle, French, Haggett, McGrath; and Washington, desirous of recognizing this "Scotch" element in his army made St. Patrick the countersign on a certain evening during the siege. I recall that it was this same class of Irishmen with the Scotch prefix, from the New Hampshire town of Londonderry, called after an Irish town of that name, and which was originally planted by English and Irish, who insisted upon double rations of whiskey to celebrate St. Patrick's day before Ticonderoga.
Mr. Lodge should learn to call a spade a spade, an Irishman an Irishman, for we will. The desire of a certain class of people to call themselves "Scotch-Irish" may be passed by with a smile; ignorance and weakness deserve pity rather than censure; but we must insist that the dead of our race shall be neither miscalled nor misrepresented, and that their laurels shall not be filched nor their glory stolen by those who have neither pride nor scruples.
Whatever Irish came from New Hampshire—and the hills were full of them—it would be a grave mistake to imagine that Massachusetts, so English and so Puritan, did not have her share. The Puritan Alva—Cromwell—and his villainous understrappers sent many a thousand Irish victims to Massachusetts Bay as bondmen and women; and voluntary immigration brought thousands of others. The town records show this; and whole districts in western Massachusetts were settled by them; and yet we are asked to believe that when men cease to be Catholic Irishmen they become Scotch-Irishmen. I can find no other excuse for the absurd title. Here are a few of the "Scotch-Irish" names on the rolls of the minute men of the day:
Joseph Burke,
Richard Burke,
Daniel Carey,
Joseph Carey,
Peter Carey,
Patrick Carroll,
Joseph Carroll,
Cornelius Cockran,
Daniel Connors,
William Connors,
James Dempsey,
Philip Donahue,
Joseph Donnell,
John Donnelly,
Andrew Dunnigan,
John Farley,
Michael Farley,
John Flood,
William Flood,
John Foley,
Matthew Gilligen,
Richard Gilpatrick,
James Gleason,
Daniel Griffin,
Joseph Griffin,
John Hacket,
Joseph Hacket,
John Haley,
John Kelly,
Patrick Kelly,
Peter Kelly,
Richard Kelly,
Stephen Kelly,
Daniel Lary,
Michael McDonnell,
Henry McGonegal,
John McGrah,
Daniel McGuire,
Patrick McKeen,
John McMullen,
John Mullin,
John Madden,
Daniel Mahon,
James Mallone,
John Mahoney,
John Murphy,
Patrick Newjent,
Patrick O'Brien,
Richard O'Brien,
Daniel Shay,
John Shea,
John Walsh,
Joseph Walsh.
It is well to note that the English parliament of that day was looking keenly at the causes that cost England her mighty empire on this continent; and apparently they underrated the influence of Mr. Lodge's Puritan in that struggle, and bitterly blamed the plain Irish without any Scotchery.
Mr. Lodge means well; but folklore and history are two distinct affairs.
The imaginative school of history finds its best exemplar in a gentleman from Tennessee, the home of the Cardiff giant, the Giascutus, and the Scotch-Irishman. He is known as Judge Temple, and has written a volume called Covenanter, Cavalier, Puritan,—a work which has shaken the earth and spoiled the apple crop. The Judge is original; he honors the Scotch-Irishman as he does all ghost dancers, but he has discovered that all the might of the republic sprang from the Covenanter. I know what a Covenanter used to be, but I can't solve this covenanter of Judge Temple. I can explain him as he appears in this literary offspring of this intellectual Cardiff giant. If an Irishman a few years ago did anything extraordinary, wonderful, or notorious, he would have been a Scotch-Irishman; in the Temple history he is a Covenanter; if he breaks a bank, or a man's head, or the Decalogue, he is merely an Irishman. Apply that rule to all men and you have history as it is hatched out in Tennessee. The Covenanter germ was born in Scotland and spread over America, creating miracles. As the natives of North Britain are not remarkable for national modesty and self-effacement, I am puzzled to learn how this conversion of the world to freedom and civilization has escaped the shrinking writers of Scotland. If Judge Temple is not restrained by an injunction at an early date, Professor Burgess and Senator Lodge will be compelled sorrowfully to march on Washington, there to deposit in the National Museum the Teutonic Genius and the Puritan Marvel; or they might be turned over to some of the Yellow Sundays which specialize the exploitation of freaks.
Meantime we should keep our eye on Judge Temple, the young Lochinvar of history, who has come out of the South.
In Old Virginia and her Neighbors, Vol. II, p. 391, Prof. John Fiske says: "Until recent years little has been written of the coming of the so-called Scotch-Irish to America, and yet it is an event of scarcely less importance than the exodus of English Puritans to New England and that of English Cavaliers to Virginia. It is impossible to understand the drift which American history, social and political, has taken since the time of Andrew Jackson, without studying the early life of the Scotch-Irish population of the Alleghany region, the pioneers of the American backwoods. I do not mean to be understood as saying that the whole of that population at the time of the Revolution was Scotch-Irish, for there was a considerable German element in it, besides an infusion of English moving inward from the coast. But the Scotch-Irish element was more numerous and far more important than all the rest.
"Who were the people called by this rather awkward compound name Scotch-Irish? The answer carries us back to the year 1611, when James First began peopling Ulster with Colonists from Scotland and the North of England. The plan was to put into Ireland a Protestant population that might ultimately outnumber the Catholics and become the controlling element in the country. The settlers were picked men and women of the most excellent sort. By the middle of the seventeenth century there were 300,000 of them in Ulster.
"That province had been the most neglected part of the island, a wilderness of bogs and fens; they transformed it into a garden. They also established manufactures of woolen and linens which have since been famous throughout the world. By the beginning of the eighteenth century their numbers had risen to nearly a million. Their social condition was not that of peasants; they were intelligent yeomanry and artisans. In a document, signed in 1718 by a miscellaneous group of 319 men, only thirteen made their mark, while 306 wrote their names in full. Nothing like that could have happened at that time in any other part of the British empire, hardly even in New England.
"When these people began coming to America, those families that had been longest in Ireland had dwelt there but for three generations, and confusion of mind seems to lurk in any nomenclature which couples them with the true Irish. The antipathy between the Scotch-Irish as a group and the true Irish as a group is, perhaps, unsurpassed for bitterness and intensity. On the other hand, since love laughs at feuds and schisms, intermarriages between the Colonists of Ulster and the native Irish were by no means unusual, and instances occur of Murphys and McManuses of the Presbyterian faith. It was common in Ulster to allude to Presbyterians as 'Scotch,' to Roman Catholics as 'Irish,' and to members of the English Church as 'Protestants,' without much reference to pedigree. From this point of view the term 'Scotch' may be defensible, provided we do not let it conceal the fact that the people to whom it applied are for the most part Lowland-Scotch Presbyterians, very slightly hibernicized in blood."
Again, "By 1719 this hope was torn away, and from that year until the passage of the Toleration Act for Ireland in 1782, the people of Ulster kept flocking to America. Of all the migrations to America previous to the days of steamships this was far the largest in volume. One week of 1727 landed six ship loads at Philadelphia. In the two years 1773 and 1774 more than 30,000 came. In 1770 one-third of the population of Pennsylvania was Scotch-Irish. Altogether between 1730 and 1770, I think it probable that at least half a million of souls were transferred from Ulster to the American Colonies, making not less than one-sixth of our population at the time of the Revolution."
The merest examination of this will show that the writer is on uncertain ground; he is begging the question; his own training and education convince him that there is a false ring to the term "Scotch-Irish"; the statements he makes, or quotes, show the earmarks of that organized humbug the Scotch-Irish Society; and he is reluctant to face the question squarely, and, by reversing the conventional concealments, evasions, and falsifications which have marked the writing of American history in the interest of the English element, acknowledge the splendid work done by the Irish in America.
Let us examine his statements in detail.
Relative to Ulster settlement he says: "The settlers were picked men and women of the most excellent sort. By the middle of the seventeenth century there were 300,000 of them in Ulster. The province was a wilderness of bogs and fens; they transformed it into a garden. They also established manufactures of woolens and linens; … they were intelligent yeomanry and artisans."
These extracts are the amusing myths of the Scotch-Irish Society. We have an emigration from Scotland by, say 1650, of 300,000, with no account of the English, French, Walloon, and German emigrants who were introduced, and nothing said about the original settlers of Ulster, the Irish. In 1659 Sir W. Petty, a government official in Ulster, estimated the population as follows: Irish, 63,350; English, Scotch, and other aliens, 40,571; a total of 103,921. It is very possible that Sir W. Petty's estimate was correct; that he would find it very difficult to arrive at a correct estimate of the Irish; and much more easy to get at the numbers of those who were naturally the English supporters. It is well to recall that at the date of this estimate Ireland had gone through the horrors of twelve years of Civil War, marked by cruelty of the most ferocious kind; that the Cromwellians had added deportation and slavery in the Americas to their other crimes and abominations; that Cromwell had settled his own soldiers on confiscated lands; and that he was not particularly partial to the Scotch, whom he had fought and defeated, and whose immigration he was not likely to encourage at a time when they were parleying with the exiled Charles and plotting the downfall of the Commonwealth.
Professor Fiske's 300,000 seem to vanish in smoke.
The character of the population introduced into a country where the natives are treated as outlaws and wild beasts by the government, is not hard to guess. It is not at all likely that it is going to consist of model farmers, expert artisans, pious, educated, peaceful men and women; that kind of people usually remain at home. The adventurer, the ne'er-do-well, the poor, the desperate, the homeless; those are the kind willing to face the hazards of war and fortune in a land where the natives are hard fighters and haters of the government, even though exhausted by war.
The Rev. Andrew Stewart, Presbyterian pastor of Donaghadee from 1645 to 1671, who was born and raised in Ulster, leaves this record of Professor Fiske's selected yeomanry and artisans:
"From Scotland came many, and from England not a few; yet all of them generally the scum of both nations, who for debt, or breaking, or fleeing from justice, or seeking shelter, came hither, hoping to be without fear of man's justice in a land where there was nothing, or but little as yet, of the fear of God."
Such were the selected yeomanry; selected evidently by the king's writ, by the beggarly planters who received the stolen lands from a beggarly king, and by the London guides whose gold went into the king's pocket.
The reverend gentleman gives us a further hint of the people who came thus running from the sheriff and the heavy hand of the law. He says: "In a few years there flocked such a multitude of people from Scotland that the Counties of Down, Antrim, Londonderry, etc., were in a good measure planted; yet most of the people made up a body—and it is strange—of different names, nations, dialects, tempers, and breeding, all void of Godliness, who seemed rather to flee God in this enterprise, than to follow their mercy; albeit at first it must be remembered that they cared little for any church."
People of many nations and dialects coming out of Scotland needs an explanation. Mr. Motley, in his history of the Dutch Republic, throws a great light on this subject. He says in effect that the religious wars of Protestant and Catholic, and the persecutions growing out of them of the ever-increasing sectaries, drove shoals of artisans from Germany, Holland, and France to England. Elizabeth of England had troubles of her own; and while she quarreled with the Pope and disputed his headship, she was jealously insistent of her own leadership of her state church and had no use for the pugnacious sectaries from across the Channel. In time, owing to the English jealousy of foreigners and rival manufacturers and the Queen's abhorrence of rebels against divinely selected kings, Elizabeth shut down on the refugees and refused them asylum. In those days it was a much graver offense to insult the majesty of earth than heaven. Scotland, then in the throes of religious squabbles and the game of church plundering and under the practical guidance of the amiable John Knox, gave them a welcome as kindred spirits. When other days came, when Mary's head had rolled from the block at Fotheringay, when her wretched son was enthroned, the foreign element found Scotland a poor land to live in. The settlement of Ulster gave them their chance, and they flocked there with Scotchmen and Englishmen, to settle down and intermarry and become—as all before them had become at that Irish crucible—Irish.
The forms of religious dissent driven out of Europe to Great Britain, like Presbyterianism, had a common basis of agreement in their common Calvinism, and the foreigners naturally drifted into that form of ecclesiastical organization. Few went into the Anglican State Church, and many of that faith drifted away from it to Catholicity and Presbyterianism; and it was a special subject of reproach later that the state-beneficed clergy caused such a state of affairs by their indifference and greed.
But it remains for American historians to find the terms race and religion synonymous, and to advise an astonished world that when an Irishman, Frenchman, Englishman, Dutchman, or Walloon, adopts Presbyterianism as his religious faith, he is at once transformed into that hyphenated hybrid, a Scotch-Irishman.
This is one of the marvels of this inventive age.
Before Professor Fiske—for whose talent and industry I have a very great respect—gives us his promised views on the Scotch-Irishman in his forthcoming work, The Dutch and Quaker Settlements in America, let me propound a question or two to him.
If, as is pretended, a certain number of Lowland Scotchmen of the Presbyterian religion accomplished so much in Ulster and America, why have not the great majority of the same people accomplished as much in their own land and elsewhere, when all the conditions were in their favor? And again, if so much was accomplished by an Irish environment and an Irish racial admixture, and so little achieved by the pure Scot under more favorable circumstances, is it not a reasonable deduction that the Irish element was the responsible factor in the achievement? If not, why not?
That invader and invaded should hate each other bitterly is not of any particular importance as bearing on nationality; it is the experience of all lands and races. Presbyterian Murphys and McManuses are no argument for Scotch Murphys and McManuses; it may indicate intermarriage and change of religious faith; it can't indicate a change of blood. The transformation of bogs and fens into gardens is merely a fairy story; the bogs and fens are in Ulster to-day. The fertile valleys of Ulster, ready to be entered on, were the bait to catch settlers, for the defeated and disheartened native Irish had been driven to the barren hills and bogs. Men as a rule don't risk life and fortune for the privilege of transforming bogs into gardens in a hostile country; and, moreover, Motley says England and Scotland in that age had the rudest system of agriculture in Europe. The higher system of agriculture, as well as the woolen and linen industries, came with the skilled exiles from Holland and France; and even as great a plunderer as Wentworth was wise enough to foster them. And I might ask, why didn't these marvelous Scots make their own country famous for woolen and linen industries, when they made their own laws and could snap their fingers at English jealousy?
Finally, if these people were Scotch "slightly hibernicized," why did they on their arrival in America organize "Irish societies"? Why did they name towns and rivers with Irish names? Why did they celebrate St. Patrick's day rather than St. Andrew's?
It will pay Professor Fiske to examine into the Irish emigration of the eighteenth century and learn, as less erudite people have done, that as much of this stream flowed from Limerick, Cork, Waterford, Dublin, and English Bristol as from Ulster; and that Leinster and Munster poured in nearly as many Irish to Colonial America as did the northern provinces. What he is unwittingly doing is settling up the abhorrent dividing lines of religion and marking off our race into "Irish-Irish" and "Scotch-Irish" upon the lines of Catholicity and Protestantism. I as one of the Protestant Irish most strenuously object; the name Irish was good enough for my fathers; their son is proud to wear it as they did; and we must all insist that the Irish, without prefixes, without hyphens, without any qualification, all children of a common and well-loved motherland, shall be given their full measure of credit for the splendid work done by the race in America.
If Professor Fiske is true to himself and the principles and canons of his calling, he will find the truth and tell it, and waste no valuable time chasing myths and will-o'-the-wisps.
THE JOURNAL OF THE AMERICAN-IRISH HISTORICAL SOCIETY (Vol. III)
1900
Irish Pioneers and Builders of Kentucky.
The number of distinctive Irish names met in looking over the early records of North Carolina, Virginia, South Carolina, and Kentucky is simply wonderful. When are added to them the names more distinctively Scotch, but fully as Gaelic in origin as the Irish, one is justified in believing what Ramsay wrote in 1789, that:
"The colonies which now form the United States may be considered as Europe transplanted. Ireland, England, Scotland, France, Germany, Holland, Switzerland, Sweden, Poland, and Italy furnished the original stock of the present population and have been supposed to contribute to it in the order enumerated. For the last seventy or eighty years no nation has contributed so much to the population of America as Ireland."[23]
Dr. Hart and William Coomes were the first Catholic settlers in Kentucky, locating in Harrodsburgh in 1775. The doctor was the first medical practitioner in the state, as Mrs. Coomes was the first teacher. This credit is given them in Collins' History of Kentucky. Among the fortified stations or forts built for protection from the Indians by the early settlers, not a few bore names familiar to Irish ears, denoting the presence of many of the old race.
Among them may be mentioned Bryan's Station, Dougherty's Station, Drennan's Lick, Feagan's Station, Finn's Station, Fleming's Station, Hart's Station, Higgins' Block House, Irish Station, Lynch's Station, Logan's Fort, McAfee's Station, McFadden's Station, McGee's Station, Sullivan's Old Station, Sullivan's New Station, Sullivan's Station, Daniel Sullivan's Station, McGuire's Station, McCormack's Station, McKeenan's Station, McConnell's Station, Kennedy's Station, Givin's Station, McKinley's Station, McMillan's Station, Owen's Station, Kilgore Station, Hoy Station, Kinchelloe's Station and Gilmore's Station.
Ten Kentucky counties bear Irish names: Adair, Butler, Logan, Hart, Montgomery, McCracken, Boyle, Carroll, Rowan, and Casey. John Carty, the most successful merchant in Lexington, was the son of John Carty, a native of Ireland who went early to Kentucky from New Jersey; and General James Morrison, for many years one of the leading men of the state, was the son of another Irish emigrant.
As late as 1840, among the surviving veterans of the Revolutionary War residing in Kentucky were the following:
James McElroy,
Andrew Linam,
James McElhaney,
Michael Moore,
William Brady,
George Bryan,
Edward McConnell,
Michael Smith,
Michael Freeman,
John Hart,
Joseph Dunn,
William De Courcey,
David Driscoll,
John Short,
John Dehan,
Richard Wade,
Randall Haley,
Cornelius Sullivan,
Hugh Drennon,
Patrick McCann,
E. Madden,
John Burke,
David Kennedy,
Timothy Logan,
John Slavin,
James Logan,
John Martin,
John Herron,
Patrick Marvin,
Michael Hargan,
Daniel Bryan,
John Carroll,
John McGee,
John Murphy,
Joseph Casey,
Richard Bellew,
John Keen,
Stephen Collins,
William Lyons,
Jacob Dooly,
William Kelly,
Charles Hart,
William Conner,
Daniel McCarthy,
James Fitzpatrick,
Robert Burke,
John Reilly,
John Mahon,
Martin Hughes,
Joseph Sweeney,
Thomas Laughlan,
John Adair,
Patrick Coyle,
Dennis Dailey,
John McQuilty,
William Devine,
John Mitchel,
Gen. Richard Butler,
Maj. John Finley,
Col. James Morrison.
The following served in the several companies named, during the Revolution, on detached service, mainly against the Indians, who were the auxiliaries of the British:
In Captain Bourman's company,—William Barry, Edward Bulger, Patrick Doran, Isaac McBride, Robert McClanahan, Edward Murray, Joseph Michael and Thomas Pendergast.
Captain Logan's company,—Capt. Benj. Logan, Lieut. John Logan, William Casey, George Flynn, Bartholomew Fenton, Stephen Houston, John McCormack, John McElhone, James McElwain, John McKaine, Archibald Mahone, William Neal.
Captain Harrod's company,—Daniel Driskill, John Conway, Patrick McGee, John Lewis, William Smiley, James Sullivan, James Welch.
Captain Boyle's company,—Capt. John Boyle, Barney Boyle, Elisha Clary, James Coyle, Owen Devine, Peter Higgins, Robert Moore, William Rowan, Dennis Devine.
Captain Holder's company,—James Barry, James Bryan, John Butler, William Collins, William McGee, Hugh Ross.
Captain Boone's company,—John Butler, Patrick Ryan, Morgan Hughes, John McFadden.
An idea can be formed of the Irish blood in Kentucky during those stirring times, from the character of the names given. Nearly all the great Gaelic family names are represented, and the absence of Scriptural (Old Testament) names, so common among those of the Presbyterian and Congregational denominations, indicates that these men were of Catholic stock when they, or their fathers, immigrated. The first settlers of the "Blue Grass" state were from Virginia, North Carolina and Pennsylvania,—nearly all of this stock, which no doubt accounts for the gallantry and beauty of the modern Kentuckians, men and women, and the superior quality of the whiskey and horses, for the usquebaugh, or "mountain dew," was first distilled in Ireland, and when first tasted by the sluggish Saxons, the effect was such on their thick blood, muddied by beer, that they considered it good not only as a beverage, but as "cure-all" for medicinal purposes.
James McBride, an Irishman, has the credit of being the first white man to enter the territory, "paddling his canoe up the Kentucky river in 1745." Twenty years later Col. George Croghan, the well-known Indian agent of the same stock, was at Shawane town, on the Ohio river.
When Daniel Boone left North Carolina for Kentucky in 1769, he was accompanied by James Mooney, John Stewart, Joseph Holden, John Findlay and William Cool, all but the leader being of Irish stock.
In 1775, James, George and Robert McAfee, and James McCowen went to the territory on a surveying tour. In 1778 Capt. James Grattan, John Tuel and John McManus were among those who laid the permanent foundation of the city of Louisville. Bryan's station was one of the earliest garrisons for protection against the Indians, and two of the prominent Indian fighters were Captains Orr and Shannon.
Captain Flynn was one of the founders of the town of Columbia, 1787, and Dr. John Connelly was agent in 1778 for the British government in the territory. The first newspaper established northwest of the Ohio, in Cincinnati, was by William Maxwell, of the same stock.
Col. John Lutteral, an Irishman, was one of a party which left North Carolina for Boonesboro', Ky., in April, 1775. He was one of the pioneers and a noted man for years. He was accompanied by John Hart and John Kennedy. Daniel Boone was the leader. Captain Flynn, who has been mentioned as one of the founders of Columbia, had as associates Francis Dunleavy and John Riley.
Among the first settlers of Harrodsburgh were the families of McGarry and Hogan, welcome acquisitions on account of their wives and children. Major McGarry was one of the bravest, as well as one of the best known, Indian fighters in Kentucky, having for an associate a brother Celt named Major McBride, and another named Captain Bulger. The recital of their deeds would alone fill a good-sized volume.
In an attack on Bryan's station, a garrison named after another Celt, by a party of 500 Indians, in 1782, the savages were repulsed, but some of the women were killed. This enraged the whites in the vicinity, and a party of 160 met at the station to arrange for the pursuit and punishment of the Indians. The cooler heads, led by Daniel Boone, tried to dissuade the hotheads from making the attempt, but in the midst of the discussion the impetuous McGarry, putting spurs to his horse, cried out for all but the cowards to follow him, and galloped in the direction taken by the savage foe. Every man of the 160, nettled by the taunt, followed him, but the result which was predicted, followed. They fell into an ambuscade and sixty of the number were killed, among them McBride and Bulger. McGarry fought like a madman and escaped unhurt.
Among the first Presbyterian ministers in the state were James McCready, William McGill, Samuel McAdoo, Henry Delaney, A. M. Bryan, William McGee, William McMahon and John Dunleavy; and among the first Methodist ministers were James O'Cull, William Burke, William McMahon and John and William McGee, all Irish enough in appearance to be staunch Catholics of the old Milesian type, and it is not unlikely their fathers may have been.
Among those who distinguished themselves in the history of the state as legislators, soldiers or writers, were Wm. T. Barry, who was chief justice of the court of appeals in 1825; one of a commission to digest a plan of schools for common education; lieutenant-governor in 1820; member of the National House of Representatives in 1810‒'11; and in the United States Senate in 1814‒'16.
Gen. John Adair held high command in the War of 1812‒'15; received the thanks of the Kentucky legislature for gallantry at New Orleans; was governor of Kentucky in 1820; in the National House of Representatives 1814‒'16, and had served in the United States Senate in 1805‒'06. John Rowan was secretary of state in 1804; Benjamin Logan was presidential elector in 1793, William Logan in 1809, and Robert Ewing, William Irvine, William Casey and William Logan in 1813.
The indomitable Matthew Lyon who went from Vermont to Kentucky was again sent from Kentucky to congress in 1829‒'33‒'35, and his son, Chittenden Lyon, was there in 1827‒'35. Colonel Chittenden Lyon was a veritable giant in size, being considerably over six feet in height and weighing over 350 pounds. The admixture of Irish and Yankee blood in his make-up, if anything, increased the pugnacious spirit inherited from his father, who had married one of the Vermont Chittendens; and the stories told of his prowess as a wrestler and a boxer are countless.
Being at one time a candidate for a public office, when the margin was close, he was approached by a political opponent, his rival in fisticuffs as well as in politics, and fully his equal in size and weight, and challenged to a boxing match, the condition being that the loser would vote for the winner. This Lyon agreed to, and they went at it, over 700 pounds of bone and muscle. After a severe contest the spectators interfered and it was declared a draw, Lyon, however, receiving his rival's vote.
Thomas Dougherty was clerk of the House of Representatives in 1815. Among native Kentuckians who served in Congress from 83other states were James B. Foley from Indiana, 1857‒'59; Willis A. Gorman from the same state, 1849‒'53, and also a major-general in the Civil War; Edward A. Hannegan from the same state, in 1855‒'57; and Cornelius L. L. Leary from Maryland.
Among the noted military men of the Irish stock were Generals John Boyle, Adair, Croghan and Commander Prendergast.
Among Kentucky poets were Dr. John M. Harney, brother to Gen. W. S. Harney, Theodore O'Hara, Gen. W. O. Butler, W. D. Gallagher, Noble Butler and William M. Harney. Among legislators and educators, in addition to those already named, were McNamara, Hogan, Kane O'Hara, "the great educator" and father of Colonel Theodore, the poet; Judge James O'Hara, brother to Kane, and Major James O'Hara, son of the Judge. John McGill, James McGinty, Cassidy, O'Bamon, Kennan and Finley were also honored names in the "dark and bloody ground."
Michael Cassidy, born in Ireland and a soldier of the Revolution, went to Kentucky in 1782. He was small in stature, being barely five feet in height, but he made up in courage what he lacked in size, and was, in addition, as tough and wiry as a hickory sapling. He was considered one of the most noted Indian fighters in his day, and many anecdotes have been printed about him.
Dr. John M. Harney, mentioned elsewhere, went to Kentucky from Delaware. He was born in 1789. He was the son of Major Thomas Harney. Major Benjamin F. Harney was an elder brother. In 1847 he was the senior surgeon in the United States army. A younger brother was Major-General W. S. Harney, who distinguished himself in the Florida and Mexican War. He was prominent for a while at the outbreak of the Civil War, being in command at St. Louis until relieved by General Fremont.
Dr. John M. Harney married the daughter of another Celt, the celebrated John Rowan, in his day one of the best known and respected men in Kentucky. In his latter years Dr. Harney returned to the faith of his fathers, dying in the Catholic fold at Bardstown, the original seat of Catholicity in Kentucky, on January 15, 1825. Gen. John Adair, for whom the county of that name was called, was born in South Carolina in 1757. He served in the Revolutionary War. He was one of Kentucky's pioneers and first citizens. His name denotes his origin.
Daniel Boone, it is said, was a descendant of one of the original Catholic settlers of Maryland. Let that be as it may, some of the name are still found in Maryland, who cling to the old faith. His is the greatest name among the early pioneers of the state. Boyle county was named for the Hon. John Boyle, for many years chief justice of Kentucky, who was a native of Virginia. Butler county received its name from Major-General Richard Butler of Pennsylvania, who fought through the Revolutionary War and was killed in St. Clair's disastrous defeat, November 4, 1791.
Few of the prominent families, not only of Kentucky but of any state in the Union, have been so distinguished in many ways as this of General Butler. The emigrant ancestor was Thomas Butler, born in Kilkenny, Ireland, April 8, 1720. Five of his sons attained eminence in America. Of these, Richard, William and Thomas were, like their father, natives of Ireland. Percival and Edward were born in Pennsylvania. All were officers in the Revolutionary War. Edward was too young at first, but entered it before its close. Richard was the second in command of Morgan's rifle regiment. He was afterwards its colonel and commanded Wayne's left in the attack on Stony Point. All these brothers and their immediate descendants were engaged in the military service of their country, in all the wars before 1800; while their survivors were in the war of 1812, and not less than nine of a younger generation were in the Mexican War.
Gen. Percival Butler migrated to Kentucky in 1784. His son, Col. Thomas L. Butler, was aide to General Jackson in the battle of New Orleans. A second son, Gen. Wm. O. Butler, also served in the war of 1812, received the commendations of General Jackson for bravery at New Orleans, was afterwards appointed on Jackson's staff and was a major-general in the Mexican War. The third son, Richard P. Butler, was assistant adjutant-general in the campaign of 1812.
Campbell county takes its name from Col. John Campbell, a native of Ireland. He received a grant of four thousand acres of land, located near Louisville, and during life was one of Kentucky's noted men. Carroll county takes its name from Charles Carroll, of Carrollton.
Casey county derives its name from Col. Thomas Casey, who went from Virginia to Kentucky in 1779. Daviess county was named in honor of Joseph H. Daviess, who fell at Tippecanoe. He was born in Virginia, of an Irish father and a Scotch mother. "The warm heart, free and off-hand, and ready sentiment told in language 85plainer than words, that the blood of Erin flowed fresh in his veins."
Fleming county was named for Col. John Fleming, who was born in Virginia. Fulton county was named for Robert Fulton. Hart county derived its name from Capt. N. G. T. Hart. His father, Col. Thomas Hart, was from Maryland. Kenton county takes its name from the celebrated Simon Kenton. "His father was an Irishman, his mother of Scotch descent." He was born in Virginia. His name is familiar to every reader of the early history of Kentucky.
Knox county was named for Gen. Henry Knox of the Revolution. He was born in Boston of Irish parents, and was a member of "The Irish Society" of that city. Logan county derives its name from Gen. Benjamin Logan. His parents came from Ireland. He was born in Pennsylvania. His is one of Kentucky's great names. It is claimed that his son, William Logan, was the first white child born in Kentucky. McCracken county was named for Capt. Virgil McCracken, who was killed in the war of 1812. Meade county was named for Capt. James Meade, who was killed in the same engagement with Captain McCracken. Montgomery county derives its name from Gen. Richard Montgomery, who was killed at Quebec. Wayne county was named in honor of Gen. Anthony Wayne, who was born in Pennsylvania. His name appears on the roll of members of the "Friendly Sons of St. Patrick" of Philadelphia.
Another noted Kentucky family was that of the O'Haras. Kane O'Hara went to Kentucky in the latter part of the eighteenth century, and became in time one of its most distinguished educators. He was accompanied to this country by his father and two younger brothers. Of the two latter, Charles went to Georgia, where he followed the same profession; James remained in Kentucky teaching for some years, but later was admitted to the bar, and acquired the reputation of a profound lawyer and able advocate.
He was the father of Judge James O'Hara, Jr. Among the large number of pupils of Kane O'Hara who became famous after, were several of the Marshalls and Browns,—Major Croghan of the United States army, and President Zachary Taylor. When on his way to Washington to be inaugurated, General Taylor departed from his line of travel in order to visit his old teacher in Frankfort. "It was an affecting scene when the great soldier, then an old man, bowed himself in grateful homage before the venerable preceptor of his youth, and in few but earnest words, thanked him for the care 86bestowed on his early education, to which he attributed all the achievements of his after life."
Col. Theodore O'Hara, poet, journalist, and soldier, was the son of Kane O'Hara. He was educated by his father with the greatest care, but received his collegiate finish, and graduated, at St. Joseph's College, Bardstown, with the first honors of his class. His "Bivouac of the Dead" has made his name immortal:
"The muffled drum's sad roll has beat
The soldier's last tattoo!
No more on life's parade shall meet
That brave and fallen few;
On fame's eternal camping-ground
Their silent tents are spread,
And Glory guards with solemn round
The bivouac of the dead.
* * * * *
Rest on, embalmed and sainted dead!
Dear as the blood ye gave;
No impious footsteps here shall tread
The herbage of your graves;
Nor shall your glory be forgot
While Fame her record keeps,
Or honor points the hallowed spot
Where valor proudly sleeps."
A great and magnanimous government has had these verses, the composition of an ex-Confederate soldier, cast separately in bronze and set up in appropriate places in all the National cemeteries.
It is worthy of mention that a lady bearing a now historic name, at least in song, Mrs. Ann McGinty, brought the first spinning-wheel into Kentucky, and made the first linen in the territory. She is also credited with making the first butter there, and with bringing within its borders the first chickens, ducks and hogs. The first Catholic priest in Kentucky was Father Whalen, who was in Bardstown in 1787. There were then fifty Catholic families in the state. The first families to settle there were those of Daniel Boone, Hugh McGary, Thomas Denton and Richard Hogan. As has been mentioned, the first practising physician was Dr. Hart, and the first school teacher was Mrs. Coomes, both Catholics from Maryland.
Col. Matthew Lyon, mentioned elsewhere, is alluded to as the most remarkable character among the public men of southwestern Kentucky. He was born in Wicklow county, Ireland, in 1746. His 87father, for being engaged in conspiracy against the English government, was tried, condemned and executed. To secure his passage, Matthew bound himself to a sea captain to work for twelve months after his arrival in America. The captain sold him to a Connecticut farmer for two bulls; he served his time faithfully and became a free man. His favorite by-word was forever after "By the bulls that bought me." It is worthy of record that Rudyard Kipling has put these words in the mouth of one of his recently created characters, without, however, giving Matthew proper credit. It is very evident that Colonel Lyon never forgot his father's execution, for he was, up to the day of his death, an inveterate hater of the English government.
After he gained his freedom, he made his home in Vermont. He founded the town of Fairhaven in 1783, where he built saw and grist-mills, an iron foundry, engaged in paper making from basswood, and a variety of other occupations. He served in the Vermont legislature ten years, and for some time was assistant judge. He served in congress from his adopted state. He was one of the first arrested under the alien and sedition laws, was convicted of a libel on the president, John Adams, fined one thousand dollars, and served a jail sentence in addition.
While in congress, on the thirty-sixth ballot he decided the protracted seven days' voting for president by casting his vote and that of Vermont for Thomas Jefferson, making him president in preference to Aaron Burr. Shortly after the beginning of the present century he went to Kentucky with his family. He served in the legislature of his newly adopted state, and from it, between 1803 and 1811, was in congress eight years.
Eighteen years after his death congress voted to refund with interest the amount of the fine inflicted on him in 1798. This was done on July 4, 1840. He had a son of the same name who was the father of Gen. H. B. Lyon. Col. Chittenden Lyon, Matthew's oldest son, represented his state in congress eight years, and was fully as impetuous and honest as his father. Of Matthew Lyon, Gov. John Reynolds, of Illinois, said, "His Irish impulses were honest, and always on the side of human freedom. His leading trait of character was his zeal and enthusiasm, almost a madness itself in any cause he espoused." This covered his zeal.
The opinion of the members of the first Continental congress, of the Irish in Ireland, and in the colonies, is well expressed in an address issued by that body in 1774. In part it said: "Your 88parliament had done us no wrong; you had ever been friendly to the rights of mankind, and we acknowledge with pleasure and gratitude that your nation has produced patriots who have nobly distinguished themselves in the cause of humanity and America. Accept our most grateful acknowledgments for the friendly disposition you have always shown towards us."
The record made by the men whose names appear in this paper, is evidence that they were worthy of the tribute paid in this address. What the feeling was in Ireland, a little more than a year later, was well described by Gen. Ethan Allen, who said that the people of Cork when they found he was in the harbor, a prisoner on one of his majesty's vessels, sent him a plentiful supply of money, food, and clothing; that it aroused the ire of Captain Simonds, his keeper, who put an end to the contributions, saying that "the damned rebels of America should not be feasted by the damned rebels of Ireland."
Early New Hampshire Irish; some pre-revolutionary Dennises, Corneliuses, Patricks and Michaels.
Among the Christian names common to the Irish people, especially to those of the Catholic faith, few were more numerous, a century ago, than those mentioned in the caption to this article. They were rare among the Scotch, English, or Welsh. None of them was of Gaelic or old Irish origin. They came to the ancient Irish with their religion, and, like their faith, have become nationalized.
According to Lecky, the conquest of Ireland by Cromwell's soldiers was not more complete than the conquest of the soldiers by their Irish wives; their offspring assumed Irish given names, and were brought up in the faith of their mothers. This was the subject of a complaint against the Irish government to Henry Cromwell, the son of Oliver. How true this may have been, it is needless to discuss, but the presence of so many in New Hampshire before the Revolution bearing the names alluded to, is in part evidence of the truth of what Lecky wrote, and Prendergast commented on, for not a few of the surnames are English in appearance.
Darby Field came to New Hampshire in 1631. The date is so remote that no attempt has thus far been made to denationalize him. Consequently, he remains on the records as a plain "Irish soldier for discovery." His home was in Exeter. He is credited with being the first in the English settlements to discover the White Mountains. That he was a useful citizen is evident from the provincial papers. How many American Fields are descended from him cannot be determined, but if there are any, there isn't much doubt that they will locate the birthplace of their ancestor in Ulster. This fad extends even to some children of the modern Irish. The illustrious "Tim" Campbell, ex-member of congress from New York, has been classified as of "Scotch-Irish" descent, and recently a young man named Quinn, of the first generation born here, said, "His father was a 123Scotch-Irishman from Kilkenny, in the north of Ireland." A little rough on the city paved with marble, but such is fad.
A good, sturdy representative of the Fields to-day in New Hampshire, as Irish in blood as Darby Field was, is the Hon. John H. Field, who was a member of the state senate in 1899‒1900. His home is Nashua. He is of the faith of his fathers.
Darby Kelly was the ancestor of many American Kellys. His descendants are almost innumerable. Like Darby Field, he, too, was a soldier, as well as a schoolmaster and farmer. Gen. Benjamin F. Kelly, of West Virginia, was his grandson; the latter acquired distinction in the Civil War. The name Darby Kelly appears on the muster rolls of company and regiment from 1748 to the fall of Wolfe and Montcalm.
Of the Patricks, Patrick O'Flynn possessed a military record his offspring may well take pride in. His name appears quite often in the short wars preceding the struggle for independence. He represented the town of Bedford at Bunker Hill and served through the long war which ended at Yorktown. At its close he went West, dying in Illinois. His name appears on the United States pension rolls for 1825, with his company and regiment.
Another was Patrick Cogan. He was quartermaster of the First New Hampshire regiment, serving in that capacity under Stark, Cilley and Reid. He died in the service in 1778. His regiment was in Sullivan's brigade at Ticonderoga in 1777. He represented Sullivan's town, Durham. Stephen Cogan, possibly a relative, was a selectman in the same town in 1780, and with him were Joseph, William and Joseph Cogan, Jr.
A namesake, if not a relative of Darby Field, was Patrick Field, a soldier in the Continental army. Patrick Guinlan was teaching school in Concord before 1770. He is given mention in Bouton's history of that place.
A well-known town in the south of Ireland is Dungarvan, and a well-known locality in Concord is "Garvin's Falls," just south of the city, on the Merrimack. The falls are named for Patrick Garvin, one of the first settlers. His name appears frequently as one of the defenders of the garrison against the Indians.
New Hampshire furnished to Iowa one of her most distinguished sons, in the person of the Hon. James W. Grimes, who acquired a national reputation during the Civil War. One of the first, if not the very first, of that name in New Hampshire was Patrick Grimes.
Patrick Gault was the ancestor of some of New Hampshire's substantial citizens. His name appears early in the provincial papers. As much can be said of Patrick Taggart and his descendants.
Patrick White was the first of his line in the old Granite state. He came to Peterborough before 1740. Gen. Daniel M. White, commander of the New Hampshire National Guard in 1894, was one of his descendants.
Patrick Orr is a reminder of the slogan of 1798, "Remember William Orr." Many useful citizens of the Granite state bear this name. It is not now so common as it was fifty or seventy-five years ago. John Orr served seven terms in the state senate, his legislative career ending in 1804.
Patrick Griffin represented a name as common here now as it is in Ireland. Simon G. Griffin, brevet major-general, was a New Hampshire soldier with a fine record in the Civil War.
Cornelius Connor represented a name famous in Ireland's annals and familiar to the readers of New Hampshire state and provincial papers.
It is first mentioned in 1710. The occasion was the payment of a bill presented by him for moccasins, so it is fair to presume he was a shoemaker. The name Connor, or Conner, has been well known in the town of Exeter for nearly 200 years. An Exeter man, possibly a descendant of Cornelius, was Col. Freeman Conner, who commanded the Forty-fourth New York regiment in the Civil War. He was also assistant postmaster of Chicago under the late James A. Sexton, during the administration of President Benjamin Harrison. J. M. Connor, of Hopkinton, is one of the prominent grangers in New Hampshire, and an authority on agricultural matters.
James O'Conner, a native of Ireland, and a surgeon in the Continental army, was among the first settlers in the town of Sanbornton. One of his descendants went to the East Indies and was traffic manager of the Ganges canal in 1869. Cornelius Connor is the first of the name to appear on the provincial records. The family has been prolific—for the Connors are numerous—and is looked upon now as a distinctive New Hampshire name.
Another of the "Cons" was Cornelius Driscoll. His name appears first in 1715, attached to a petition praying for the settlement of a minister in Dover. The name is spelled Drisco, but there is no question about it being Driscoll, for two reasons: first, the given name Cornelius, as well as there also being a Teage Driscoll; 125"Tim" is the English of Teage; and second, the word Bristol is spelled Bristo. The name is still spelled Drisco by people bearing it. Later it appears spelled properly, "Driscoll," in the state papers, but an interrogation mark is placed after the name, which is evidence of the mutilation of Irish names by those not conversant with their character. Teage Drisco's name appears on the records of the town of Exeter in 1664, Cornelius Driscoe in 1725, and John Drisco in 1710. "Driscoll Hill," in Francestown, is a locality spoken of in the Granite Monthly for August, 1897. Cornelius Drisco was one of the proprietors of the town of Gilmanton in 1727. Still another "Con," who appears often in the records, is Cornelius Lary. He was in Exeter as early as 1674. Like other old Irish surnames, it was twisted out of shape by the English scribes, so that in various places it is spelled O'Leary, Lary, and Lear.
As is well-known, this is one of the great south of Ireland names. It would be of great interest to "Con's" countrymen had he kept a diary relating his experience in those days. "The Curse of Crummill" was on the lips of many at that time, perhaps on his. Thirty-six years later, in 1710, the names of Daniel, Samuel, Thomas, and Cornelius Lary appear, perhaps the sons of the emigrant. It is still common in Maine as well as in New Hampshire as Lary. Col. Tobias Lear, of Portsmouth, was Washington's secretary. Whether his name was Leary originally, cannot be determined. He married a daughter of Col. Pierse Long. The latter was the son of Pierse Long who came to Portsmouth from Limerick, Ireland. Colonel Long was with Sullivan at the capture of Newcastle, and commanded a regiment in the Continental army.
McDuffee has been a well-known New Hampshire family name for one hundred and fifty years. Col. John McDuffee commanded a regiment in the Continental army and some of the most substantial business men in the state are of the same clan. The "Cons" were also represented in this family in the person of Cornelius Duffee, whose name appears in the index of the provincial papers.
Of the Michaels, the most distinguished was Gen. Michael McClary. He was the grandson of Andrew McClary, who came over in 1726, to Epsom, and the nephew of Maj. Andrew McClary, who fell at Bunker Hill, and of Lieut. John McClary, who was killed in action at Saratoga. He was an ensign at Bunker Hill, and was appointed captain in the Continental army later. He filled many positions in civil life. He was the first adjutant-general of New 126Hampshire under the new constitution, and also served as United States marshal. The family was prominent in state affairs. John McClary was a member of the governor's council five years before 1785, and of the senate six years. Michael McClary served in the senate twelve years, and James H. McClary, two years; Michael was elected, but resigned, and James H. was chosen in convention to fill the vacancy.
The original emigrant, Andrew, came over on the same vessel with James Harney. Their friendship was carried down to the third generation in the name of James Harney McClary. There were others of the same name in the state, but not of the same family. Whether as Cleary, Clary, or Clery—with or without the Mac or the O—the name is as Irish as the shamrock.
Another of the Michaels who, if not as distinguished as the one mentioned, was a useful citizen, was Michael Dwyer, who was one of the first settlers of Holderness, N. H. His name appears frequently in the state records; he was selectman of his town, and represented it in the state legislature, and it is evident that he was prominent in business and political affairs in his section of the state.
A contemporary of his in Holderness was Capt. Bryan McSweeny, a veteran of the old French, Indian, and Revolutionary wars.
Others of the name of Dwyer were in New Hampshire before Michael's day, for the name of Edward Dwyer appears on the Exeter town records in 1695, also that of James Dwyer. Time has probably changed the name to Dyer.
Michael Johnston was one of the first two settlers of Haverhill, N. H., going there from Haverhill, Mass. His brother, Col. Charles Johnston, in point of character, it is written, was the most prominent of Haverhill's first settlers. He also had a son Michael. Whether Irish or Scottish, Johnston is the English for McShane or McIan.
The name Carroll, borne by Maryland's "first citizen," was represented among the New Hampshire Michaels, in the person of Michael Carroll. A county also bears his name, and it is quite common in New Hampshire. The New Hampshire national bank examiner is the Hon. E. H. Carroll, and the labor commissioner is Col. L. H. Carroll. A brother of the bank commissioner is superintendent of schools in Worcester, Mass.
Michael Annis, perhaps Ennis, bore the name of the man who built the first house in the town of Warner. His father came from Enniskillen "in Great Britain," so the history reads, but Ireland 127would be more correct geographically. Adding the Mac and spelling the name properly it would be McGuinis, McInnis, McGinnis, McGuinness, or Magenis.
Michael Chatterton was the first of the Michaels to appear on the New Hampshire records. He was one of the servants sent over by Capt. John Mason, coming at the same time as Darby Field, between 1631 and 1640. With him was William Dermit. Albee, the historian of Newcastle, wrote that Portsmouth's first settlers were Celts from Devon and Cornwall. There was more or less trade between the colony in its early days and Limerick and Kilkenny, Ireland, Kilkenny rugs and Limerick bacon being spoken of.
Michael Clark represented another widely known New Hampshire family name, well represented at the bar, on the bench, and in the upper and lower branches of congress.
Michael Fitzgerald was one of the great Norman Irish clan which in time became more Irish than the Irish themselves. Edward Fitzgerald, one of the first settlers of Boscawen, was reputed to be well educated and prosperous. Col. John Fitzgerald was Washington's favorite aid.
As a rule, the New Hampshire descendants of the Fitzgeralds have divided the name. Some are known as Fitzes, others as Geralds.
Michael Kelly was a grandson of Darby Kelly mentioned, and the brother of Gen. B. F. Kelly, of West Virginia, as well as the father of ex-Mayor F. H. Kelly, of Worcester, and of Capt. Warren Michael Kelly, of Donohoe's Tenth N. H. regiment in the Civil War.
Michael Lyons was a namesake of the impulsive Matthew Lyons, of Vermont and Kentucky (who thanked God, when in congress, that he was not one of "Cromwell's bastards"), and also of Gen. Nathaniel Lyons, one of the gallant soldiers and martyrs of the Civil War.
Michael Metcalf bore the same surname as the only Knownothing governor-elect of New Hampshire. The latter, maternally, was sprung from a respectable Irish family named Montague, so the historian of the town of Newport wrote, which perhaps accounts for the appearance of Michael among the Metcalfs; and here was also a Michael Metcalf, Jr., which showed that it took one generation to make the name unpopular.
Michael Smith bore a numerous family surname not confined to any one of the British Isles, but common to all. He was in New Hampshire early, and with him was Patrick Smith. No doubt both were Irish.
128Michael Butler represented another great Irish family, whose most distinguished member, produced in New Hampshire, was Gen. Benjamin F. Butler. About the first to appear in the colony was John Butler, who was in Dover in 1647. James Butler was in Woburn, Mass., in or before 1676; his son, John Butler, came to Pelham, N. H., in 1721. They are the ancestors of many of the name in the state.
The foregoing sketches have been written in order to show the kind of men some of those New Hampshire Dennises, Corneliuses, Patricks and Michaels were. A modern Irishman, bearing any of these names, would never have his nationality questioned. All are appended here so as to have them placed on record as another piece of evidence to illustrate the presence of Irish in New Hampshire before the Revolution.
This is a pre-Revolutionary list:
Dennis Andrews, Dennis Bohonnon, Dennis Bickford, Dennis Callahan, Dennis Loughlan, Dennis Hight, Dennis Haley, Dennis McLane, Dennis Johnson, Dennis Sullivan, Dennis Pendergast, Dennis Stanley, Dennis Wood, Dennis Burger, Dennis McLaughlan, Dennis Organ (O'Regan).
Cornelius Bean, Cornelius Brooks, Cornelius Boule (Boyle), Cornelius Blunt, Cornelius Busiel, Cornelius Campbell, Cornelius Cuyler, Cornelius Connor, Cornelius Cook, Cornelius Driscoll, Cornelius Clough, Cornelius Denbow, Cornelius Dunsey, Cornelius Lary, Cornelius Duffee, Cornelius Dinsmore, Cornelius Danley, Cornelius Goodell, Cornelius Innis, Cornelius Kirby, Cornelius Laurence, Cornelius Roberts, Cornelius Sturtevant, Cornelius Thompson, Cornelius Warren, Cornelius Wheeler, Cornelius Johnson, Cornelius Cornell, Cornelius White, Cornelius Cady (Cody), Cornelius Culnon, Cornelius Stowell, Cornelius Davoe, Cornelius Dillingham, Cornelius Neall, Cornelius Uart (Hart?), Cornelius Ludlow, Cornelius Lowe, Cornelius Stratton, Cornelius Osborne, Cornelius Winslow.
Patrick Bourn, Patrick Burns, Patrick Bradshawe, Patrick Campbell, Patrick Cogan, Patrick Clark, Patrick Bonner, Patrick Douglass, Patrick Donnell, Patrick Field, Patrick Furness, Patrick O'Flynn, Patrick Fisher, Patrick Fassett, Patrick Gault, Patrick Guinlon, Patrick Grimes, Patrick Henry, Patrick Jameson, Patrick Kinelty, Patrick Larkin, Patrick Lieless, Patrick McDonnell, Patrick Kennedy, Patrick McMurphy, Patrick Cavanagh, Patrick Furlong, Patrick Madden, Patrick McGee, Patrick McGrath, Patrick McLaughlin, 129Patrick McMitchell, Patrick Moore, Patrick McCutchin, Patrick Murray, Patrick Murphy 1, Patrick Murphy 2, Patrick Markham, Patrick Garvin, Patrick Tobin, Patrick Melvin, Patrick Landrigal, Patrick Roach, Patrick Tobeyne, Patrick Greing, Patrick Taggart, Patrick Straton, Patrick Jennison, Patrick Manning, Patrick Smith, Patrick Farrell, Patrick Dougherty, Patrick White, Patrick Burt, Patrick McKey, Patrick Pebbles, Patrick Thatcher, Patrick Orr, Patrick Griffin.
Michael Anderson, Michael Bowdoin, Michael Bowler, Michael Barrus, Michael Brown, Michael Arbuckle, Michael Archer, Michael Cook, Michael Carroll, Michael Chapman, Michael Annis, Michael Coffin, Michael Chatterton, Michael Cressy, Michael Carew, Michael Clark, Michael Dalton, Michael Doherty, Michael Doulton, Michael Davis, Michael Dwyer, Michael Doran, Michael Ames, Michael Dearborn, Michael Falker, Michael Fitzgerald, Michael Field, Michael Gordon, Michael Gibson, Michael Grant, Michael George, Michael Gilman, Michael Haley, Michael Hailstock, Michael Heffron, Michael Hoyt, Michael Hilands, Michael Hayes, Michael Hicks, Michael Flanders, Michael Jennings, Michael Keef, Michael Kelly, Michael Lovell, Michael Lanning, Michael Lyons, Michael Lannon, Michael Logan, Michael Ludden, Michael Looney, Michael Larney, Michael Keep, Michael Martyn, Michael Metcalf, Michael Moulton, Michael McClary, Michael Martin, Michael Mann, Michael Miles, Michael McClintock, Michael Metcalf, Jr., Michael Mitchell, Michael Mosher, Michael Poor, Michael Parke, Michael Perry, Michael Quinn, Michael Reade, Michael Ryan, Michael Saunders, Michael Sutton, Michael Stocker, Michael Sargent, Michael Smith, Michael Shalletoo, Michael Tamtor, Michael Thomas, Michael Tebo, Michael Traynor, Michael Tilton, Michael Troy, Michael Tinney, Michael Veal, Michael Salter, Michael Reed, Michael Verli, Michael Wentworth, Michael Worthen, Michael Whidden, Michael Sudrick, Michael Silk, Michael Ward, Michael Vincint, Michael Johnson, Michael Woodcock, Michael Woodcock, Jr., Michael Johnston, Michael Scruton, Michael Fowler, Michael French, Michael Mudge, Michael Herring, Michael Warring, Michael Butler, Michael Burnham, Michael Colley, Michael Dunning, Michael Duff, Michael Farley, Michael Huffuel.
THE JOURNAL OF THE AMERICAN-IRISH HISTORICAL SOCIETY (Vol. IV)
1904
Irish Names in Rhode Island Previous to 1776.
The following is a list of Irish surnames found in the official records of Rhode Island, and in books, papers, and documents relating to the history of the latter. The names appear as early as the year mentioned in each case, but in some instances may have been represented at even an earlier period:
Banon, 1766.
Barret, 1751.
Baxter, 1751.
Bennett, 1646.
Blake, 1675.
Bourk, 1755.
Boyd, 1741.
Boyle, 1675.
Brandon, 1675.
Brian, 1675.
Burg (Burk?), 1667.
Burk, 1764.
Burns, 1772.
Butler, 1670.
Byrn, 1747.
Cain (Kane), 1738.
Carroll, 1768.
Carty, 1721.
Cary, 1693.
Casey, 1663.
Casside (Cassidy), 1732.
Cavenaugh, 1752.
Clinton, 1752.
Cogin, 1755.
Coleman, 1702.
Collins, 1642.
Conner, 1732.
Connor, 1742.
Coursey, 1713.
Crane, 1775.
Creman, 1746.
Cummings, 1739.
Curley, 1775.
Dailey, 1689.
Daley, 1710.
Daly, 1736.
Darcey, 1718.
Day, 1677.
DeCourcy, 1720–25.
Delaney, 1742.
Dempsey, 1743.
Dermott, 1761.
Devett, 1685.
Devitt, 1685.
Donnelly, 1747.
Donohoe, 1758.
Donovan, 1751.
Dowling, 1742.
Downer, 1760.
Downing, 1731.
Doyle, 1698.
Driskell (Driscoll), 1774.
Drury, 1675.
Dunn, 1682.
Dwyer, 1756.
Egan, 1745.
Farrell, 1742.
Fitzgerald, 1743.
Fitzpatrick, 1761.
Flannagan, 1762.
Flynn, 1752.
Ford, 1675.
Fox, 1704.
Gallagher, 1736.
Geery, 1675.
Gibbons, 1636.
Glenn, 1756.
Gorman, 1761.
Hagerty, 1775.
Haley, 1719.
Hanley, 1745.
Harvey, 1746.
Harvie, 1665.
Hartagan, 1753.
Hayes, 1675.
Healey, 1675.
Hearn, 1759.
Heffernan, 1671.
Hefernan, 1671.
Hickey, 1752.
Higgins, 1699.
Holland, 1729.
Hurley, 1740.
Joyce, 1731.
Keeny, 1765.
Kelly, 1669.
Kenney, 1675.
Lanahan, 1750 (about).
Lane, 1675.
Larkin, 1655.
Lawless, 1720.
Linniken, 1690.
Long, 1677.
Lyon, 1737.
Macarte, 1677.
Macfarline, 1759.
Mackenny, 1720.
Mackey, 1737.
Mackown, 1723.
Macoone, 1669.
MacSparran, 1718.
McCane, 1740.
McCarty, 1677.
McClure, 1748.
McCone, 1740.
McCorrie, 1765.
McDonald, 1745.
McGee, 1767.
McGonegal, 1742.
McGoron, 1758.
McGow, 1747.
McGowan, 1747.
McGrath, 1759.
McKane, 1740.
McMillen, 1754.
Magee, 1758.
Magenis, 1675.
Magill, 1749.
Maguire, 1750.
Mahoney, 1774.
Malavery, 1687.
Maloney, 1675.
133Manning, 1762.
Martin, 1677.
Mitchell, 1703.
Moore, 1700.
Mulholland, 1742.
Mullen, 1760.
Mulligan, 1775.
Murphy, 1675.
Murray, 1752.
Neale, 1675.
Nevill, 1675.
Nixon, 1722.
Norton, 1716.
O'Brien, 1751.
O'Harra, 1728.
O'Kelly, 1774.
O'Neil, 1756.
Orr, 1695.
Phelon, 1730.
Read, 1667.
Reed, 1727.
Rily, 1675.
Ring, 1755.
Roach, 1773.
Ross, 1751.
Russell, 1736.
Ryan, 1756.
Shay, 1731.
Sheehan, 1759.
Sheen, 1754.
Stewart, 1724.
Sullivan, 1740.
Sullivant (Sullivan?), 1733.
Tally, 1747
Tracy, 1675.
Ward, 1677.
Watson, 1722.
Walch, 1703.
Welch, 1675.
Welsh, 1738.
THE JOURNAL OF THE AMERICAN-IRISH HISTORICAL SOCIETY (Vol. V)
1905
Historical Notes of Interest.
James Bourk, "captain of the brig Neptune," is mentioned at Newport, R. I., 1773.
William Welch, "from Ireland," settled in Charlestown, R. I. He was born in 1700 and died in 1786.
Richard Field, "a native of Dublin, Ireland," was long a resident of Newport, R. I., and died in 1769.
Thomas McCartee of Hartford, Conn., is mentioned in the "Lexington Alarm" list of that place, 1775.
An Irishman, John Fitton, settled in Providence, R. I., about 1750. He was a merchant. He died in 1810.
Daniel Byrn was lieutenant in a regiment (1759) raised by act of the General Assembly of Rhode Island.
The records of Nantucket, Mass., contain the following entry: "Betty ye dau. of Denis Manning was born July ye 10, 1679."
James Dailey is mentioned in the Revolutionary records as of the corps of Sappers and Miners; was at the siege of Yorktown.
The Chevalier Theobald Dillon was "colonel en second" of the Irish-French regiment of Dillon during the American Revolution.
Stephen Brady was of Col. Obadiah Johnson's Connecticut regiment, 1778. The regiment participated in the battle of Rhode Island.
Constant Maguire "of County Fermanagh," Ireland, settled in Rhode Island prior to 1750, and became prominent in Warwick and East Greenwich.
In 1751–'52, Terence Donnelly was engaged by the town of Newport, R. I., as a schoolmaster. He later conducted a school of his own in that place.
The ship Sally arrived at Boston, Mass., in 1763, having been fifty-nine days on the voyage from Ireland. She was quarantined at Boston for smallpox.
A privateer captain in the Revolution was William Malone. He is believed to have been of Newport, R. I. He commanded at one period The Harbinger.
John Conley of Stratford, Conn., served in the second troop of Sheldon's Continental Light Dragoons during the Revolution and is mentioned as a trumpeter.
John Flynn of Woodstock, Conn., is mentioned in the Woodstock "Alarm List," 1775. He is also mentioned as a trumpeter in Major Backus' Light Horse, 1776.
Owen Neill of New London, Conn., sustained losses aggregating £91, 14s 6d by the ravages of the British at the time of the latter's attack on New London, 1781.
Bridget Clifford came from Ireland, 1635, in the Primrose bound for Virginia. She was accompanied by two of her brothers. She died at Suffield, Conn., in 1695.
Peter Welsh was adjutant during the Revolution of Col. Frederick Weissenfels' New York regiment of levies. He is also mentioned as quartermaster of the regiment.
Thomas Fitzgerald was a midshipman during the Revolution on the Continental frigate Trumbull. The latter was built in Connecticut under the authority of Congress.
Patrick Canny, a soldier of the Revolution, was serving at Horseneck, Conn., in 1782–'83. He is mentioned in Stiles' History and Genealogies of Ancient Windsor, Conn.
Philip Mullen was fire master of Albany, N. Y., in 1755, and Philip Ryley was in charge of the town clock. (Hon. Franklin M. Danaher in Early Irish in Old Albany, N. Y.)
John McGinnis was a New York soldier of the Revolution. He served at one period in Bradt's Rangers. Also in this corps were Edward Early, Richard Kain and Barney Kelley.
Luke Burns, a cordwainer, resided in Providence, R. I., and died in 1788. Jonathan Green, "living near the Mill-Bridge in Providence," was appointed administrator of the estate.
91Bryant O'Dougherty was in Salem, Mass., in 1683. At that period there were many Irish in Salem. (Eben Putnam in "Historical and Genealogical Notes and Queries," Salem Observer.)
James Kasson, with his father and six brothers, came from Ireland in 1722 and landed at Boston, Mass. He later settled in Voluntown, Conn., removing to Woodbury, Conn., in 1742.
Armand O'Connor was one of the "capitaines en second" of the Irish-French regiment of Walsh during the American Revolution. He is referred to as the Chevalier Armand O'Connor.
Henry Paget, "an Irish gentleman much respected," was admitted a freeman of Rhode Island, 1742. He wedded a daughter of Rev. John Checkley, rector of a church in Providence, R. I.
Thomas Ryan is mentioned in the Connecticut Revolutionary records as a drummer in Captain Brewster's company, Colonel Huntington's regiment (Seventeenth Continental), 1776.
A Rhode Island merchantman, the Abby, Capt. John Donovan, was attacked in August, 1752, by a French warship. Captain Donovan met the attack in a spirited manner but was killed.
Maj. Matthew Donovan of the Ninth Virginia regiment during the Revolution died in the service, 1777. The state of Virginia allowed his heirs 6,893 acres. (See mention in Saffell.)
Abbe Dowd, "Irlandais," was a chaplain of the French warship Le Jason in the American Revolution. Le Jason was of the fleet of Count De Ternay, which was assisting the American cause.
In the Massachusetts force that rendezvoused on "Dedham Plain," for the Narragansett campaign, 1675, was a soldier named Jeremiah Neal. He is mentioned as a sergeant of the sixth company.
Lieut. Hugh McManus and Lieut. John Riley served in the Sixth Regiment, Albany County, N. Y., Militia, during the Revolution. The regiment was commanded by Col. Stephen John Schuyler.
The Connecticut Revolutionary records mention Michael McGee, a soldier who served in Colonel Burrall's regiment of that state. McGee was taken prisoner in "the affair at the Cedars," 1776.
Over fifteen members of Capt. John Giles' company, 1723–'24, were natives of Ireland. The company was engaged operating against the Indians in Maine, and is mentioned in the Massachusetts records.
Tench Francis, son of an Irishman, was born in Maryland, 1732; became attorney-general of the province of Pennsylvania; was captain of the Quaker Blues; subscribed £5,500 in aid of the Patriot army.
David Dowd, soldier of the Revolution, served in a Connecticut light infantry company, under Lafayette, February-November, 1781. The company was commanded by Capt. Samuel Barker of Branford, Conn.
A settler at Sudbury, Mass., Richard Burke, came from Ireland prior to 1650. He married in 1670 and left many descendants. He was one of the earliest Burkes to settle in America of whom we have record.
An early resident of Newport, R. I., was Owen Higgins. His wife was born in 1640. In 1701, his son Richard is recorded as a freeman of Newport. (See Austin's Genealogical Dictionary of Rhode Island.)
Five ships arrived in Boston Harbor, Aug. 4, 1718, with Irish immigrants aboard. Many of these subsequently settled in New Hampshire. These facts are referred to in Cullen's Story of the Irish in Boston.
Daniel Sullivan, born in Ireland, 1717, died in Providence, R. I., 1814. In an obituary notice it is stated that "He had long resided in this town where his integrity and piety secured him confidence and esteem."
Charles McAfferty, "an Irishman," was a soldier of the Revolution and served in Col. Jeremiah Olney's Rhode Island Continentals. He was one of the first to enter the enemy's redoubts at the capture of Yorktown.
Patrick McSherry was an officer in the Irish-French regiment of Dillon during the American Revolution. He is mentioned in that recent work, Les Combattants Francais De La Guerre Americaine (Paris, 1903).
James Buchanan, a native of County Donegal, Ireland, came to this country in the brig Providence, 1783. He was then in his twenty-second year. His son, James, became president of the United States.
Two members of the Commander-in-Chief's Guard (Washington's), in the Revolution, were James and Robert Blair, both natives of 93Ireland. Godfrey's history of the guard furnishes a biographical sketch of each.
"In the discharge of his duty he has at all times proved himself an alert, brave and intelligent officer." The foregoing tribute was paid by Gen. Henry Knox to Lieut. Florence Crowley, a soldier of the Revolution.
Jacques O'Driscoll was one of the "capitaines en second" in the Irish-French regiment of Walsh during the American Revolution. Others of the same rank in the command were Edouard Stack and Charles O'Croly.
Hon. James Sullivan was governor of Massachusetts in 1807 and 1808. He succeeded Hon. Caleb Strong and preceded Hon. Christopher Gore. Governor Sullivan was a brother of Gen. John Sullivan of the Revolution.
Ten ships, bringing nearly one thousand passengers, arrived at Boston, Mass., from Ireland, during the two years, 1736 and 1738. It was at this period, 1737, that the Charitable Irish Society of Boston was organized.
Thomas Quirk, "a brave and fine-looking Irishman," served under Gen. George Rogers Clark in the latter's western campaign. He had been a sergeant and is later mentioned as a major. He was alloted 4,312 acres.
Robert Beers, an Irishman, was slain "ye 28 March 1676," by the Indians. The tragedy occurred at "the ring of the town," within the limits of what is now East Providence, R. I. Beers was a brickmaker by occupation.
A distinguished officer of the Revolution, Edward Hand, was born in Kings County, Ireland. He came to America in 1767; espoused the Patriot cause, and was successively lieutenant-colonel, colonel, and brigadier-general.
The first funds of Rhode Island College, now Brown University, were obtained in Ireland. The original subscription book is still carefully preserved. (Guild's work on The First Commencement of Rhode Island College.)
In 1774 the Second Company, Governor's Foot Guard, of New Haven, Conn., engaged Edward Burke as instructor "in the military exercise." The company is one of the oldest existing military organizations in America.
Gov. Thomas Dongan of New York, an Irish Catholic, visited Milford, Conn., in 1685, to confer with Governor Treat regarding the boundary between the two colonies. Governor Treat terms Dongan "A noble gentleman."
Stephen Decatur, a Genoese Catholic, arrived in Newport, R. I., about 1740–'46; married a woman of Irish lineage; became captain of a privateer. His son, also named Stephen, attained high rank in the United States navy.
Thomas Casey was born in Ireland about 1636. He became a resident of Newport, R. I. In 1692 he and his son Thomas witnessed a deed given by James Sweet of East Greenwich, R. I., to Thomas Weaver of Newport.
Jean Baptiste O'Meara was one of the "lieutenants en second" of the Irish-French regiment of Walsh in the American Revolution. Holding like rank in the regiment were Jacques O'Sheil, George Meighan and Eugene MacCarthy.
On the roster of the British garrison at Albany, N. Y., when the place was reconquered from the Dutch and held for a short time in 1673, appear the names Capt. John Manning, Patrick Dowdell, John Fitzgerald and Thomas Quinn.
Matthew O'Bryan was a Massachusetts soldier of the Revolution. He served in Col. John Crane's regiment of artillery. In one return he is credited with service for 21 months and 25 days as bombardier and 12 months as matross.
Jane Brown was born in Providence, R. I., 1734. Her father, Rev. Arthur Brown, was a native of Drogheda, Ireland. She married Samuel Livermore, who became attorney-general of New Hampshire and United States senator.
Thomas Amory emigrated from Limerick, Ireland, to South Carolina. He removed from the latter place to Boston, Mass., in 1721. The late Thomas C. Amory of Boston, author of the Transfer of Erin, was one of his descendants.
Mrs. Grant in her Memoirs of an American Lady mentions "A handsome, good-natured looking Irishman in a ragged provincial uniform," named Patrick Coonie, with his wife and children, who settled near Albany, N. Y., in 1768.
Matthew Mease, who was born in Strabane, Ireland, became purser of the Bonhomme Richard and served under John Paul Jones in the engagement with the British 44–gun ship Serapis. Mease was wounded in that engagement.
In 1768, Patrick Mackey, mentioned as from Philadelphia, Pa., opened in Providence, R. I., "a skinner's shop near the Hay-ward, on the east side of the great bridge." He dealt in deer leather, in wool, and in goat and sheep skins.
The New York Revolutionary records mention Thomas Quigley, first lieutenant of the privateer General Putnam, "formerly the Betsey." She was commanded, successively, by Capt. Thomas Cregier and Capt. William Mercier.
A roll of Capt. John Givens' company of militia, Augusta County, Va., 1777–'82, includes the names James Donohoe, Peter Carrol, John Morrison, Neil Hughes, John Craig, Andrew Mitchell and others indicative of Irish extraction.
Alexander Johnston came from near Londonderry, Ireland, about 1721, and settled in Pennsylvania. He was a magistrate, and at one time owned a farm in Pennsylvania of 900 acres. Col. Francis Johnston of the Revolution was his son.
Michael Wright, a native of Mountmellick, Queens County, Ireland, served during the Revolution in a Rhode Island regiment of the Line. He is mentioned in a return as 42 years of age and as having his residence in Seaconnet, R. I.
Gen. Stephen Moylan, of the Revolution, was a brother of the Roman Catholic bishop of Cork, Ireland. Two of his sisters became nuns. One of them was abbess of the Ursuline convent in Cork, and the other was a nun in the same convent.
Macarty de Marteigue was the commander, in 1782, of the French warship Le Magnifique, which formed part of the naval force sent over by France to aid the American Revolution. Du Fay de Carty is mentioned as an ensign on the same ship.
The Massachusetts Revolutionary records mention Patrick Burke, a soldier of Col. John Crane's regiment of artillery. Burke enlisted for the town of Wrentham, Mass., was a sergeant, and is at one period referred to as "Orderly to the General."
Hugh McLean, a native of Ireland, was born in 1724. He settled in Milton, Mass., and died in 1799. His son, John McLean, was a benefactor of Harvard College and of the Massachusetts General Hospital, the latter institution in Boston, Mass.
Among those serving during the Revolution, in the First Regiment, Virginia Light Dragoons, were James Casey, Thomas Hogan, John Carroll, William Hicks, John Powers and Niel McCaffry. They are mentioned in the Virginia records of that period.
Some years after the close of the Revolution, Christopher Fitzsimons, a wealthy Irishman of Charleston, S. C., passed away, leaving an estate worth $700,000. His daughter, Anne, married one of the Hamptons, receiving $100,000 as her dower.
Mention is made in the Massachusetts Revolutionary records of John McLaughlin, a marine who served aboard the Alfred, commanded by John Paul Jones. McLaughlin is referred to as entitled to prize shares in the ship Mellish and the brig Active.
Before 1800, Masters Knox and Crocker, natives of Ireland, taught school at Bowen's Hill (Coventry, R. I.), and the neighborhood. (Cole's History of Washington and Kent Counties, R. I.) The name Knox is found in the Coventry records as early as 1766.
David O'Killia, a son of David, "the Irishman" of old Yarmouth, Mass., married Anna Bills in 1662. He had a brother named John who wedded in 1690. Another brother, Jeremiah, died in 1728. A sister, Elizabeth, became the wife of Silas Sears in 1707.
Timothy McKlewain's name appears in a list of subscribers at a meeting in East Windsor, Conn., April 21, 1777. The meeting was "For ye Great & important Purpose of furnishing our Proportion of men for the Continental Army." He subscribed £1 10s.
Alexander Bryan, from Armagh in Ireland, was a settler at Milford, Conn., as far back as 1639. In 1661 he bought of the Indians the last twenty acres they owned on Milford Neck. He paid them therefor six coats, three blankets and three pairs of breeches.
Among the ancient inscriptions in the old Granary Burial Ground, Boston, Mass., is the following: "Here Lyeth Interred ye body of Charles Maccarty, son to Thadeus and Elizabeth Maccarty, aged 18 years, wanting 7 days. Deceased ye 25 of October, 1683."
Patrick Cavenaugh, a soldier of the Revolution, served in the Eighth Regiment of the Pennsylvania Line. On one occasion he saved General Lincoln from being captured by the British, in New Jersey. He was afterwards an express rider for General Greene.
A Massachusetts soldier of the Revolution was Daniel McCarty. He was born in Ireland, came to this country and enlisted in the Patriot ranks. He served in Greaton's regiment and is credited in the records to Roxbury, Mass. He is reported as killed in 1777.
Charles O'Gorman was one of the "lieutenants en second" of the Irish-French regiment of Walsh during the American Revolution. His name is preserved in the French military archives and is mentioned in Les Combattants De La Guerre Americaine (Paris, 1903).
About 1735, Richard Copley with his wife, Mary (Singleton) Copley, came to America from County Clare, Ireland. His health being poor, he went to the West Indies to recuperate. John Singleton Copley, the eminent artist, a native of Boston, Mass., was their son.
Matthew Hurley was one of the soldiers serving in the war against Philip, the Indian king, 1675–'76. He was at one period of the company of Captain Wadsworth, who was killed in the battle at Sudbury, Mass., and is mentioned in Bodge's work on King Philip's War.
Patrick McLaughlin, a soldier of the Revolution, served in the First Pennsylvania regiment, commanded by Col. John Philip De Haas; was taken prisoner by the British at Three Rivers, June 9, 1776. He is mentioned in the Revolutionary records of Pennsylvania.
Abbe Bartholomew O'Mahony was chaplain of the French warship L'Ivelly during the American Revolution. L'Ivelly was commanded by M. le Chevalier Durumain, and formed part of the fleet of Count De Grasse. (See Les Combattants Francais De La Guerre Americaine.)
In an old cemetery at Rutland, Mass., is a gravestone to the memory of Patrick Gregory, who was born in County Donegal, Ireland, about 1690. When he came to this country is unknown. He died July 5, 1756. On the gravestone just mentioned shamrocks are carved.
A native of County Armagh, Ireland, Thomas Robinson, was born in 1745 and died in Providence, R. I., 1809. He had been a resident of Providence for seventeen years; was described as "an ingenious and useful citizen" and "possessed the most enduring philanthropy."
An influential man in Maryland, in 1647 and later, was Philip Conner. In the year named he was appointed a commissioner for Kent County. He is referred to as "The last commander of old Kent." A descendant, James Conner, in 1705 wedded Elinor Flannagan.
Born at sea, of Irish parents, 1745, William Patterson died in 1806. He was a member of the first Constitutional Convention of New Jersey; attorney-general of the state; United States senator; governor of New Jersey; and judge of the Supreme Court of the United States.
At a military review near Trenton, N. J., in 1776, George Fullerton, a native of Ireland, was killed by the accidental discharge of a pistol. He was a merchant in Philadelphia, Pa., and a member of the First City Troop. In his will is mentioned John Fullerton, an uncle in Ireland.
Three Irish Rhode Islanders in the Revolution were James Bishop, William Parker and John Wilson. Bishop was born in Dublin; Parker in County Waterford, and Wilson in County Kilkenny. They served in Captain Topham's company of Col. Thomas Church's regiment.
Ensign Patrick Cronin was of Colonel Malcom's New York regiment of levies in the Revolution. Also on the regimental rolls appear the names Cleary, Conner, Crane, Daley, Griffin, Jackson, McCarty, McCoy, McGee, McWilliams, Mead, Moore, Morrison, Murphy and the like.
Hon. Thomas McKean, a signer of the Declaration of Independence and president of Congress, was a founder, an incorporator, and the first president of the Hibernian Society of Philadelphia, Pa. His parents were both natives of Ireland. (Campbell's History of the Hibernian Society.)
Michael Connolly was captain and paymaster, during the Revolution, in the Second New York Regiment of the Line. Philip Van Cortland was colonel of the regiment. There were many Irish in the command, as reference to New York in the Revolution, by James A. Roberts, will show.
An Irish trader at Fort Pitt (Pittsburg) before the Revolution was John Ormsby. He suffered depredations during Pontiac's war, and was later granted a large tract of land at Fort Pitt. He was an active patriot during the Revolution and took a prominent part in the struggle for liberty.
Capt. Daniel Malcom, an Irishman, died in Boston, Mass., 1769. He "was a true son of Liberty, a friend to the Publick, an enemy to oppression and one of the foremost in opposing the Revenue Acts on America." His remains rest in a brick tomb in the old Copp's Hill graveyard, Boston.
Capt. Edward Connor was of Col. Marinus Willett's New York regiment in the Revolution. Also in the regiment appear such names as Burk, Crowley, Downing, Garvey, Hicks, Kelly, Kenny, Lane, Lyons, McCoy, McGee, McGill, McVey, Molloy, Moore, Quin, Ryan and Welsh.
A Connecticut soldier of the Revolution, George McCarty, served in Bigelow's artillery company, the first company of artillery raised in Connecticut during the war. It marched to the northern department and was stationed during the summer and fall of 1776 at Ticonderoga and vicinity.
Born in Tipperary, Ireland, Edward Fitzgerald came to this country and became a soldier of the Revolution. He was a resident of Newport, R. I. He is mentioned as of the Rhode Island Continental Line when he was but 19 years of age. He saw much service at Ticonderoga and elsewhere.
A native of Dublin, Ireland, John Read was born in 1688. He came to this country, purchased an estate in Maryland, and was one of the founders of Charlestown on the headwaters of Chesapeake Bay. He was appointed by the Colonial Legislature a commissioner to lay out and govern the town.
Paul Cox, an Irishman, was of Philadelphia, Pa., as early as 1773. He became a member of the Pennsylvania State Navy Board, 1777, and was otherwise prominent. The inscription on his tombstone in Philadelphia states that he was "Thrice an elector of the president of the United States."
Christopher Marshall, a native of Dublin, Ireland, was born in 1709. He settled in Philadelphia, Pa., and was a druggist. During the Revolution his firm furnished drugs and medicines to the Continental army. He was a member of the Committee of Safety throughout the whole period of the war.
Maj. John Gillespy is mentioned as serving during the Revolution in the Fourth Regiment, Ulster County (N. Y.) Militia, commanded 100by Colonel Hardenburgh. Also of the same regiment was Lieut. Samuel Gillespy. (Vide New York in the Revolution, by Comptroller James A. Roberts, Albany, 1898.)
In the old graveyard attached to the stone church built on the site of Fort Herkimer in the Mohawk valley, N. Y., is buried John Ring "of the Kingdom of Ireland, captain of one of His Majesty's companies of this Province, who departed this life 20th day of Sept., 1755, in the 30th year of his age."
Thomas McCarthy, a soldier of the Revolution, enlisted from Newtown, Pa., Jan. 14, 1776, for three years, in Capt. George Lewis' troop, Third Regiment, Continental Dragoons, commanded by Col. George Baylor. On May 1, 1777, he was assigned to the cavalry of the Commander-in-Chief's Guard.
John M. O'Brien is mentioned in the Rhode Island records as a soldier of the Revolution. He served in Captain Dexter's company, of the "Late Col. Greene's regiment," and died in 1781. He is believed to have been the soldier elsewhere mentioned in the Rhode Island records as John Morris O'Brien.
Andrew Caldwell, born in Ireland, became a prominent merchant in Philadelphia, Pa. He was a patriot of the Revolution; member of the Council of Safety; member of the First City Troop, Philadelphia; member of the Navy Board; port warden of Philadelphia; a director of the Bank of North America.
George Bryan, an Irishman, became a resident of Philadelphia, Pa.; was a member of the Assembly; a delegate, in 1765, to the Stamp Act Congress; a patriot of the Revolution; vice-president of the Supreme Executive Council of Pennsylvania: president of the same; a judge of the Supreme Court of the state.
In Mason's Reminiscences of Newport (R. I.) is an interesting reference to Henry Goldsmith, a native of Westmeath, Ireland. He settled in Newport when he was 24 years of age, married there in 1779, and had 14 children. At the close of the Revolution, Mr. and Mrs. Goldsmith removed from Newport.
James Calhoun, grandfather of John C. Calhoun, came from Donegal, Ireland, in 1733, with his family, and settled in Pennsylvania, later removing to western Virginia, and at a later period, further south. In 1765 they established the "Calhoun settlement" in South Carolina, near the Cherokee Indian frontier.
James Blaine came from Ireland with his family prior to 1745. He settled in Toboyne township, Cumberland County, Pa., where he died in 1792. He left a widow and nine children. Col. Ephraim Blaine of the Revolution was one of these children. The late Hon. James G. Blaine of Maine was a descendant.
One of the officers in the Irish-French regiment of Dillon, during the American Revolution, was Patrick Murphy. His name is preserved in the military archives of France, and by its publication in Les Combattants Francais De La Guerre Americaine, is recalled and forever made known to the American people.
Mary Peisley was a native of Kildare, Ireland, and was born in 1717. She entered the Quaker ministry about 1744, came to America with Ann Payton, and perhaps other Quakers, about 1753, labored in New York, the Carolinas, Maryland and Rhode Island; returned to Ireland and married Samuel Neale of Dublin.
James Moore, who was chosen governor of South Carolina, was born in Ireland about 1640. He came to this country in 1655, settled in Charleston, S. C., wedded a daughter of Sir John Yeamans and had 10 children. One of his sons, also named James Moore, was likewise chosen governor of South Carolina.
Born in Ireland in 1705, Jeremiah Smith came to Boston, Mass., with his wife, in 1726, and finally settled in Milton, Mass., 1737. He was an intimate friend of Governor Hutchinson, Governor Hancock and other leading men. He engaged in the manufacture of paper, and carried on the business until 1775 when he retired.
The Virginia records show that Symon Tuchin was in that colony in 1625. He was master of the Due Return, and "having been banished out of Ireland was reported as strongly affected to popery." Accordingly, "The Governor and Council of Virginia sent him as a prisoner, in January, 1625, to the Company in England."
Mary Mallins, "from Bandon in Ireland," was among those arrested in Boston, Mass., at the time of the prosecution of the Quakers, she being one of the latter. She and twenty-seven other Quakers were finally liberated by Endicott and were ordered to leave the jurisdiction at once, nor to return at their peril.
Morison's Life of Judge Jeremiah Smith, who was a native of Peterborough, N. H., states that "He began to study Latin when about twelve years old, with Rudolphus Greene, an Irishman employed by the town to keep school a quarter of the year in each of the four quarters of the town." Judge Smith was born about 1771.
John Mitchell, a native of Ireland, was muster-master-general of the Pennsylvania State navy, 1775–'76; acting commissary, 1776–'77; lieutenant on the Chatham, 1775; captain of the Ranger, 1776; a merchant in France after the Revolution; United States consul at Santiago de Cuba; admiralty surveyor of Philadelphia, Pa.
A Rhode Island soldier, 1756–'59, was named William Sheehan. He is mentioned in the former year as a lieutenant and quartermaster for the expedition against Crown Point. In 1758, he appears as first lieutenant in the major's company of his regiment, and is also referred to the same year as captain and quartermaster.
A Virginia trooper who rendered service against the French and Indians was Thomas Doyle. The Assembly of Virginia passed an act in 1756 for the payment of men engaged in said service. Doyle was voted 1,860 pounds of tobacco, and other troopers were to be paid like amounts. (Boogher's Gleanings of Virginia History.)
Daniel Magennis is a name frequently met in King Philip's War, 1675–'76. Daniel became a corporal and was at one time company clerk. He served at various times under Captain Henchman, Captain Wheeler and other commanders. His name also appears in the records as Maginnis. (See Bodge's History of King Philip's War.)
Col. Charles Stewart was born in County Donegal, Ireland, 1729. He came to America, 1750; was deputy surveyor-general of Pennsylvania; patriot of the Revolution; colonel of a New Jersey regiment of Minute Men; colonel of a New Jersey regiment of the Line; served on Washington's staff; member of the Continental Congress.
"In the Mayflower … were one hundred and one men, women, boys and girls as passengers, besides captain and crew. These were of English, Dutch, French and Irish ancestry, and thus typical of our national stock." (Rev. William Elliot Griffis in Brave Little Holland and What She Taught Us. New York, 1894. Page 208.)
Bernard O'Neill was a captain in the Irish-French regiment of Dillon in the American Revolution. He was probably the "Captain Commandant O'Neill" who participated in the expedition against Savannah, where he was wounded in the breast, and may have been identical with "Le Baron Bernard O'Neill," who became a Chevalier of St. Louis.
Thomas DeCourcy was a native of Newport, R. I. His father came from Ireland and settled in Newport about 1720. The father's brother, also named Thomas, was Baron Kinsale. Upon the latter's death, Thomas, the native of Newport, succeeded to the title and estates. Mention of these facts may be found in Peterson's History of Rhode Island.
Eleanor Ledlie was of Irish parentage. She became the wife of Capt. Samuel Bowman, an officer of the Revolution, who as commander of the guard walked arm in arm with Major Andre, the British spy, to the place of the latter's execution. (Hon. Edward A. Moseley of Washington, D. C., in an address to the American-Irish Historical Society.)
Matthias Alexis de Roche Fermoy, of Irish extraction, was an officer in the French forces that came to America during our Revolution and assisted in establishing the independence of the United States. He became a brigadier and is mentioned in the work entitled Generals of the Continental Line in the Revolutionary War (Philadelphia, 1903).
Brian Murphy was a soldier in King Philip's War, 1675–'76. He is mentioned in Bodge's history of that war and is credited with garrison duty at Mendon, Mass. Thomas Tally, Patrick Morren, Timothy Larkin, Joseph Griffin, Jeremiah Toy, Philip Butler, John Hand and Thomas Welch are also mentioned by Bodge as participating in that struggle.
During the Revolution, Capt. William Burke of the armed schooner Warren was captured by the British frigate Liverpool and carried into Halifax, from whence he was sent to New York and confined on board a prison ship. He was later exchanged for Capt. Richard Jones, "a British officer of equal rank." Captain Burke is mentioned as of Marblehead, Mass.
Susannah Lightfoot, a native of Ireland, was born in 1720. She was a Quaker, and with Ruth Courtney came from Ireland to America on a visit to Friends here. On her return to the Old Land, she landed at Cork. In 1760, she paid a second visit to these shores, and four years later removed with her husband from Ireland and permanently settled here.
Among those serving under Esek Hopkins, during the Revolution, was Patrick Kaine. He is mentioned as a marine and served aboard the Cabot. In an engagement with the British ship Glasgow, April 6, 1776, he was killed. Anthony Dwyer, Richard Sweeney, John Connor, Thomas Dowd and Andrew Magee also served aboard the Cabot under Hopkins.
Jeremiah Driskel, William Henussey and John Leary all served in the Commander-in-Chief's Guard (Washington's) during the Revolution. Driskel had previously served in a Maryland regiment; Henussey, in a Pennsylvania command, and Leary, in a regiment commanded by John Stark. (See Godfrey's work on The Commander-in-Chief's Guard.)
In 1776, John O'Kelley was a member of a military company in the town of Warren, R. I. The company was commanded by Capt. Ezra Ormsbee. Also in the company were Daniel Kelley and Joseph Kelley. The General Assembly of Rhode Island, in 1782, gave "Mrs. Elizabeth O'Kelley, widow of John O'Kelley," of Warren, permission to sell certain real estate.
Thomas Jones, "from Strabane, Ireland," came to Rhode Island prior to 1699; later he removed to Long Island, N. Y. He married Freelove Townsend, whose father gave them land at Massapequa, where they settled. They are mentioned in Bunker's Long Island Genealogies. Mr. and Mrs. Jones had a son David, born in 1699. Thomas, the immigrant, died in 1713.
Andrew Meade, a Kerry Irishman, and a Catholic, emigrated to New York, married Mary Latham, a Quakeress of Flushing, went to Nansemond County, Va., and died there in 1745. His son was Col. Richard Kidder Meade, an aide-de-camp of General Washington. (Quoted by Martin I. J. Griffin of Philadelphia, Pa., in American Catholic Historical Researches.)
Thomas, John and Walter Dongan, kinsmen of Governor Dongan of New York, are believed to have been residing in New York in 1715. In 1723 a private act was passed by the Assembly of the province "to enable Thomas Dongan and Walter Dongan, two surviving kinsmen of Thomas, late Earl of Limerick," to sell part of their estate. A similar act was passed in 1726.
Hotten's Original Lists (London, 1874) contain the names of many Irish who were conveyed to Virginia, Barbadoes and other parts. The work comprises the period from 1600 to 1700 and mentions "Persons of quality, emigrants, religious exiles, political rebels, serving men sold for a term of years, apprentices, children stolen, maidens pressed" and other wayfarers of the time.
Charles Carroll, grandfather of Charles Carroll of Carrollton, came to this country about 1689 and settled in Maryland. In 1691 he was made judge and register of the land office, and agent and receiver for Lord Baltimore's rents. His son, also named Charles Carroll, was born in 1702 and died in 1782. Charles Carroll of Carrollton was a son of this second Charles Carroll.
Michael Ryan, a soldier of the Revolution, was acting-adjutant of the Fourth Pennsylvania regiment, commanded by Col. Anthony Wayne, from Feb. 17, 1776; was appointed adjutant March 15 that year; became a captain in the Fifth Pennsylvania, and was inspector of General Wayne's division; was promoted brigade-major, Nov. 18, 1777; also served as major of the Tenth Pennsylvania.
The Massachusetts records mention Patrick McMullen as serving during the Revolution aboard the Providence, under John Paul Jones. He is referred to as entitled to a prize share in the ship Alexander, captured in 1777, and is also mentioned as a marine aboard the Alfred, commanded by Jones. In this latter capacity he was entitled to prize shares in the ship Mellish and the brig Active,
Andrew Brown, born in Ireland, was educated at Trinity College, Dublin, came to this country and eventually settled in Massachusetts. He was a patriot of the Revolution, fought at Lexington and Bunker Hill; served as major under Gates and Greene. After the war, he established the Federal Gazette at Philadelphia, Pa., the publication being later known as the Philadelphia Gazette.
An Irish schoolmaster in Brunswick, Me., was Thomas Crowell. He settled there shortly after the close of the Revolution, and taught school there for over twenty years. Many of his pupils became leading business men, and some of them famous shipmasters. Sumner L. Holbrook read a paper, a few years ago, before the Pejepscot Historical Society, of Brunswick, devoted to Master Crowell.
John Donnaldson, "son of Hugh Donnaldson of Dungannon, Ireland," was a shipping merchant in Philadelphia, Pa.; a patriot of the Revolution; member of the First City Troop; took part in the battles of Trenton, Princeton, Brandywine, and Germantown; subscribed £2,000, in 1780, in aid of the army; became register-general of Pennsylvania; and comptroller-general of the state.
David McCarty, Albany, N. Y., was a member of the Committee of Safety there during the Revolution. He was a valiant soldier and at the time of his death was a general of state troops. In May, 1771, he married Charlotta, granddaughter of Pieter Coeymans, the founder of a wealthy Dutch family. By this marriage McCarty came into the possession of much land in the Coeymans Patent.
Well-nigh forgotten now is Christopher Stuart, an Irishman and soldier of the Revolution. He was born in the Old Land, 1748, and settled in Montgomery County, Pa. He served successively as captain, major and lieutenant-colonel of Pennsylvania troops, including the Line; took part in the battle of Long Island, the storming of Stony Point, and in other actions of the war; died, 1799.
Patrick Googins, "a young Irish weaver," came to this country about 1722 and settled at Old Orchard, Me. He married Hester Rogers. Her father gave Patrick as her marriage portion 200 acres there. In years long after, the place became known as "the old Googins farm." The farm remained in the Googins family for four generations. (See an article in the Old Orchard Mirror, 1902.)
One of the founders of the Charitable Irish Society of Boston, Mass., 1737, was Joseph St. Lawrence. In the records of the Boston selectmen, that year, appears the following: "Mr. Joseph St. Lawrence from Ireland, Merchant, having imported upwards of Fifty Pounds Sterling, Prays he may be Allow'd to Carry on his Business in this Town." It is presumed the desired permission was granted.
Charles Thomson, who for nearly fifteen years was secretary of the Continental Congress, being sometimes referred to as its "Perpetual secretary," was born in Ireland, 1729. He participated in various treaty proceedings with the Indians, and was styled by the latter "The man of truth." He married Hannah Harrison whose nephew, William Henry Harrison, became president of the United States.
Robert Temple arrived at Boston, Mass., from Ireland, in 1717, with a party of Irish Protestants. He settled on Noddle's Island, now East Boston, and had a house there that "contained elegant rooms suitable for the reception of persons of the first condition." He commanded a company in operations against the Indians. He became a member of the Boston Charitable Irish Society in 1740.
George Taylor, a native of Ireland, died in Providence, R. I., in 1778. He taught school there for over 40 years, was for a number of years president of the Town Council and held other positions of trust and honor. He was a man of public spirit and witnessed events of the earlier part of the Revolution. The Providence Gazette states that "He was an honor to the country that gave him birth."
Col. Israel Angell of the Second Rhode Island regiment in the Continental Line, has this entry in his diary under date of March 17, 1781: "Good weather. A great parade this day with the Irish, it being St. Patrick's. I spent the day on the Point [West Point], and tarried with the officers." This diary has been reproduced in printed form by Edward Field, secretary of the Providence, R. I., Record Commission.
Alexander Black, an Irishman, was a resident of Providence, R. I., as early as 1762. He was a merchant and was associated in business with James Black, and later with Alexander Stewart. Alexander Black died in Providence, 1767. In a notice of his death, which appears in the Providence Gazette, he is declared to have been "A fast friend to the liberties of America, and studied to promote the public weal."
James Kavanagh, a native of County Wexford, Ireland, came to Boston, Mass., in 1780, during the Revolution, but settled at Damariscotta Mills, Me., and engaged in the lumber business. His son, Edward, became president of the State Senate of Maine, a member of Congress, United States charge d'affaires in Portugal, a commissioner to settle the northeastern boundary of Maine, and acting governor of Maine.
Edmund Fanning, an Irishman, was a victim of the Cromwellian confiscation, and fled at the time of the surrender of Limerick, 1651, and settled in Groton, Conn. His uncle, Dominick Fanning of Limerick, was one of the 21 persons exempted from pardon by Ireton and was beheaded at that time. D. H. Fanning and Walter F. Brooks, Worcester, Mass., are descendants of Edmund Fanning, the Groton settler.
Morgan Connor, a Pennsylvania soldier of the Revolution, was successively lieutenant, captain, major, and lieutenant-colonel commandant. He served in Col. Samuel Miles' Pennsylvania Rifle Regiment; was wounded in the right wrist at Princeton; was called from camp by Congress in March, 1776, and sent South as brigade major for General Armstrong; was afterwards lieutenant-colonel of Hartley's regiment.
John Brown, a native of Ireland, came to this country about 1760. He settled in Virginia, in the Warm Spring Valley, and had a tract of 400 acres. About 1778 he married Mary Donnelly. He commanded a company in the Revolution, and after the war was a justice for Bath County, Va., sheriff and treasurer of the county, major of the Second Battalion of militia, and a member of the General Assembly of Virginia.
Daniel Dulany, a native of Queens County, Ireland, was born in 1686. He was a cousin of Rev. Patrick Dulany, dean of Down. Daniel came to this country when quite young and settled in Maryland. He was admitted to the bar in 1710, became attorney-general of the province, judge of admiralty, commissary-general, agent and receiver-general, and councillor. He was in the public service of Maryland for nearly 40 years.
Edward Fox was born in Dublin, Ireland, 1752; came to this country, studied law and eventually settled in Philadelphia, Pa. He held various positions of prominence there; became secretary of the Bank of the United States, secretary of the American Fire Insurance Co., recorder of deeds for the county of Philadelphia, and treasurer of the University of Pennsylvania. One of his sons married a daughter of Gen. Stephen Moylan.
Cortlandt Schuyler of Albany, N. Y., was captain in "a marching regiment" of the British Army. He married a handsome Irishwoman in Ireland, while stationed there, and brought her to Albany about 1763. Upon his death, she returned to Ireland with her children, "where it is said their desendants bearing the name Schuyler still live." (Mrs. Grant's Memoirs of an American Lady, quoted by Hon. Franklin M. Danaher of Albany.)
In 1769–'70, Rev. Hezekiah Smith made a tour of South Carolina and Georgia in aid of Rhode Island College, now Brown University. He says in his diary of the tour: "Thursday, March 1, 1770, went to Malachi Murfee's." The list of those who subscribed in aid of the college, on this Southern trip, includes Edward Dempsey, Charles Reilly, Patrick Hinds, James Welsh, Hugh Dillon, John Boyd, Matthew Roach and Capt. John Canty.
An officer who came with our French allies during the Revolution was Isidore de Lynch. He was at one period an aide-de-camp to the Chevalier de Chastellux. Referring to the return of the French to Boston after the surrender of the British at Yorktown, Count Segur speaks of "Isidore de Lynch, an intrepid Irishman, afterwards a General." Lynch became commander of the Irish-French regiment of Walsh, and was decorated with the Cross of St. Louis.
The Dutch records of Albany, N. Y., mention Jan Fyne, "van Waterfort in Irlandt." His name likewise appears as Johannes Fine, which in English would probably be John Finn. He is believed to have been a soldier who was sent to Albany in 1690. He settled there and is later mentioned as a cooper. In 1696 he wedded Jopje Classe Van Slyck. His second wife, whom he married in 1699, was Alida, daughter of Jacob Janse Gardiner of Kinderhook.
Watson H. Harwood, M. D., of Chasm Falls, N. Y., in a paper contributed to the Register of the New England Historic, Genealogical Society, January, 1898, treats of the Clogstons of New Hampshire. He states that "The Clogston family is of Irish origin," and that it came to New Hampshire sometime after 1718. Paul Clogston, a descendant of the immigrants, died of wounds received at Bunker Hill, 1775. The name is sometimes written Clogstone.
Blair McClenachan, an Irishman by birth, settled in Philadelphia, Pa., at an early age, and became the "largest importer in the city except Robert Morris"; was a patriot of the Revolution; subscribed, in 1780, £10,000 in aid of the army; was one of the original members of the First City Troop; a member of Congress, 1797–'99; was made commissioner of loans by President Jefferson. One of McClenachan's daughters married Gen. Walter Stewart.
One of the early settlers of Peterborough, N. H., was William McNee. He was born in Ireland, 1711, and before coming to this country married Mary E. Brownley. In an address delivered at Peterborough, some years ago, Hon. James F. Brennan of that town said that McNee's "descendants have now reached the eighth generation, but unfortunately the name is entirely lost. The first and second generations retained the name, but the third changed it to Nay."
Michael Morgan O'Brien, a native of Ireland, became a West India merchant in Philadelphia, Pa., and was located there as early as 1780. He was a member of the First City Troop of Philadelphia, of the Friendly Sons of St. Patrick, the Hibernia Fire Company, and the Hibernian Society. He died in France, 1804. He bequeathed his books to the "Rt. Reverend Father in God, John Carroll, R. C., Bishop of Baltimore, as a testimony of the great respect and esteem I bear him."
A prominent man in his day was John Patton. He was born in Sligo, Ireland, 1745, settled in Philadelphia, Pa., and became a merchant there. A patriot of the Revolution, he was successively major and colonel of the Sixteenth Pennsylvania regiment, and rendered gallant service during the war. In 1780 he subscribed £1,000 in aid of the army. After the war he was an iron manufacturer, and at the time of his death, 1804, was major-general of Pennsylvania state troops.
Christopher Colles, a native of Ireland, was born in 1737. He came to this country and lectured on pneumatics, inland navigation, water supply for cities and similar topics. In 1775, he became an instructor in gunnery and was so employed in the American Continental Army until 1777. He memorialized the New York Legislature, in 1784, in favor of a canal from the Hudson River to Lake Ontario. He constructed and operated a telegraph, in 1812, at Fort Clinton.
One of the victims of the Boston massacre, March 5, 1770, was Patrick Carr. On that date, British soldiers in Boston, Mass., fired on a gathering of the people, three of the latter being instantly killed and five dangerously wounded. Crispus Attucks, the leader of the gathering, was among the killed and Carr was mortally wounded. A granite monument stands on Boston Common to commemorate the victims of the British. High up on the shaft, among the others, appears the name of Patrick Carr.
The Mercury (Philadelphia) of Aug. 28, 1735, reported: "On Monday last, Capt. Blair arrived from Carick Fargus in Ireland with 168 Irish passengers and servants and on Monday evening before any of them landed one of them fell into the river and was drowned." The next paper announced: "the body was found, the next tide carried up seven miles from the mouth of the Schuylkill." (American Catholic Historical Researches, Philadelphia, Pa., Martin I. J. Griffin, editor.)
From the records of the selectmen, Boston, Mass., Aug. 4, 1736: "Dennis Sullivant being present Informs, That he with his Wife are lately come into this Town from South Carolina by land; That he has been in Town about Five Weeks; That he first Lodg'd at the White Horse Two nights, and a Fortnight at Mrs. Snowdens and now lodges in Long lane, That he designs to return to England or Ireland, as soon as he can Conveniently Obtain a Passage for himself and his said Wife."
Gen. William Thompson of the Revolution was an Irishman by birth. He came to this country prior to the War for Independence; served during the French and Indian War; became captain of a troop of Light Horse; led a regiment, in 1775, to the American camp at Cambridge, Mass., and participated in the siege of Boston; had many sharpshooters in his command; was made brigadier-general in 1776; relieved General Lee in command of the American forces at New York; died in 1791.
A veteran soldier of the Revolution was Patrick Leonard, who was born in Ireland, 1740. He came to this country and enlisted in the Patriot ranks; served in Proctor's artillery and in the First Regiment, Pennsylvania Line. He saw much service and took part in the battles of Bunker Hill, Long Island, White Plains, Trenton, Princeton, Brandywine, Germantown and Stony Point; also served, in 1791–'96, under Harmar, St. Clair and Wayne. He was residing, in 1817, at Cincinnati, Ohio.
A native of County Westmeath, Ireland, John Shee, came to America between 1742 and 1745; became prominent in Philadelphia, Pa.; a patriot of the Revolution; commanded the Third Pennsylvania regiment; member of the Pennsylvania State Board of War; subscribed £1,000 in aid of the army; is referred to as "a man of excellent manners and good acquirements"; after the war, became a general of Pennsylvania state troops; collector of the port of Philadelphia; city treasurer of Philadelphia.
A native of Strabane, County Tyrone, Ireland, John Dunlap, was born in 1747. He settled in Philadelphia, Pa.; became printer to Congress, and to the state of Pennsylvania; published the Philadelphia Packet; was cornet, lieutenant, and commander of the First City Troop; commanded the cavalry in the Whiskey Insurrection campaign. During the Revolution he subscribed £4,000 in aid of the Patriot army. He was at one time the owner of 98,000 acres in the South, in addition to real estate elsewhere.
One of the earliest Irishmen in this country of whom we have record was Francis Maguire. Hon. Hugh Hastings, state historian of New York, writes that Maguire arrived at Jamestown, Va., with Capt. Christopher Newport, about 1607, remained in the country nearly a year, and returned to England with Newport. Maguire "wrote an account of his voyage to Virginia and submitted it to the Privy Council of Spain." In one account he is described as an Irishman and a Roman Catholic.
Teague Crehore was a resident of Milton or Dorchester, Mass., as early as 1640–'50. He is stated to have been stolen from his parents in Ireland when a child. He died in 1695, aged 55 years. This would show that he was born about 1640. He had a son Timothy, born in 1660, who died in 1739 and is buried in Milton, Mass. This Timothy had a son Timothy, grandson of Teague, who was born in 1689 and wedded Mary Driscoll of Dorchester, Mass., in 1712. He died in 1755 and is buried in Milton.
Rev. Samuel Dorrance, an Irish Presbyterian clergyman, arrived in Voluntown, Conn., 1722, and was installed as pastor of the church there. His nationality caused some dissatisfaction, and the disgruntled members of the church drew up a petition for his removal. They were informed, they said, that "He came out of Ireland" and that since his coming "The Irish do flock into town." (Larned's History of Windham County, Conn., quoted by Rev. James H. O'Donnell in his History of the Diocese of Hartford.)
The "poll list for the election of burgesses for the County of Prince William," Virginia, 1731, contains many Irish names, including Darby Callahan, Edward Barry, John Mead, Thomas Conway, Samuel Conner, Michael Regan, James Curry, Owen Gilmore, John Murphey, William Hogan, Thomas Hicks, Michael Scanlon, John Madden, Dennis McCarty, Thomas Jordan, Richard Higgins, Thomas Welsh, etc. These and other names, constituting the entire list, are set forth in Boogher's Gleanings of Virginia History.
A gallant soldier of the Revolution, who has almost been forgotten, was John Haslett. He was born in Ireland, came to this country and located in Delaware; was for several terms a member of the State Assembly; participated in the battles of Long Island and White Plains. On one occasion, he surprised a British picket, took 36 prisoners, 60 muskets, and two pairs of colors; became colonel of a Delaware regiment and was killed at the battle of Princeton, 1777. His son, Joseph, became governor of Delaware.
Among the many Irish names on the roster of the Commander-in-Chief's Guard, during the Revolution, is that of Hugh Hagerty. He served in a Pennsylvania regiment of the Line, and was transferred at Valley Forge, March 19, 1778, to the Guard just mentioned. This organization is sometimes referred to as Washington's "Life Guard," and was composed of picked men. Hagerty participated in the battle of Monmouth and other engagements of the war. (Godfrey's recent work on The Commander-in-Chief's Guard.)
The Dutch records of New York mention Jan Andriessen, "the Irishman." Jan was at Beverwyck, now Albany, N. Y., as early as 1645. He is also referred to as "De Iersman van Dublingh." His name in English was probably John Anderson. In 1649 he leased a "bouwerie" or farm. It is also known that he bought a farm and homestead of Peter Bronck at Coxsackie, N. Y. In one document his signature is thus attested: "This is the mark of Jan Andriessen, the Irishman, with his own hand set." He died in 1664.
William Hogen, also written Hogan, is heard from in Albany, N. Y., as early as 1692. The Dutch records state that he was from "Yrland in de Kings county." At a mayor's court held in Albany, May 14, 1700, he was deemed "convenient and fitt to be one of the fyre masters for ye Citty." June 25, 1700, he was on a petit jury to try an action between two Dutchmen. He also served on a jury in 1703. In 1700 and 1704 he was elected an assessor. (Hon. Franklin M. Danaher in Early Irish in Old Albany, N. Y.)
James Butler came from Ireland, and is heard from at Lancaster, Mass., 1653. He became the largest landowner in what is now Worcester County, Mass. He also owned land in Dunstable, Woburn and Billerica, Mass. He died in 1681. His son, Deacon John Butler, was the first child of Irish parentage born in Woburn, and settled in Pelham, N. H., and lies buried there. (From a letter written to the American-Irish Historical Society by Henry A. May of Roslindale, Mass., a descendant of James Butler the immigrant.)
A resident of Yarmouth, Mass., as early as 1645, was Teague Jones, who is stated to have been an Irishman. He was one of the men sent from the town, in the year just mentioned, against the Narragansett Indians. His period of service at the time was thirteen or fourteen days. In 1667, the selectmen of "the towne of Yarmouth returne the name of Teague Jones for not coming to meeting." In a "rate" made in 1676 to defray the expenses of King Philip's War, Teague was assessed £2 4s, as his share. He had a son, Jeremiah.
A prominent resident of Albany, N. Y., during the Revolution, was Hugh Denniston, "a true Irishman." For many years he conducted the only first-class hotel and tavern there. It was the first stone house erected in the place. Denniston was a sturdy patriot and his hotel was a meeting place for the liberty-loving citizens of Albany. Washington was a guest at the hotel on his visits to Albany in 1782 and 1783, and was there presented the freedom of the city.
Charles MacCarthy was a founder of the town of East Greenwich, R. I., 1677. Like many surnames at that period, his is variously spelled in the records. Thus, it appears as Macarta, Macarte, Macarty, Mecarty, Mackarte, etc. In the year mentioned, he was one of a party of forty-eight settlers to whom a grant of 5,000 acres, to be called East Greenwich, was made by the General Assembly of Rhode Island. Later, the area of the town was enlarged by the addition of 35,000 acres on the western border. Charles' will is dated Feb. 18, 1682.
The twenty-six original members of the Charitable Irish Society, Boston, Mass., which organization was founded in 1737, were: Robert Duncan, Andrew Knox, Nathaniel Walsh, Joseph St. Lawrence, Daniel McFall, Edward Allen, William Drummond, William Freeland, Daniel Gibbs, John Noble, Adam Boyd, William Stewart, Daniel Neal, James Mayes, Samuel Moor, Philip Mortimer, James Egart, George Glen, Peter Pelham, John Little, Archibald Thomas, Edward Alderchurch, James Clark, John Clark, Thomas Bennett and Patrick Walker.
Jasper Moylan was a native of the city of Cork, Ireland, and half brother of Gen. Stephen Moylan. He was educated in France, studied law, came to this country and attained eminence in his profession in Philadelphia, Pa. In addition to English, he had a splendid knowledge of the French and Spanish languages. He was a member of the First City Troop of Philadelphia. He and his brother John, and their half brother Stephen, were known in that city as "the three polite Irishmen," owing to their elegant manners. Jasper died in 1812.
Among Virginia officers in the Revolution were Maj. William Croghan, Capt. Ferdinand O'Neal, Capt. Patrick Carnes, Capt. John Fitzgerald, Capt. Andrew Nixon, Capt. William Barrett, Capt. John Jordan, Capt. Lawrence Butler, Capt. James Curry, Lieut. Joseph Conway, Lieut. Luke Cannon, Lieut. Peter Higgins, Lieut. William McGuire, Lieut. Lawrence Manning, Lieut. John Rooney, Lieut. Matthew Rhea, Ensign William Connor and others bearing Irish names. Some of these subsequently attained higher rank than that here given.
Sharp Delany, born in County Monaghan, Ireland, established himself as a druggist in Philadelphia, Pa., about 1764. He was a patriot of the Revolution. In 1777, he was a commissioner "to seize the personal effects of traitors," and in 1778, was an agent to look after "forfeited estates." In 1779, he was colonel of the Second Pennsylvania regiment. He subscribed £1,000 in aid of the army in 1780; was collector of the port of Philadelphia; a member of the Society of the Cincinnati, and occupied other honorable positions in life.
John Hamilton, "an Irish servant-man," was a Redemptioner or indentured servant who, in 1752, was held by Henry Caldwell of Chester County, Pa. Hamilton ran away that year and Caldwell advertised to recover him. Hamilton was then about twenty-two years of age. Caldwell offered a reward to "whoever takes up said servant, so that his master may have him again." Mention of the incident is found in Karl Frederick Geiser's recent work on Redemptioners and Indentured Servants in the Colony and Commonwealth of Pennsylvania.
George Taylor, one of the Irish signers of the Declaration of Independence, was born in the Old Land, in 1716. He came to this country when twenty years of age. Having a good education, he advanced from the occupation of laborer in an iron foundry to the position of clerk; married his employer's widow, and accumulated a generous fortune. He was a member of the Pennsylvania Assembly for five consecutive years. In 1770, he was made a judge of the Northumberland County Court, Pa., and was elected to Congress in 1776.
One of the first settlers of Waterford, Conn., was Thomas Butler. He and John Butler were there about 1681. Rev. James H. O'Donnell, now of Norwalk, Conn., says that the "name of Waterford was, no doubt, given to their new home in honor of the old, the beautiful city on the banks of the Suir," in Ireland. He thinks it not unreasonable to infer that the founders of the Connecticut Waterford were Irish Catholics. Thomas Butler died in 1701, aged 59 years. John Butler died in 1733, aged 80 years. Thomas was, therefore, born about 1642, and John about 1653.
William Hibbins came from Ireland to Boston, Mass., on the Mary and John, about 1634. He married Mrs. Anne Moore, a widow, whose brother, Richard Bellingham, was governor of Massachusetts. Mr. Hibbins died in 1654. His wife fell a victim to the witch-hunting fanatics of the period and was hanged by order of the Massachusetts authorities, in 1656. No jury could be found to convict her and she suffered death at the hands of the General Court. She bequeathed her property to her two sons, in County Cork, Ireland, John and Joseph Moore. (See Cullen's Story of the Irish in Boston.)
Molly Pitcher, "a young Irishwoman" having "a handsome, piercing eye," was the wife of a cannoneer in the Patriot army during the Revolution. At the battle of Monmouth her husband was killed at his post, whereupon Molly, who was engaged bringing water from a spring, dropped her bucket, seized the rammer of the cannon and taking her husband's place continued to serve the piece of artillery. The next morning she was presented by General Greene to Washington, who praised her heroism and made her a sergeant. She was placed upon the list of half-pay officers for life.
Anthony Gulliver, a native of Ireland, was born in 1619. He died at Milton, Mass., 1706. His children were: Lydia, born 1651; Samuel, born 1653; Jonathan, born 1659; Stephen, born 1663; John, born 1669; Elizabeth, born 1671; Nathaniel, born 1675. There were also two other children, Hannah and Mary. The children were all born in this country, Cullen's Story of the Irish in Boston states that "Anthony Gulliver was the ancestor of a large number of able and influential men and women, who have been prominent in the history of church and town affairs of Milton for nearly two hundred years."
From the Calendar of Colonial State Papers: "April 1st, 1653. Order of the Council of State. For a license to Sir John Clotworthy to transport to America 500 natural Irishmen." On Oct. 3, 1655, it was ordered that "1000 Irish girls and the like number of boys of 14 years or under," be sent to Jamaica, "the allowance to each one not to exceed 20 shillings." May 22, 1656, an order was adopted "for the transportation of 1200 men from Knockfergus in Ireland and Port Patrick in Scotland to Jamaica." (Quoted by Rev. James H. O'Donnell in his History of the Diocese of Hartford, Conn.)
A Rhode Island soldier, Patrick Tracy, participated with Montgomery in the assault on Quebec. He was of the company of Capt. Simeon Thayer of Providence, R. I., and was killed in the assault just mentioned. Cornelius Hagerty and Corporal James Hayden of the company were wounded. In a work on this invasion of Canada, reference is made to John M. Taylor, "keen as an Irish greyhound," who was Arnold's purveyor and commissary in the wilderness. Mention is also made of Lieut. William Cross, "a handsome little Irishman, always neatly dressed," who commanded, on the Isle of Orleans, a detachment of some twenty men.
Among the land patents granted in New York under the English colonial government, was one to David Mooney, 1765. The tract was located in Washington County and comprised 2,000 acres. It was known as the Mooney patent. The Otsego patent, 100,000 acres, was granted to George Croghan and ninety-nine others, in 1769. Croghan is also mentioned in connection with other patents. Michael Byrne and others were granted the Stony Hill Tract, 18,000 acres, in 1768. It was located in Schoharie County. The Adaquataugie patent, 26,000 acres, in Otsego County, was granted in 1770 to Sir William Johnson, an Irishman, and others.
The rolls of the Third New York Regiment of the Line, during the Revolution, contain a large number of Irish names. They include Brady, Brannon, Burke, Burns, Butler, Condon, Connolly, Dempsey, Doherty, Dunn, Flynn, Garvey, Geraghty, Gillaspy, Hickey, Hogan, Kelly, Lyon, McCarty, McConnelly, McCord, McCormick, McCoy, McDermot, McGinnis, McGown, McGuire, Mackey, McLaughlin, McNeal, McQuin, Madden, Mahan, Moloy, Moore, Morris, Morrison, Mulholand, Murray, O'Connoley, Quigley, Riley, Ryan, Sullivan, Sweeny, Tobin, Wall, Welch and others. (Vide New York in the Revolution, by Comptroller James A. Roberts, Albany, 1898.)
Among Irish names found in Connecticut at early periods may be mentioned Brian Rosseter, Windsor, 1639; Thomas Dunn, New Haven, 1647; Lawrence Ward, Branford, 1654; Thomas Welch, Milford, 1654; John Mead, Stamford, 1656; Richard Hughes, New Haven, 1659; Edward Fanning, Mystic, 1662; Thomas Ford, Windsor, 1669; Richard Butler, Stratford, 1669; Hugh Griffin, Stratford, 1669; William Meade, New London, 1669; Thomas Sha (Shea), Sr., Stonington, 1669; Thomas Tracy, Norwich, 1669; Timothy Ford, New Haven, 1669; Jeremiah Blake, New London, 1681; James Kelly, New London, 1682; Owen McCarty, New London, 1693.
Gen. Walter Stewart, a Pennsylvania officer of the Revolution, was born in Ireland, about 1756. He settled in Philadelphia, Pa., espoused the cause of the Patriots, and in 1776 was commissioned captain. He was made an aide-de-camp to General Gates the same year. In 1777, Stewart was commissioned colonel of the Pennsylvania State Regiment of Foot, took part in the battles of Brandywine and Germantown, and retired in 1786 with the rank of brevet brigadier-general. In 1794, he was major-general of Pennsylvania state troops. General Washington was godfather to his eldest son. (Campbell's History of the Friendly Sons of St. Patrick, Philadelphia.)
The Marquis de Chastellux in a tour through Connecticut, 1780, stopped at Litchfield. His host there was a Mr. Philips. The latter was, the Marquis tells us, "an Irishman transplanted to America, where he has already made a fortune; he appears to be a man skillful and adroit; he speaks with caution to strangers, and fears to compromise himself; for the rest he is of a gayer mood than the Americans, even a little of a joker, a kind but little known in America." (From Voyages de M. Le Marquis de Chastellux dans L'Amerique, Septentrionale les annees 1780, 1781 and 1782; quoted by Rev. James H. O'Donnell in his History of the Diocese of Hartford.)
A prominent merchant in Philadelphia, Pa., at one period, was James Caldwell. He was a native of Ireland. He was a patriot of the Revolution, a member of the First City Troop, Philadelphia, and took part with it in the campaign of 1776–'77. Campbell's History of the Friendly Sons of St. Patrick, Philadelphia, says that he was "one of the six volunteers of the Troop who accompanied Colonel Reed on December 30, 1776, from Trenton to reconnoitre the advanced posts of the enemy, and who captured twelve British soldiers during that expedition." In 1780, Caldwell subscribed £2,000 to the bank that was organized to supply the Continental army with provisions.
Rev. Mr. Lyons, an Irish clergyman of the Church of England, who was located in Derby, Conn., was subjected to great abuse there because of his nationality. Writing to London, May 8, 1744, he says: "As soon as they had advice of my appointment, and from what country I came, and, indeed, before I arrived among them, they abused me, calling me 'an Irish Teague and Foreigner,' with many other reflections of an uncivilized and unchristian kind. It would be too tedious to record all the abuse and insults I have received in Derby." (Church Documents of the Protestant Episcopal Church, quoted by Rev. James H. O'Donnell in his History of the Diocese of Hartford.)
Patrick Ward, a lieutenant, was one of the defenders of Fort Griswold, Conn., during the Revolution. The fort was attacked by the British during the raid conducted by Arnold, the traitor, and after a gallant resistance was captured by the enemy. The atrocities committed upon the surrendered and helpless garrison, by the British, constitutes one of the blackest chapters in the history of warfare. The event has ever since been known as the "Massacre of Fort Griswold." Ward was one of the victims. On a stone over his grave was placed this inscription: "In memory of Mr. Patrick Ward who fell a victim to British cruelty in Fort Griswold, Sept. 6th, 1781, in the 25th year of his age."
Felt's Ecclesiastical History of New England mentions William Collins who, about 1640, accompanied a party of refugees from the West Indies to what is now New Haven, Conn. After a time these wayfarers dispersed "and some returned to Ireland." Collins afterwards taught school at Hartford, Conn., and subsequently wedded a daughter of Anne Hutchinson who with her family had been banished from Boston, Mass., by the intolerant Boston church, because of her religious views. She took up her residence on the island of Rhode Island. Later, the family removed to territory under Dutch jurisdiction, where Mrs. Hutchinson, her son and her son-in-law (Collins) were killed by the Indians.
An interesting tradition is told concerning George Berkeley, "the Kilkenny scholar," Anglican dean of Derry, and later bishop of Cloyne. The tradition relates to his arrival at Newport, R. I., in 1729, and is thus narrated: "The captain of the ship in which he and his party sailed could not find the island of Bermuda, and having given up the search for it, steered northward until they discovered land unknown to them and supposed to be inhabited by savages. On making a signal, however, two men came on board from Block Island, in the character of pilots, who on inquiry informed them that the harbor of Newport was near." The tradition may be founded on fact, but opinions vary concerning it.
John Mease, born in County Tyrone, Ireland, became a shipping merchant in Philadelphia, Pa., and was a patriot of the Revolution. He was with the force that crossed the Delaware with Washington on the night of Dec. 25, 1776, and surprised the Hessians at Trenton. On another occasion he was of a detail told-off to keep the fires along the American front burning while the patriots secretly moved in another direction to fall upon the British at Princeton. On one occasion during the war Mease subscribed £4,000 in aid of the Patriot cause. He was affectionately spoken of in his old age as "The last of the cocked hats," on account of his continuing to wear the three-cornered hat of the Revolution.
Count Arthur Dillon, commander of the Irish-French regiment of Dillon during the American Revolution, perished by the guillotine in Paris, a victim to the Terror. The regiment of Dillon formed part of the Irish brigade in the service of France, and was a most historic corps. It dated its organization back to the previous century. Count Dillon, above mentioned, came with his regiment to America with our French allies and rendered valiant service. He took part in the capture from the British of St. Eustache, Tobago and St. Christopher, participated in the attack on Savannah and in the siege and capture of Yorktown. He became a brigadier and marechal-de-camp, and, in 1792, was in command of a division in the French army.
In 1743 there was born in Dublin, Ireland, a boy who was destined to take a prominent part in the American Revolution. He was Richard Butler. He came to this country, espoused the Patriot cause, and attained distinction as a soldier. His ability was early recognized by Congress and, 1776, he was appointed major. In 1777 he was commissioned colonel of the Fifth Pennsylvania; was an officer of Morgan's Rifle Corps, and took part in the battles of Bemis' Heights and Stillwater; was made colonel of the Ninth Pennsylvania; commanded the Americans at the storming of Stony Point; participated in the siege and capture of Yorktown. He attained the rank of major-general and was second in command of St. Clair's army for operations against the Indians. He was killed in battle by an Indian, 1791.
"Thomas the Irishman" is mentioned in the Dutch records of New York. Thus, Hon. Peter Stuyvesant, Director-General of New Netherland, writing to Capt. Martin Cregier, 1663, says: "Your letter by Thomas the Irishman has just been received." … On Aug. 5, 1663, Captain Cregier writes in his journal: "Thomas the Irishman arrived here at the Redoubt from the Manhatans." On Sept. 1, 1663, Captain Cregier writes: "Thomas the Irishman and Claesje Hoorn arrived with their yachts at the Kill from the Manhatans," and on the 17th of the same month the captain writes: "Thomas the Irishman arrived today." The foregoing references may be found in Documents Relating to the Colonial History of the State of New York, edited by Fernow, Vol. XIII, Albany, 1881.
The first president of the Friendly Sons of St. Patrick, New York City, 1784, was Daniel McCormick, a native of Ireland. He came to this country prior to the Revolution, and amassed a large fortune, was one of the first directors of the Bank of New York, and was associated with William Constable and Alexander Macomb, two Irishmen, in extensive land enterprises. Barrett's Old Merchants of New York states that "Mr. McCormick was a glorious example of the old New Yorker," and "stuck to short breeches and white stockings and buckles to the last." He was a great entertainer, "gave good dinner parties, and had choice old wines upon the table." He is also mentioned "as one of the most polished gentlemen of the city." He "was the last occupant of a first-class dwelling on Wall Street, since devoted wholly to business."
From the records of the selectmen, Boston, Mass., May 4, 1723: "Whereas great numbers of Persons haue [have] very lately bin Transported from Ireland into this Province, many of which by Reason of the Present Indian war and the Accedents befalling them, Are now Resident in this Town whose Circomstances and Condition are not known, Some of which if due care be not taken may become a Town Charge or be otherwise prejuditial to the wellfair & Prosperity of the Place, for Remady whereof Ordered That Every Person now Resident here, that hath within the Space of three years last past bin brought from Ireland, or for the future Shal come from thence hither, Shal come and enter his name and Occupation with the Town Clerk, and if marryed the number and Age of his Children and Servants, within the Space of fiue [five] dayes, on pain of forfeiting and paying the Sum of twenty Shillings for Each offence***."
122Matthew Lyon, "the Hampden of Congress," was born in County Wicklow, Ireland, 1750. He came to this country in 1765; located in Connecticut, and later in Vermont; participated with Ethan Allen in the capture of Ticonderoga from the British; became adjutant of Col. Seth Warner's regiment; served under General Montgomery in the campaign against Canada, 1775; became paymaster, with the rank of captain, in Warner's regiment; took part in the battles of Bennington and Saratoga; became commissary-general of militia, with the rank of colonel; was a member of the State Legislature and judge of Rutland County, Vt.; member of Congress from Vermont from 1797 to 1801; cast the vote that made Thomas Jefferson president of the United States; removed to Kentucky and represented that state in Congress from 1803 to 1811.
Sarah W. Alexander, who wedded Christopher R. Perry of Rhode Island, became the mother of Oliver H. Perry—best known as Commodore Perry—who defeated the British in the naval battle on Lake Erie. She was a native of Newry, Ireland, and was born in 1768. Mackenzie, in his Life of Commodore Perry, just mentioned, says that her friends in Ireland "Had been involved in the Irish rebellion. She herself, had felt a lively interest in the cause of liberty, and had listened with deep interest to every account she had heard of battles and skirmishes in the neighborhood. She took a pleasure in recounting … the achievements of her countrymen and always insisted that they were the bravest people in the world. These narratives fired the mind of Oliver and created a desire in him to pursue the profession of arms." Oliver received much of his early education from "Old Master" Kelly, an Irish school teacher at Tower Hill, R. I.
From the records of the selectmen, Boston, Mass., Aug. 16, 1736: "mr. James Wimble Informs That Capt. Benedict Arnold who just arrived from Cork with Passengers, came to his House yesterday, being Lord's day in the afternoon, bringing with him the following Persons, Vizt. Mr. Benja. Ellard, Gent, and his Wife and Three Children, and a Maid Servant, Joseph Atkins, John Clark, John Seley, Thomas Morgan, James Ellard, John Ellard, Benjamin Gillam, Elizabeth Ellard and William Neal. Accordingly the Master Capt. Arnold was sent for Who appear'd and gave Information, That he came from Ireland about Twelve Weeks ago, and that he is Bound to Philadelphia with his Passengers, Who in all, are one Hundred and Twenty, Hopes to Sail in a few days, as soon as he can Recruit 123with Water and Provisions, and Promises That the Passengers which came ashore Yesterdy shall repair aboard again to day, The Ships name is the Prudent Hannah."
Gen. William Irvine of the Revolution was born near Enniskellen, County Fermanagh, Ireland, 1741. He came to America in 1764, and settled at Carlisle, Pa. He espoused the patriot cause, raised and commanded the Sixth Pennsylvania regiment; commanded a brigade at the battle of Monmouth, and when Lee's troops were retreating, they so impeded the advance of this gallant Irishman's brigade that he threatened to charge through them before he could make his way to take an advanced position. Irvine was made a brigadier-general in May, 1779, and was assigned to the command of the Second brigade of the Pennsylvania Line; later he became a member of the State Council of Censors; member of the Continental Congress; senior major-general of Pennsylvania State troops; a presidential elector; in charge of United States military stores at Philadelphia. He was a member of the Friendly Sons of St. Patrick, Philadelphia. (Vide Campbell's History of the Friendly Sons of St. Patrick.)
William Constable was born in Dublin, Ireland, 1752; a patriot of the Revolution; joined the Continental army as an aide to Lafayette; prominent as a merchant in Philadelphia, Pa.; married Ann White, a schoolmate of the wife of General Washington; removed to New York City in 1784; also very prominent there; associated in business with Robert Morris and Governeur Morris, the firm being known as Constable & Co.; engaged in huge land speculations, purchasing large tracts in New York, Ohio, Kentucky, Virginia, and Georgia; bought in 1787, with Alexander Macomb, a tract of 640,000 acres in New York, Constable's share being 192,000 acres; in 1791, he and Alexander Macomb and Daniel McCormick purchased a tract, in New York, of some 4,000,000 acres, or about a tenth part of the whole state. This purchase comprised the "whole of the present counties of Lewis, Jefferson, St. Lawrence and Franklin, with parts of Oswego and Herkimer." On one occasion, about 1797, Constable lent $1,000 to the fugitive Duke of Orleans in this country, which loan was afterwards repaid by Louis Philippe. Constable was a member of the Friendly Sons of St. Patrick, Philadelphia, and of the Hibernian Society of that city. He was president of the Friendly Sons of St. Patrick, New York City, in 1789–'90 and in 1795.
THE JOURNAL OF THE AMERICAN-IRISH HISTORICAL SOCIETY (Vol. VI)
1906
Patriots bearing Irish names who were confined aboard the Jersey prison ship.
by the hon. John d. Crimmins, New York City.
From Mr. Crimmins' recent book, Irish-American Historical Miscellany. (New York, 1905.)
The horrors of the Jersey prison ship have often been told. The Jersey and other hulks, used by the British, were anchored near the Wallabout, Brooklyn, N. Y. Many thousands of prisoners perished on these ships by cruelty and disease. The conduct of their captors was inhumane and dastardly. It is not surprising, therefore, that the mortality was so great.
William Burke, a prisoner aboard the Jersey, at one time, has left a record in which he states that he was confined on the ship fourteen months, and that he saw, among other cruelties, many American prisoners put to death by the bayonet. This cruel treatment was never relaxed by the English or Scots, but sometimes the more humane Hessians evinced pity for the unfortunate sufferers. Burke says:
"During that period, among other cruelties which were committed, I have known many of the American prisoners put to death by the bayonet: in particular, I well recollect, that it was the custom on board the ship for but one prisoner at a time to be admitted on deck at night, besides the guards or sentinels. One night, while the prisoners were many of them assembled at the grate at the hatchway, for the purpose of obtaining fresh air, and waiting their turn to go on deck, one of the sentinels thrust his bayonet down among them, and in the morning twenty-five of them were found wounded, and stuck in the head, and dead of the wounds they had thus received. I further recollect that this was the case several mornings, when sometimes five, sometimes six, and sometimes eight or ten, were found dead by the same means."
It is estimated that over eleven thousand prisoners perished, from all causes, aboard these ships during the Revolution. The dead 22would be carried ashore and carelessly buried in the sand, their bodies, in many cases, to be uncovered by returning tides. For many years after, the bones of these martyrs were visible along the shore.
About 1801, John Jackson sold to the United States, through Francis Childs, a middleman, forty acres of the Wallabout for $40,000. About this time large numbers of Irish refugees arrived and located in New York and Brooklyn. They bought some land of Jackson at, or near, the Wallabout, the settlement being named "Vinegar Hill."
During the summer of 1805, a Mr. Aycrigg, shocked at the exposed remains of the prison-ship victims, made a contract with an Irishman residing at Wallabout, to "collect all the human bones as far as may be without digging," and deliver the same to him. This was done, and these bones were a portion of those interred in the vault patriotically erected by Tammany.
Among the patriots imprisoned aboard the Jersey were a great many Irish. In 1888, the Society of Old Brooklynites published a pamphlet dealing with the Jersey, and giving the names of several thousand persons who had been confined therein, many of whom perished. A copy of this pamphlet is in the possession of the New York Historical Society. From that authoritative source we have compiled the following list of patriots, bearing Irish names, who were confined on the Jersey:
Barry, Samuel
Black, James
Black, John
Black, Philip
Black, Timothy
Blake, James
Boyle, John
Brady, John
Broderick, William
Brown, Michael
Brown, Patrick
Bryan, Edward
Bryan, John
Bryan, Mathew
Bryan, William
Buckley, Cornelius
Buckley, Daniel
Buckley, Francis
Buckley, John
Burk, Thomas
Burke, James
Burke, William
Burn, William
Burns, Edward
Burns, John
Butler, Daniel
Butler, Francis
Butler, James
Butler, John
Byrnes, Hugh
Cain, David
Cain, Thomas
23Callaghan, Daniel
Campbell, Philip
Cannady, James
Cannady, William
Carney, Anthony
Carney, Hugh
Carr, William
Carolin, Joseph
Carrall, Robert
Carroll, James
Carroll, John
Carroll, Michael
Casey, Edward
Casey, Richard
Casey, William
Christie, James
Cochran, James
Cogan, Thomas
Coleman, David
Collins, James
Collins, John
Collins, Joseph
Collohan, Daniel
Connell, John
Connelly, John
Conner, George
Conner, James
Conner, John
Conner, Robert
Conner, William
Connolly, Patrick
Connolly, Samuel
Connor, John
Conway, John
Conway, Thomas
Corrigan, Bernard
Corrigan, John
Cox, Joseph
Cox, William
Crane, Philip
Cullen, William
Cunningham, Bartholomew
Cunningham, Cornelius
Cunningham, James
Cunningham, Joseph
Cunningham, William
Curry, Anthony
Curry, William
Dailey, Patrick
Daily, James
Daily, William
Darcey, W.
Daunivan, William
Delany, Edward
Doherty, John
Doherty, Thomas
Donalin, Nicholas
Donogan, John
Dorgan, Patrick
Dorgan, Timothy
Dowling, Henry
Downey, John
Downing, Peter
Doyle, Peter
Doyle, William
Dring, Thomas
Duffy, Thomas
Dunn, Peter
Durphey, Patrick
Dwyer, John
Dwyer, Timothy
Dyer, Patrick
Fallen, Thomas
Filler, Patrick
Finagan, Bartholomew
Finn, Dennis
Finn, John
Fitzgerald, Edward
24Fitzgerald, Patrick
Flinn, John
Ford, Bartholomew
Ford, Daniel
Ford, Martin
Ford, Philip
Fox, William
Fury, John
Gallager, Andrew
Gallaspie, John
Goff, Patrick
Grogan, John
Griffin, Joseph
Griffin, Peter
Haggarty, James
Hallahan, James
Halley, John
Hanagan, James
Hanagan, Stephen
Hand, Joseph
Hanegan, John
Hanes, Patrick
Hart, Cornelius
Hart, John
Hayes, John
Hayes, Thomas
Hays, Patrick
Hensey, Patrick
Higgins, George
Higgins, William
Hogan, Roger
Hogan, Stephen
Hughes, John
Hughes, Joseph
Hughes, Peter
Hughes, Thomas
Jordan, John
Jordan, Peter
Joyce, John
Kane, Barney
Kane, Edward
Kane, John
Kane, Patrick
Kane, Thomas
Kelley, John
Kelley, Michael
Kelley, Oliver
Kelley, Patrick
Kelley, William
Kelly, Hugh
Kelly, James
Kelly, John
Kelly, John K.
Kennedy, James
Kennedy, William
Kenney, John
Lafferty, Dennis
Lally, Sampson
Lane, William
Larkin, Thomas
Leary, Cornelius
Lee, Peter
Loggard, Patrick
Loney, Peter
Lowery, John
Lynch, Timothy
Lyon, Peter
Lyons, Daniel
Lyons, Michael
Macguire, Anthony
Malone, John
Marley, James
Martin, Daniel
Martin, James
Martin, John
Martin, Michael
Martin, Joseph
Martin, Philip
25Martin, Thomas
Maxfield, Patrick
Maxwell, James
Maxwell, William
McCampsey, Mathew
McCanery, John
McCann, Edward
McCarty, Andrew
McCarty, Cornelius
McCarty, William
McCash, John M.
McClain, Francis
McClanegan, James
McClavey, Daniel
McClemens, Patrick
McCloskey, Patrick
McCloud, Murphy
McCloud, Peter
McClure, James
McClure, William
McConnell, James
McCormac, Hugh
McCormick, James
McCormick, John
McCowen, William
McCoy, George
McCoy, Peter
McCoy, Samuel
McCrea, Roderick
McCrady, John
McCulla, Patrick
McCullough, William
McCullum, Patrick
McDaniel, James
McDaniel, John
McDavid, John
McDermott, William
McDonald, John
McDonald, William
McDonough, Patrick
McEvin, John
McFall, James
McFarland, Daniel
McGandy, William
McGee, John
McGerr, James
McGill, Arthur
McGill, James
McGinness, Henry
McGinnis, James
McGoggin, John
McGowen, James
McHenry, Barnaby
McKay, Patrick
McKenney, James
McKeon, Thomas
McLain, Edward
McLaughlin, Philip
McLaughlin, Peter
McLayne, Daniel
McMichal, James
McNamee, Francis
McNeal, John
McNeil, James
McNeil, William
McQueen, William
McQuillian, Charles
McWaters, Samuel
Melone, William
Mungen, Michael
Mitchell, Anthony
Mitchell, James
Mitchell, John
Molloy, James
Morgan, Thomas
Montgomery, James
Montgomery, John
Moore, James
26Moore, Joseph
Moore, Patrick
Moore, Thomas
Mooney, Hugh
Morris, Andrew
Morris, James
Morris, John
Muckelroy, Philip
Mullen, Jacob
Mullin, Robert
Mullin, William
Mulloy, Edward
Mulloy, Francis
Mulloy, Silvanus
Murphy, Daniel
Murphy, John
Murphy, Patrick
Murphy, Thomas
Murray, Bryan
Murray, Charles
Murray, Daniel
Murray, John
Murray, Thomas
Murray, William
Neville, Francis
Neville, Michael
Norton, John
Norton, Nicholas
Norton, Peter
O'Brien, Cornelius
O'Brien, Edward
O'Brien, John
O'Bryen, William
O'Hara, Patrick
O'Neil, John
Orsley, Patrick
Power, Patrick
Power, Stephen
Powers, Richard
Quinn, Samuel
Reed, John
Rafferty, Patrick
Regan, Julian
Reid, Hugh
Reynolds, Thomas
Riley, James
Riley, Philip
Riordan, Daniel
Roach, Joseph
Roach, Lawrence
Rowe, William
Rowland, Patrick
Ryan, Frank
Ryan, Jacob
Ryan, Michael
Ryan, Peter
Ryan, Thomas
Sullivan, John
Sullivan, Parks
Sweeney, John
Thompson, Patrick
Tobin, Thomas
Toy, Thomas
Tracy, Benjamin
Tracy, Nathaniel
Twoomey, Dailey
Walsh, Patrick
Ward, Francis
Waters, Thomas
Welch, James
Welch, Mathew
Welch, Robert
Welsh, David
Welsh, John
Wen, Patrick
Whelan, Michael
Wilson, Patrick
Many other Irish names could be added, but sufficient have been given to establish the fact that a large number of the sons of Erin were among those who suffered the rigors of the Jersey prison ship.
Capt. Thomas Dring, who was a prisoner aboard the Jersey, tells us in his Recollections many startling facts about that terrible ship. He says: "Silence was a stranger to our dark abode. There were continual noises during the night. The groans of the sick and dying; the curses poured out by the weary and exhausted upon our inhuman keepers; the restlessness caused by the suffocating heat and the confined and poisonous air, mingled with the wild and incoherent ravings of delirium, were the sounds which, every night, were raised around us in all directions."
And another writer states that the lower hold, and the orlop deck, were such a terror that no man would venture down into them. Dysentery, smallpox and yellow fever broke out, and "while so many were sick with raging fever, there was a loud cry for water; but none could be had except on the upper deck, and but one was allowed to ascend at a time. The suffering then from the rage of thirst during the night, was very great. Nor was it at all times safe to attempt to go up. Provoked by the continual cry to be allowed to ascend, when there was already one on deck, the sentry would push them back with his bayonet."
Stiles in his History of the City of Brooklyn, narrates a scene that took place on the Jersey, July 4, 1782. He says: "A very serious conflict with the guard occurred … in consequence of the prisoners attempting to celebrate the day with such observances and amusements as their condition permitted. Upon going on deck in the morning, they displayed thirteen little national flags in a row upon the booms, which were immediately torn down and trampled under the feet of the guard, which on that day happened to consist of Scotchmen. Deigning no notice of this, the prisoners proceeded to amuse themselves with patriotic songs, speeches and cheers, all the while avoiding whatever could be construed into an intentional insult of the guard; which, however, at an unusually early hour in the afternoon, drove them below at the point of the bayonet, and closed the hatches. Between decks, the prisoners now continued their singing, etc., until about nine o'clock in the evening. An order to desist not having been promptly complied with, the hatches were suddenly removed and the guards descended among them, with lanterns 28and cutlasses in their hands. Then ensued a scene of terror. The helpless prisoners, retreating from the hatchways as far as their crowded condition would permit, were followed by the guards, who mercilessly hacked, cut, and wounded everyone within their reach; and then ascending again to the upper deck, fastened down the hatches upon the poor victims of their cruel rage, leaving them to languish through the long, sultry summer night, without water to cool their parched throats, and without lights by which they might have dressed their wounds. And to add to their torment, it was not until the middle of the next forenoon that the prisoners were allowed to go on deck and slake their thirst, or to receive their rations of food, which, that day, they were obliged to eat uncooked. Ten corpses were found below on the morning which succeeded that memorable fourth of July, and many others were badly wounded."
An especially affecting incident is told regarding one prisoner, who died on the ship: "Two young men, brothers, belonging to a rifle corps, were made prisoners and sent on board the Jersey. The elder took the fever and, in a few days, became delirious. One night (his end was fast approaching) he became calm and sensible, and lamenting his hard fate and the absence of his mother, begged for a little water. His brother, with tears, entreated the guard to give him some, but in vain. The sick youth was soon in his last struggles, when his brother offered the guard a guinea for an inch of candle, only that he might see him die. Even this was denied. 'Now,' said he, drying up his tears, 'if it please God that I ever regain my liberty, I'll be a most bitter enemy!' He regained his liberty, rejoined the army, and when the war ended he had eight large and one hundred and twenty-seven small notches on his rifle stock."
The Pennsylvania Packet, September 4, 1781, published a letter from the Jersey, which said: "We bury six, seven, eight, nine, ten, and eleven men in a day; we have two hundred more sick and falling sick every day." This will illustrate the terrible mortality aboard the ship.
In his Recollections of Brooklyn and New York in 1776, Johnson says of the prisoners dying on the Jersey: "It was no uncommon thing to see five or six dead bodies brought on shore in a single morning, when a small excavation would be dug at the foot of the hill, the bodies be thrown in and a man with a shovel would cover them by shovelling sand down the hill upon them. Many were 29buried in a ravine of the hill; some on the farm. The whole shore, from Rennie's Point to Mr. Remsen's dooryard was a place of graves; as were also the slope of the hill near the house …; the shore from Mr. Ramsen's barn along the mill pond, to Rapelje's, and the sandy island between the floodgates and the mill-dam, while a few were buried on the shore on the east side of the Wallabout. Thus did Death reign here, from 1776 until the peace. The whole Wallabout was a sickly place during the war. The atmosphere seemed to be charged with foul air from the prison ships, and with the effluvia of the dead bodies washed out of their graves by the tides. We believe that more than half of the dead buried on the outer side of the mill-pond, were washed out by the waves at high tide, during northeasterly winds. The bones of the dead lay exposed along the beach, drying and bleaching in the sun, and whitening the shore, till reached by the power of a succeeding storm; as the agitated waters receded, the bones receded with them into the deep…. We have, ourselves, examined many of the skulls lying on the shore. From the teeth, they appeared to be the remains of men in the prime of life."
"The Jersey at length," declares Stiles, "became so crowded, and the increase of disease among the prisoners so rapid, that even the hospital ships were inadequate for their reception. In this emergency, bunks were erected on the larboard side of the upper deck of the Jersey for the accommodation of the sick between decks. The horrors of the old hulk were now increased a hundred-fold. Foul air, confinement, darkness, hunger, thirst, the slow poison of the malarious locality in which the ship was anchored, the torments of vermin, the suffocating heat alternating with cold and, above all, the almost total absence of hope, performed their deadly work unchecked. 'The whole ship, from her keel to the taffrail, was equally affected, and contained pestilence sufficient to desolate a world—disease and death were wrought into her very timbers.'"
"There was, indeed," Stiles remarks, "one condition upon which these hapless sufferers might have escaped the torture of this slow but certain death, and that was enlistment into the British service. This chance was daily offered them by the recruiting officers who visited the ship, but their persuasions and offers were almost invariably treated with contempt, and that, too, by men who fully expected to die where they were. In spite of their untold physical sufferings, 30which might well have shaken the resolution of the strongest; in spite of the insinuations of the British that they were neglected by their government—insinuations which seemed to be corroborated by the very facts of their condition; in defiance of threats of even harsher treatment, and regardless of promises of food and clothing—objects most tempting to men in their condition; but few, comparatively, sought relief from their woes by the betrayal of their honor. And these few went forth into liberty followed by the execrations and undisguised contempt of the suffering heroes whom they left behind. It was this calm, unfaltering, unconquerable spirit of patriotism—defying torture, starvation, loathsome disease, and the prospect of a neglected and forgotten grave—which sanctifies to every American heart the scene of their suffering in the Wallabout, and which will render the sad story of the 'prison ships' one of ever-increasing interest to all future generations."
Irish Settlers in Pennsylvania.
John Burns, a native of the city of Dublin, where he was born in 1730, was a prominent character in Pennsylvania history. He emigrated to Philadelphia when quite young. He prospered in business in that city, where we are told "he took a prominent part in all local and national questions, and was honored by his fellow-citizens with many positions of trust." He was the first governor of Pennsylvania elected after the adoption of the federal constitution, and "retained in a high degree the respect and confidence of his fellow-citizens till his death."
One of the very earliest white settlers in Greene County was Thomas Hughes, who emigrated from Donegal with his wife, Bridget O'Neill, to Virginia. One of his descendants, Thomas Hughes, wrote the memoirs of his family in 1880, in which he said: "The motive that sent our first ancestor to this country from his native Irish home was of this character, i. e., a desire for religious freedom; he was a devout Catholic." "Settling," he continues, "in the valley of Virginia, in Loudoun County, before the year 1739, Thomas Hughes, son of Felime or Felix, and his wife, with his brother Felime or Felix, all from Inver, in Donegal, Ulster, first laid the foundations of his family in this country."
"Thomas Hughes was a noted hunter, and in one of his expeditions into the backwoods, which lasted for several months, he spent some time in what is now Greene County, Pennsylvania, the soil and general appearance of which pleased him so well that he determined to make his future home there. This he did in 1771, and was one of the very first white settlers in that country. He located where Carmichaelstown now stands, but several years afterwards exchanged farms with a party named Carmichael, and called his new place Jefferson, after his old county in Virginia."
His nephew, Felix Hughes, also settled in Pennsylvania, where he erected a fort or blockhouse as protection against the Indians and wild animals. It was a building of only one story and a half, of hewn logs and rough boards, and as an instance of the primitiveness of the period when this Irish pioneer settled in this locality, this building was looked upon as "an elegant house!" His wife's name was Cinthia Kaighn (or Kane). In 1780, he set out with others to Kentucky to look up lands, but the party was attacked by Indians while descending the Ohio and, after a narrow escape, Hughes returned to Greene County, where he spent the remainder of his days. He and his father were buried in Neill's burying ground, near Carmichaelstown. Their descendants are still found in considerable numbers in Greene and Fayette counties, Pennsylvania.
A prominent Irish Catholic who settled early on Sherman's Creek, was Henry Gass. He and his brother erected log cabins on Indian lands in Perry County, but were dispossessed from there in 1750, when they located at Falling Springs.
Patrick Gass, who was born in the latter place in 1771, and who is said to have been the first white man to make an overland trip to the Pacific, is presumed to have been a son of Henry Gass. The original name, of course, was Prendergast.
Among the earlier Irish inhabitants of Carlisle is found the Prendergrass family, whose name is identified with almost all the larger settlements west of Carlisle. Kline's Carlisle Gazette of November 29, 1797, gave an account of the death of the aged Philip Prendergrass, which occurred two weeks previously, in which it described him as "an old inhabitant of this borough." The name is found on the "list of taxables" in 1762. He took part in the expedition of Kitanning, in 1756, to repulse the Indians. It was a member of this family, Garrett Prendergrass who, in February, 1770, purchased the ground now occupied by the city of Allegheny, from the Six Nations. The old Prendergrass homestead was near Hanover, and is still occupied by the family. It was built in the last century by an Irishman names Byrnes, who married into the family.
Wing's History of Cumberland County mentions John and Charles McManus, as settlers in Carlisle in 1762, the latter as "one of the oldest, most progressive and successful business men in the community."
"The large and commodious dwelling he erected on East Street," 39says Ganss, one of the historians of Carlisle, "still remains as a monument of post-colonial massiveness, spaciousness and solidity, with its marble slab conspicuously placed in the second story, bearing the date of its erection, 1797, and the name of its builder, and which gives evidence not only of enterprise and wealth, but cultured taste. Originally, he was proprietor of one of the largest distilleries in the county, and amassed a sufficient competence which permitted him to live, if not in luxury, at least in ease and comfort. After the death of Mrs. Mary McManus (born 1703, died 1809), the name becomes less prominent, although that of Charles is still found on the pew list of the Catholic Church as late as 1823. The descendants drifted to Mexico and Philadelphia. The former branch of the family, in the course of time, founded the prosperous and famed banking firm of McManus & Co., an institution of international reputation and the largest and most prominent in our sister republic. The Philadelphia family likewise, achieved more than ordinary success in life."
Here we have a conspicuous example of the class of men whom Ireland gave to America in her early days.
John Frazer, who was born at Glassborough, County Monaghan, in 1709, left Ireland in 1735 and located in Philadelphia. In course of time he became a very wealthy man. He was a shipping merchant, owning several vessels engaged in the West Indian trade. He married Mary Smith, who was born in Cleary, County Monaghan. He died in Philadelphia in 1765. His son, Patrick Frazer, commanded a company of the Fourth Pennsylvania, a regiment under the command of Anthony Wayne. He became lieutenant-colonel of the Fifth Pennsylvania, and was brigadier-general of Pennsylvania militia. His grandson, Robert Frazer, was a distinguished lawyer at Thornbury, Pa.
John McCord emigrated from Ireland in 1750, and settled in Sherman's Valley, Pa. His father also located at Landisburg, Pa., about the same time, and on his farm a fort was erected for protection against the Redmen in the Indian war of 1755. It is still known as McCord's Fort.
David Milligan came from Ireland to Mifflin County, Pennsylvania, in 1766. He and his two brothers, John and James, served in the Fifth Battalion of Cumberland Militia through the Revolutionary War. David was twice taken prisoner. All these were in active service up to 1778. Their brother, Thomas, and their mother, joined them from Ireland in 1785.
Robert Guthrie, a name Anglicized from McGrath, was born in Derry; settled with his family in Lancaster County in 1744. His wife's name was Brighid Dougherty, a native of Carndonagh, County Donegal. Their son was a lieutenant-colonel in Colonel Brodhead's regiment through the Revolutionary War. He was in the expedition against the Six Nations, and with Harbison's company of rangers in the border wars against the Indians. His great-grandson was mayor of Pittsburg in 1897.
Roger Connor, a native of Cork, settled at Lancaster in 1740. He established a hat factory there and purchased lands in many parts of the province, principally in Lancaster, Carlisle and York. He had Irishmen in his employ, too, and in the Philadelphia Mercury of November 24, 1743, he advertised for "Patrick Dollard, a hatter by trade, aged about twenty years, a lusty, well-set fellow, etc." Patrick was a redemptioner and had left the service of his countryman before his term had expired. It was Roger Connor who gave the land on which St. Mary's Church, in Lancaster, was built. His name appears on the list of subscribers to the fund for the relief of the sufferers by the Boston massacre in the Revolution. He died at Lancaster in 1776.
John and Charles Connor also settled in Lancaster about 1740, and are thought to have been kinsmen of Roger. In 1758, Charles went to Philadelphia and his name appears on the list of the early contributors to St. Mary's Church. He died in 1775 and bequeathed his property to his nephew, Charles, son of Cornelius O'Connor, of Carrigtwohill, County Cork.
Another family named Connor lived in Ashton Township, Chester County. Charles Connor died there in 1750.
Thomas G. Connor, son of another Charles Connor, who was born at Philadelphia in 1786, is buried in Mount Vernon Cemetery, Philadelphia. His wife's name was Martha Fitzgerald.
Morgan Connor, or O'Connor, was one of the early settlers in Pennsylvania. In the Pennsylvania Archives, Vol. X, he is referred to as "among the first to enter the service of his country as lieutenant in Captain George Nagle's company, in Colonel Thompson's regiment." After the campaign of 1775–'76 he was ordered south as a brigade major for Gen. John Armstrong. He served with credit 41down to the winter of 1779, and on his return in that year he became lieutenant-colonel of Hartley's regiment and subsequently colonel of the Eleventh Regiment. He was lost at sea in 1780, on a voyage to the West Indies. According to Volume I, No. 47, Register of Wills Office, Philadelphia, letters of administration on O'Connor's estate were granted to Dennis McCarthy, on September 8, 1780, when McCarthy, Bryan O'Hara and Patrick Byrne gave a bond in the sum of £3,000.
In a pamphlet issued by Benjamin Franklin in 1744, entitled, Plain Talk, or Serious Considerations on the Present State of the City of Philadelphia and Province of Pennsylvania, appears a letter written in that year by Governor Morris of New Jersey, to Governor Clinton of New York, in which he said: "There are here a Popish chapel and numbers of Irish and Germans that are Papists, and I am told that should the French land 1,500 or 2,000 men, they would in that province soon get ten or twelve thousands together, which would in that case be not a little dangerous to these and neighboring colonies."
Edward McGuire, who belonged to the staff of General McGuire in Austria, came to Philadelphia in 1751, with wines, in which he had invested his patrimony. He was the son of Constantine McGuire and Julia MacEllengot of the County of Kerry. He established himself in business in Philadelphia, but subsequently went to Alexandria, Va., thence to Winchester in 1753, where he built a hotel and gave the ground for and built the Catholic Church at Winchester in 1790. He died in 1806. His descendants were lawyers, doctors and ministers, some of whom married into the best old Virginia families.
Acrelius, in his History of New Sweden (as Pennsylvania was sometimes called prior to the English settlement), writing of 1758, said: "Forty years back our people scarcely knew what a school was. In the later times there have come over from Ireland some Presbyterians and some Roman Catholics, who commenced with school keeping, but as soon as they saw better openings they gave that up."
Among the early Philadelphia schoolmasters, the following advertised in the Mercury: Charles Phipps, "from Dublin," in 1729, and James Conway, on July 17, 1729. George Brownwell also advertised his school in the same year. The schoolroom later became a dancing academy, and was opened by "Theobald Hacket, dancing master, lately come from England and Ireland." Alexander Butler advertised his school on November 12, 1741. On June 21, 1790, John Reilly opened a school at Columbia, and in the following year his scholars were taken by Francis Dunlevy, who taught the higher branches. This was continued until 1793, when Reilly gave the entire school to Dunlevy and opened another school at Mill Creek. It is stated in the Magazine of Western History for February, 1888, that this was the first school in the American settlements of the Ohio.
Many of these Irish schoolmasters are mentioned in Wickersham's History of Education in Pennsylvania.
An Irish schoolmaster taught school at Chester in 1741. Rev. Mr. Backhouse of that borough, wrote the London Society for Propagation of the Gospel, that the Quakers had "set up another schoolmaster, one of their own sort truly, but a native Irish bigoted Papist, in opposition to one Charles Fortesque." The name of this Irish schoolmaster is not mentioned.
John Conly taught "an advanced school" at Byberry, Philadelphia County, before the Revolutionary War.
John Downey, who was among the first settlers of Harrisburg, according to Wickersham, taught school at Harrisburg for a number of years. He was also a justice of the peace, town clerk and member of the Assembly. In 1796, he presented Governor Mifflin a plan for a state system of education, "in which he discussed the whole subject of education, showing a wonderful sense of its importance in a government like ours and a clear conception of the nature of the system necessary to make it general."
On May 15, 1767, Miss Mary McAllister advertised in the Philadelphia papers to open a boarding school for young ladies in that city. "Hers was the first school of the kind in Philadelphia" (Wickersham).
Thomas Neill was a schoolmaster in the Wyoming Valley before the massacre of 1778. He is described as "an Irishman of middle age, learned, a Catholic, a Free Mason, fond of dress, remarkable for his fine flow of spirits and pleasing manners, a bachelor and a schoolmaster." He lost his life in the massacre of Wyoming.
In 1790, a number of Catholics from Maryland settled in Cambria County, Pennsylvania. "A school was opened there," says Wickersham, "under the direction of a schoolmaster named O'Connor."
Wickersham also states that the pioneer settler of northern Cambria County was a Captain Maguire. Other settlers who followed him from Maryland in 1790 were named Kaylor, Burns, McDale and Carroll, the descendants of the latter having been the founders of the present town of Carrolltown. The second white child born in that section is said to have been Michael Maguire. The number of places in Cambria County which bear Irish names indicate the extent of these Irish settlements. For instance, Driscoll, Carrolltown, Kaylor, Dale, Dougherty, Sheridan, Condon and Patton, called after the settlers, and Dysart and Munster, called after Irish places. Immediately to the north of Cambria, in Clearfield County, there are places names Mahaffey, McGee, McCartney, McCauley, Welshdale, Moran, Curryrun, Mitchel, Shawville, Barrett and Donegal, and in the other counties surrounding Cambria, are places called Tyrone, Armagh, Avonmore, McKee, Curryville, Kelley, Fleming, Connor, Daley, Downey, Lavansville, and so on.
James Nowlins taught school at Mauch Chunk. According to Wickersham, he was one of the first white men who located at that place.
"Paddy" Doyle taught school at Phœnixville. He is mentioned in Pennypacker's Annals of Phœnixville. A description of him says "his nationality was revealed by a very decided brogue."
Robert Williams, an Irishman, was a teacher at Greensburg.
John Sharpless conducted an academy on Second Street, Philadelphia, in 1791.
Rev. S. Magaw opened an academy on Spruce Street in 1800.
Philip Garrett and two other teachers opened a night school at Philadelphia in 1799, and their advertisement stated it was "for poor children and would do the teaching themselves." Two years later their effort was organized into the "Philadelphia Society for the Establishment and Support of Charity Schools."
In the settlement of New Londonderry, Chester County, Samuel Blair, an Irishman, established a school in 1740. This settlement was founded fourteen years before by immigrants from Derry and Donegal. Blair is described in Pennsylvania history as "one of the most able, learned, pious, excellent and venerable men of his day." His academy was called "the school of the prophets," and "from it there came forth many distinguished men who did honor to their instructor and their country."
One of the most eminent educators in the province was Dr. Samuel Finley, who arrived from Ireland in 1734 and located in Pennsylvania, where he taught school. In 1744 he founded an academy at Nottingham, Md., where some of the most distinguished men in the country laid the foundation of their education and usefulness. Among his many scholars were such men as Governor Martin of North Carolina, the famous Benjamin Rush of Philadelphia, his brother, Judge Rush, Governor Henry of Maryland, and Doctor McWhorter of New Jersey. It is said "there were no better classical scholars formed anywhere in the county" than in this school. In 1761, Doctor Finley was appointed president of Princeton College. He died in 1766.
Dr. Francis Alison, of Donegal, came to Pennsylvania in 1735, and settled at New London, Chester County, where he opened a school. At the time of its establishment there was a great want of learning in the Middle Colonies, and Doctor Alison is said to have instructed all who came to him "without fee or reward." A Dr. Patrick Allison, who was born in Lancaster County in 1740, is thought to have been a relative of the Donegal schoolmaster. He held a place "in the very first rank of the American clergy, and had scarcely an equal for his eloquence."
The father of John W. Geary, governor of Pennsylvania from 1867 to 1873, was an Irishman who had settled early in Franklin County. He became an iron manufacturer, but having failed in business and lost his entire investment in the mines, he opened a select school in Westmoreland County, to which he devoted the remaining years of his life. His son, General Geary, commanded a Pennsylvania regiment in the Mexican War, and was commissioned governor of Kansas in 1856. He fought in the War of the Rebellion and distinguished himself for his bravery at Gettysburg. "His name will forever be associated with the great events of the brilliant Chattanooga campaign." While in the command at Lookout Mountain, his son, Capt. Edward Geary, a youth of eighteen, was killed by his side.
William Powers, who was elected a member of the Hibernian Society of Philadelphia in 1790, is referred to in Campbell's history of that society as "a teacher in the university."
Benjamin Workman, who also joined in the same year, is described as a teacher of mathematics. He advertised in the Freeman's Journal on June 28, 1786, as "from the University of Pennsylvania."
Rev. S. B. Wylie, a native of Moylarg, County Antrim, was a teacher in a private academy at Philadelphia in 1797, in which year he fled from the wrath of the British government. He was an early member of the Society of United Irishmen in Belfast. He became professor of languages in the University of Pennsylvania and was vice-provost of that institution. He joined the Hibernian Society in 1811.
William Findlay, who was born in Ireland in 1750, came to Pennsylvania in August, 1763, and taught school in Westmoreland County for several years after his arrival. He was elected to the state Legislature from Westmoreland County, and was a member of Congress from 1791 to 1799, and again from 1803 to 1817. He was a prominent writer and pamphleteer on subjects devoted to the public welfare. He was a member of the Hibernian Society.
Among the members of the Hibernian Society who were elected in 1790, Francis Donnelly, John Barry, John Heffernan and James Kidd are described as schoolmasters in Philadelphia.
Patrick Farrall, who joined the Society in 1792, and who is described as "the first clerk in the office for settling accounts between the United States and individual states" after independence had been won, is thought to have been a Pennsylvania schoolmaster.
Andrew Porter, a member of the Hibernian Society, opened "an English and Mathematical School" in Philadelphia in 1767, in which he taught till 1776, when he was appointed a captain of marines and ordered to the frigate Effingham. He was a son of Robert Porter, who emigrated from Derry to New Hampshire in 1720, and who afterwards removed to Montgomery County, Pa. He was transferred from the marine corps to the command of the Fourth Pennsylvania Artillery, which post he held until the close of the war. He fought in several battles of the Revolutionary War at the head of his gallant regiment, and is said to have been personally commended by Washington for his conduct at the battle of Germantown. He became general of Pennsylvania militia, and took a prominent part in all movements for the welfare of his native state. Gov. David R. Porter of Pennsylvania, Gov. Bryan Porter of Michigan, and James M. Porter, secretary of war under Tyler, were grandsons of the exile from Derry, Robert Porter.
The corner-stone of a vault for the reception of so many of the bones of the martyred dead as could be collected, was laid in April, 1808, by Tammany. The event was made the occasion of a great demonstration. There was a big military and civic parade, artillery salutes and other features. Major Aycrigg was marshal of the day and an eloquent oration was delivered by Joseph D. Fay of Tammany. On May 26, 1808, the vault being completed, the bones were removed thereto, the event being signalized by another great demonstration. There were thirteen coffins filled with bones of the dead, and veterans of the Revolution acted as pall-bearers. Stiles informs us that "The procession, after passing through various streets, reached the East River, where, at different places, boats had been provided for crossing to Brooklyn. Thirteen large open boats transported the thirteen tribes of the Tammany Society, each containing one tribe, one coffin, and the pall-bearers." The scene was most inspiring. "At Brooklyn ferry the procession formed again … and arrived at the tomb of the martyrs amidst a vast and mighty assemblage. A stage had been here erected for the orator, trimmed with black crape. The coffins were placed in front, and the pall-bearers took their seats beneath the eye of the orator. There was an invocation by Rev. Ralph Williston, and the orator of the day was Dr. Benjamin DeWitt. The coffins were huge in size and each bore the name of one of the thirteen original states."
Some Irish-French Officers in the American Revolution.
From "Les Combattants Francais de la Guerre Americaine.
Published in Paris, 1903.
Régiment de Dillon.
État-Major.
Colonel.
Le comte Dillon (Arthur).
Colonel En Second.
Le chevalier Dillon (Théobald).
Lieutenant-Colonel.
Dillon (Barthélemy).
Major.
O'Moran (Jacques).
Quartier-Maitre Tresorier.
Moncarelly (Barthélemy).
Capitaines.
Moore (Gerard).
Purdon (Simon).
Bancks (Thomas).
Nugent (Anselme).
Swigny (Paul).
Shee (Robert).
Moore (Guillaume).
O'Neill (Bernard).
O'Berin (Michel).
Taaffe (Laurent).
Capitaines En Second.
De Mandeville (Jacques).
Macquire (Philippe).
Macdermott (Thomas), ainé.
O'Reilly (Jean).
Kelly (Guillaume).
Macdermott (Thomas).
Novolan (Christophe).
O'Doyer (Denis).
Lynck (Isidore).
Coghlan (Therence).
Lieutenants.
Greenlaw (Jean-Bernard).
Dillon (Thomas).
O'Keeffe (Patrice).
O'Farel (Claude).
De Macdermott (Bernard).
Welsh (Michel).
Evin (Nicolas).
Commerfort (Joseph).
Browne (Jean).
Duggan (Jean).
Lieutenants En Second.
Darcy (Louis).
Fitz Harris (Guillaume).
Browne (Thomas).
Taaffe (Christophe).
Fennell (Jean).
Hussey (Jean).
Le chevalier Whyte Seyslip (Nicolas).
Swigny (Edmond).
O'Farell (Emanuel).
O'Farell (Jacques).
Sous-Lieutenants.
Maclosky (Jacques).
De Morgan (Jean-Baptiste).
Mac Sheehy (Patrice).
Fitzgerald (Edouard).
Shee (Guillaume).
O'Farell (Emmanuel).
Fitzmaurice (Joseph).
O'Reilly (Charles).
Macdonald (Jean-Baptiste).
O'Meara (Daniel).
Khnopff (Louis).
Mahony (Denis).
Sheldon (Guillaume).
O'Moran (Charles).
Owens (Henry).
Strange (Patrice).
Purdon (Henry).
Murphy (Patrice).
Dehays (Thomas).
Régiment de Walsh.
État-Major.
Major.
O'Brien (Thadée).
Quartier-Maitre Tresorier.
Bancelin (Charles).
Capitaines.
De Fitz Maurice (Thomas).
Le chevalier de Walsh (Charles).
O'Niel (Jean).
De Nagle (Jacques).
O'Brien (Jean).
D'Arcy (Jacques).
Capitaines En Second.
Stack (Edouard).
Bellew (Laurent).
O'Croly (Charles).
O'Driscol (Jacques).
Le chevalier O'Connor (Armand).
Lieutenants.
Plunkett (François).
O'Riordan (Jacques).
Keating (Guillaume).
Barry (Richard).
Lieutenants En Second.
O'Sheil (Jacques).
O'Meara (Jean-Baptiste).
O'Gorman (Charles).
Meighan (Georges).
Mac-Carthy (Eugène).
Sous-Lieutenants.
Keating (Jean).
Cruice (James).
O'Crowly (Felix).
Darell (Philippe).
O'Flyn (Jacques).
Barker (William).
Traut (Thomas).
Barry (David).
O'Cahill (Louis).
Tobin (Jacques).
M. Macarty de Marteigue, commandant of Le Magnifique, 1782.
Du Fay de Carty, an ensign aboard Le Magnifique, 1782.
Abbe Maccabe, chaplain of L'Annibal, 1779–1781.
Roger Morrison, chaplain of L'Andromaque, 1778–'79, and of L'Eveille, 1780–'82.
Abbe Bartholome Omahony (O'Mahony), chaplain of L'Ivelly.
Abbe Dowd, "Irlandais," a chaplain of Le Jason.
Macarty, an ensign aboard Le Conquerant, 1780–'82.
De Rochefermoy (Mathieu), a lieutenant in the regiment de Bourbonnais.
Irish Pioneers in Boston and Vicinity.
Irish Pioneers in Boston and Vicinity.
"The Massachusetts Bay" was, of all the original thirteen colonies, the most hostile towards the Irish, and it made but little difference with the Puritans whether the former were Catholic or Presbyterian, all fared alike, and were looked upon as people neither to be encouraged nor tolerated.
However, they continued to come in, despite this dislike, in one capacity or another, and one—Captain Patrick—appears in the records of 1632. Florence McCarthy was a resident of Boston in 1686. He was a butcher by occupation, and one of the founders of the first Episcopal Church in the town.
Esther MacCarty's name is signed to an indenture, as a witness, about the same period. According to Palfrey, New England, up to the beginning of the great Irish emigration, was more unmixed in blood than any county in England. While this may seem true of Massachusetts, it will hardly apply to New Hampshire, and will not stand investigation in the Bay State, for according to the same authority, 400 or 500 Scotch were transported by Cromwell to Massachusetts in 1651, and thirty-four years later 150 families of French Huguenots came, followed in 1719, by 120 families of Irish, mainly from the North of Ireland. To these mentioned by Palfrey must be added, on the authority of Drake, 200 families of the unfortunate Acadians sent to Massachusetts about 1750.
No mention is made at all of the thousands sold into a kind of slavery by Cromwell to New England and the West India Islands, from Ireland, and yet, between 1651 and 1655, on the authority of Prendergast, over 6,000 boys and girls, mainly from the South of Ireland, were shipped to those two points.
The addition of 400 or 500 Scotch, 150 families of French Huguenots 76and the unknown number of Irish arriving in Massachusetts in less than twenty-five years from the establishment of the colony of Massachusetts Bay, will justify a contradiction of this statement of Palfrey's. The Acadians and the Irish are prolific, and in this respect could keep pace with their English neighbors, and a comparison of the well-known New England families of the past hundred years, with an equal number of families in any English county, will prove it, for names, as a rule, are the surest guides to nationalities, and scattered over New England, from the dates named, are families bearing well-known French and Gaelic names, many of them slightly changed, but enough left of the original to trace the transformation. When the War of the Revolution broke out, this mixture of English, Irish, Scotch and French blood was pretty well compounded, and it was not surprising that the men of the new American race humbled Britain, and brought her to her knees.
Adams and Hancock, Sullivan and Knox, Stark and McClary, Revere and Bowdoin were, in New England, representatives of the nations mentioned, while the names of Washington and Jefferson, Moylan and Carroll, Mercer and Paul Jones, Laurens and Marion, showed that the same process was at work throughout the colonies.
Many Americans, no matter whence they sprung, now mount the "Anglo-Saxon" hobby, which, like a circus steed, has been so well padded by writers of history that there is little danger of a dismount, and in order to be in harmony with the aristocratic trend of the age, a double hitch is provided by trotting out the "Scotch-Irish" nag as a running mate, a trifle bony, perhaps, and a little ungainly at first, but time, good feeding and careful grooming, will make a perfect match, for both are of the same stock-humbug—a princely origin, for in this age humbug is king, and its capital, unlimited, is wind.
While Irish blankets and Kilkenny rugs were mercantile commodities in New Hampshire before King William of "glorious and immortal memory" had trigged the wheels, Irish butter was a most desirable article in Boston, as we find that John Hancock, among other goods advertised in his Faneuil Hall store, speaks of "Newcastle coal and Irish butter cheap for cash." Cork from time immemorial being the great butter mart, it would not be at all surprising if some of the light-footed and light-hearted sons of that lively city came over with butter. McCarthy is one of the great Cork names, and in addition to Florence and Esther, named between 1680 and 1760, Elizabeth, Thade, William and Calvin Maccarty are met quite frequently 77in the records of the town of Boston, all persons of means and holding responsible positions.
Florence was town constable in 1693, and Thade Maccarty was elected to a similar position in 1673. For damage to her house, blown up to check a fire, Mrs. Elizabeth Maccarty was awarded the sum of $300 and Maccarty's corner, on King Street, was a locality frequently mentioned. Florence was a man of consequence, and one of the leading men in his business. Leave was given him, in 1693, to build a slaughter house, and from the frequent mention made of him he must have been the John P. Squire of his day at the Hub. William Bryant was a servant of Capt. William Hudson in 1679, doubtless one of Cromwell's transports, many of whom were, by that date, scattered over New England, especially in what is now Maine and New Hampshire. Larry is quite common along the border, between the Pine Tree and Granite states, and the first met in history bear the distinctive given names of Cornelius, Dennis and Teige. O'Leary is a South of Ireland name, and the presence of persons bearing it so early in the colonies, substantiates what is stated by Prendergast in the Cromwellian Settlement.
Eugene Linch (Lynch) came to Boston from Virginia in 1712. The name of Lynchburgh in the "Old Dominion" denoted the presence of this good old Galway name. Eugene found a wife in Beverly; and although bearing an aristocratic Norman name, he was not good enough to reside in Boston, being ordered to go to Beverly and stay with his wife. James Bettrell, "an Irish shoemaker," had better luck, however, being allowed to remain, on giving bonds. James Barry was a noted huntsman in 1702, and was complained of for allowing his dogs to run loose. The town constable ordered him to shut them up.
There is quite frequent mention of ships loaded with passengers from Ireland, bound for Pennsylvania or Virginia, putting into Boston, from stress of weather, want of provisions, or sickness among the people on board. Care was taken by the town authorities to prevent the landing of any of the passengers, and the records are full of such instances, between 1700 and 1800, and the town constables were at their wits' ends to keep the unwelcome visitors out, for those who landed in other parts of the country came by land to Boston, attracted, no doubt, by the rising trade and manufactures of the future metropolis of New England. Of this class, undoubtedly, was 78Charles Conner, his wife and child, who came from Philadelphia in 1732, only to be ordered out of town at once—a fate many of his nationality had to suffer during this epoch.
Drake, in his Landmarks of Boston, says: "About 1718 a number of colonists arrived from Londonderry, bringing with them the manufacture of linen and the implements used in Ireland. These emigrants also introduced the general use of their favorite vegetable, the potato."
They were not met with a warm welcome, however. So many were coming from Ireland, in 1718, that Dea. John Marian was ordered to appear before the courts and take such steps as he might deem proper to keep them away from the town of Boston, and in this respect the authorities were impartial. No distinction was made between the natives of Cork or Belfast, Londonderry or Limerick, the followers of the old faith or the new; all were treated alike; it was enough to know that they were Irish. But despite all the obstacles thrown in their way, they kept coming, and so fast that finally the town council resolved that some steps must be taken to register them, so in case any of them became a town charge, their nationality might be known.
To that end all persons receiving or entertaining any of the Irish people were ordered to notify the authorities, on penalty of being fined twenty shillings for the first forty-eight hours and ten shillings for every twenty-four hours afterwards. Repeated warnings were given, but were as often disregarded. January, 1719, John Maccanis, wife and four children, were ordered to leave (John McGuinnis would be nearer the mark). Two shiploads, under command of Capt. Robert Holmes and a Captain Dennis, were refused permission to land, the same year. In September, 1744, three Irish boys and sixteen Irish girls were captured by a French privateer and forwarded from Capt. Breton to Boston. Among them were James Connor, Thomas Bryan, Charles White, Mary Roberts, Mary Price, Sarah Agin, Mary Benson, Margaret Anderson, Sarah Hathay, Elizabeth Campbell, Mary Hammell, Eliza Fitzgerald, Sarah McMahon, Bridget McNamara, Eliza Dunster, Fanny Brady, Jenny Richardson, Kathleen Morris, Mary Derham. No doubt these poor waifs were looked after by the Charitable Irish Society, which was then instituted about seven years. The feeling against their nationality was gradually wearing away, and the settlements of their countrymen in 79New Hampshire were already furnishing the best fighting men against the French and Indians.
As early as 1758, the Macs, with many other well-known Irish names, were taking a prominent place in the town records. McCarthy, McCarroll, McClane, MacCluer, McConnell, McCown, McCullum, McDaniel, McDonnell, McDonald, McElroy, McFadden, McFarland, McGowan, McIntire, McKeen, McKey, McKnight, McKenzie, McLean, McNeal, McPherson, McQuestion, Mooney, Montgomery, Moore, Murphy, Ryan, Powers, Welch, etc., were entered side by side with their English neighbors, so that there is no question that Boston had within its borders when the Revolution broke out, a large share of that stock,—the Irish—which made its influence felt during the struggle, and which furnished in the massacre one of the first victims, in the person of Patrick Carr.
Besides Boston, there were few towns in New England where an Irishman could not be found between 1700 and 1800. In the contingent from Ipswich, Mass., in 1755, at Lake George, were John Fitzpatrick, William Connolly and Thomas Looney, and in the records of deaths in the town's history is that of James Fitzgerald, who died in 1727. Americans bearing these names, some of them changed slightly, are found all over the country—Fitzes and Geralds, Patricks, and Connollys, the latter changed to Colony and Collony. The modern Fitzes discard any but a Norman origin, however, and the Patricks are, of course, "Scotch-Irish."
Jeremiah Smith, born in Ireland in 1705, came to Massachusetts in 1726, locating at Milton. He was accompanied by his wife. He was the first to raise potatoes in the town, and the first to manufacture paper in the colony, and perhaps in the country. A neighbor of his, a Mr. Babcock, having raised two bushels of potatoes from seed given him by Mr. Smith, came to the latter and told him he did not know what on earth to do with so many. Mr. Smith told him not to fret, he would buy them of him. Babcock said he did not know what to do with his Irish help; they did not understand raising American vegetables; he sent one of them out to get some green corn for dinner the other day, and he came back without any, saying that "he had dug up five or six hills, and the divil a kernel of corn could he find." Smith told him that the Irish knew as much about raising corn as the Americans did about raising potatoes, and knew less how to use them. Smith was a member of the Presbyterian Church in Boston. He bears honorable mention in the town history, and was respected by all his fellow-townsmen. He died in 1790.
John Sullivan was also interested in the manufacture of paper, in that section, between 1780 and 1790, and associated with him in the business were Patrick Connor and Michael McCarney. Others of Irish birth in the town at the same time, who were prominent in its affairs, were Peter O'Kelly, Hugh McLean, Peter McElroy and James McClary. That was quite a group of Irishmen in a suburb of Boston, and there was no question but that they were men of enterprise and push. O'Kelly, with his wife and six children, went to South Carolina in 1796. McCarney was one of a corporation, organized in 1798, the Mill Creek and Neponset River Company, for the manufacture of paper. Their mills were situated near where the chocolate manufactory of Walter Baker was afterwards located. McCleary's name appears on the rolls of the Charitable Irish Society in 1789. This is one of the names noted in New Hampshire's military and civil history. Maj. Andrew McClary, of Stark's regiment, was killed at Bunker Hill. He was one of the finest looking, as he was one of the bravest, men in the army, and his death was then looked upon as a great loss to the cause of Independence.
Among those who went with a colony from the Massachusetts Bay to Delaware, in 1644, were John Nolin and his wife. The Swedes, who were already located there, looked upon the newcomers as interlopers, and made it very unpleasant for them. The result was the appointment of a commission to investigate the alleged outrage on the Massachusetts men. John Nolin was one of the principal witnesses, the Swedish governor having placed him in irons. Nolan was undoubtedly the correct way of spelling the name, and it would not be at all surprising if, like Darby Field of New Hampshire, he was one of the "Irish soldiers for discovery."
John Patrick of Barre, Mass., was a lieutenant in the company recruited in that town, at the outbreak of the Revolution. His father was an emigrant from Ireland, and the original name was Kilpatrick. His descendants are scattered through New England, and like all sprung from Gaelic stock, have been prolific. He died in 1807, aged sixty-eight. Gen. M. R. Patrick, provost marshal of the Army of the Potomac, and at his death superintendent of the Soldiers' Home at Dayton, Ohio, was one of his descendants. In harmony with the usage of the day, the descendants of the lieutenant derive a "Scotch-Irish" ancestry for the founder of the family.
Among the births recorded in Boston in the returns of births and baptisms, from 1630 to 1699, are Francis, son of Thaddeus and Eliza MacCarty, February 19, 1666; Thaddeus, son of the same parents, in September, 1670; Margaret, born February 25, 1676; Catherine, born January 23, 1679, of the same parents; Elizabeth, daughter of Florence and Elizabeth MacCarty, born December 25, 1687; Thomas, son of the same, born February 5, 1688 (evidently a mistake in dates); William, son of the same, born February 3, 1690. Mrs. Eliza MacCarty died July 6, 1696. Florence waited a little over a year before taking another partner, but not thinking it best to live alone, he married Sarah Newwork on August 24, 1697. She presented him with another Sarah in 1698.
The William MacCarty mentioned, became a noted shipmaster, and had the reputation of being a fine navigator. He was an enterprising man, fully up to the standard reached by his father and grandfather. The son, Rev. Thaddeus MacCarty, born in 1721, was a graduate of Harvard College and a minister in the Congregational Church. He was called to the pastorate of the first parish in Worcester, in 1746, where he remained thirty-seven years. He married a Welsh girl, and by her had fifteen children. He is described as being tall and slender, with dark eyes, sonorous voice and very pleasing address. He was a prolific writer, and like James Sullivan of another Munster family, one of the most scholarly men of his day; he died in 1784. His son, Thaddeus, born in 1747, was a noted medical practitioner. He first located in Dudley, then changed to Fitchburg, Mass., where he established a hospital for the treatment of smallpox by the Suttonian method. Here at one time he had 800 patients. He afterwards removed to Keene, N. H.
Another son, William MacCarty, was quartermaster of Colonel Bigelow's Fifteenth Massachusetts Regiment in the Revolutionary War. Thus, in Massachusetts, three of the best known South of Ireland families, O'Brien (in Maine), MacCarty and Sullivan, were represented before and during the Revolution; and it is pleasant to record that all were true to the cause of Independence.
The Mackues had a representative in Timothy, son of Timothy and Ann Mackue, born October 20, 1699, probably one of the McCues or McHughes, all the same. Sarah, daughter of William and Olive McLoughlin, was born on October 29, 1689; and Eliza followed on September 10, 1691, who was joined by Mary, born on March 22, 1694. These undoubtedly are the ancestors of many McGloughlins, McLathlans, or Lafflins, as the fancy seized their descendants to alter the spelling, just as the name McCarthy became in time Maccarty, Maccartie, MacCarter, Carter or Carte, varied occasionally by Carty. On February 14, 1658, not a great many years after the founding of the colony, "James Webster a Scotishman & Mary Hay an Irish maid were married." Mary was, no doubt, one of the poor girls torn from her home in Ireland, but hard as her lot was, she was fortunate in not being sent to the West Indies; but would it not be of interest to find, at the present time, the descendants of the Scotch laddie and the Irish lassie, the Websters of 1658?
Another couple, married April 5, 1692, bear names that denote Irish blood—Andrew Rankins and Grace Butler. The ceremony was performed by Gov. Simon Bradstreet. Daniel, son of Dermin—probably Dermot—Mahoone, was born Oct. 4, 1646. The next child born to the couple, on August 29, 1648, bore the well-known Irish name of Honour, and the name itself must have been Mahon, or Mahoney. Mrs. Mahone died November 8, 1656, and her husband, like his countryman, McCarty, did not remain single long, as another child, Margaret, was presented him on June 3, 1661, but it was after his death, which took place on April 2, 1661. His widow, Margaret, did not long grieve for him, for in the following July, 1661, the record reads, "Bryan Morfrey (Murphy) an Irishman & Margaret Mayhoone widow were married 20th July by John Endecott Governor."
The Murphys were on hand "airly," and no doubt made their mark, but where are their descendants? Hannah, daughter of John and Ann Cogan, was born September 6, 1636. This may be one of the characteristic names of England, but is more common in Ireland, being carried there by Milo De Cogan, one of Strongbow's Norman knights. John was born to Garrett and Mary Bourne, May 30, 1643. Both given and proper names have an Irish appearance. The first Kelly having the honor of being entered on the records of births was Daniel, son of David and Elizabeth Kelly, born December 18, 1647; like the Murphys, they were on hand early; and also like the Murphys, are of the undiluted old stock, Gaelic to the core. Today, on account of the prominence of the name, it is as American as it is Irish, and what is still better, the spelling remains the same in both countries.
The first Butler, who heads the roll of a long line of descendants, and a representative of one of the most illustrious names on two continents, makes his bow in August, 1653, in the person of Benjamin, son of Stephen and Jane Butler. November, 1656, "Edmond Coussins of Pulling Point and Margaret Bird an Irish maid servant to John Grover of Rumney Marsh were married." An Irish linnet to a French Huguenot, probably. Mary and John Bohanno, another Scotch laddie, and an Irish lass, were blessed with a little Mary on May 9, 1658. From these records it can be safely inferred that the exiles from Scotland and Ireland, the victims of Cromwell's tyranny, were, in their persons, uniting the two branches of the old Gaelic race, as frequent mention is made of marriages between them.
Bohanno was undoubtedly Bohan or Buchanan, both from the same root. John Morrell, an Irishman, and Lysbell Morrell, an Irishwoman, were married, August 31, 1659. March 15, 1661, John Reylean, an Irishman, and Margaret Brene, an Irishwoman, were married by John Endicott, Governor. John, son of John and Sarah Starkey, was born on September 23, 1666, abbreviated later on to Stark. Barry appears on the roll, January 8, 1688. James, son of James, being born on that date. Kenney does not appear until 1691, when, on February 13, Moses and Margaret Kenny were blessed with the gift of a daughter. Like Butler and Kelly, this is not one of the most common names in America, as it is in Ireland—McKenna, Kenna, Kenny. Mulligan turns up in 1681, in the person of Robert, son of Hugh and Eleanor Mulligan, born on August 9. The Millikens and Mullikens can trace the stream and find the source, perhaps, here. Morrissey (spelled Morris and Morrisse) appears in 1655.
Edward Morris and Dermon (Dermot) and Honora Morrisse are mentioned quite often—some of the transports, undoubtedly. Another of the exiles, or the child of one, was Johanna Heffernan who married Christopher Vale in 1692. Mary Lynch married James Townsend in 1693, and Henry Townsen wedded Mary Keefe the same year—two more "Scotch-Irish" unions if names are an index to nationality—and still another at the same time was that of Mary Peard to Samuel Swetman.
The good old name of Hayes, in the persons of Thomas and his wife, Bridget, shows up July 25, 1690, when unto them a child was born, named Eliza. This is like some other names mentioned, found now all over the country; in this case, Bridget must be the Eve of the modern Garden of Eden—the Hub—at least so far as the Hayes' are concerned, for she was the first of the tribe in the Trimountain Paradise. Reilly has two representatives in John and Bridget Rylee, who had born to them on September 10, 1693, a daughter, Hannah. After 1700, Irish names peculiar to the South, as well as the North of Ireland, rapidly appear. In the records of the selectmen of the town of Boston, September 27, 1736, John Savell was required to give a bond for a servant imported from Ireland by Captain Arnold. James Wimble had to do the same for George Lucas' wife and child from Ireland.
Captain John Carrell—Carroll—ditto, for twelve persons he brought from Ireland in his vessel. Dinish and Honor Cniae—Kenna—and their two boys, were of this number. September 29, Joshua Winslow, Esq., gave a bond for William Steward, wife and two children, imported by Captain Boyd. Steward was a cooper, and in the following November was admitted an inhabitant of the town.