Eoghan O Hannracháin
Abstract
More than 200 000 Irishmen served in the armies of Louis XIV and Louis XV. Whilst some were in France prior to 1690, the largest single cohort crossed over to France with Patrick Sarsfield, loyal to the Stuart king, James II, after the signature of the Treaty of Limerick in 1691. They served in Irish regiments, popularly called the « Wild Geese » which had distinctive uniforms and flags and their own officer corps. Recruitment to the Irish Brigade continued up to the 1780s. One useful source of information on their place of origin, service, command structure, longevity, trades and marital status is provided by the records of the Hôtel Royal des Invalides which lists details of over 2 100 Irish ; these are examined in the present text.
The precise number of Irishmen who served in the armies of Louis XIV and Louis XV will never be known, because no comprehensive records were kept. Whilst a great army followed Patrick Sarsfield into exile after the Treaty of Limerick, thousands of other Irishmen had gone to soldier in France in the preceding decades, largely as part of groups recruited in an organised fashion (1). These men, who were popularly known as the « Wild Geese », deserve fuller analysis. The present article examines the records relating to a considerable cross-section of these men, on the basis of the information contained in the registers of those who applied for admission to the Hôtel Royal des Invalides (HRI). It also shows what became of some of them and outlines the very special environment in which they found themselves ; by scrutinising personal files, it shows that their individuality was not erased by long military service.
These registers (2) are conserved in the Service Historique de l'Armée de Terre (SHAT) at the Château de Vincennes. They contain highly useful particulars – name, first name, nom de guerre, regiment, company, age, length of service, nature of disabilities or wounds, mention of the battles or sieges in which the veteran was wounded, his trade or profession, marital status, where he had set up a home, and his ultimate fate, for example, date of death or the date on which he renounced his right to his place in the Invalides – for a total of over 130 000 men. Of these, some 2 100 were Irish.
Unfortunately, information is not given under each of these headings, in every case, for some scribes were less diligent than others. Nevertheless, these records disclose a great deal about the pattern of recruitment to the Irish Brigade, the encounters in which they took part, the names of their officers, the age at which they were recruited, and their longevity.
The HRI was the finest social initiative undertaken by Louis XIV, and he took a personal interest in the project. The structure was provided for in the Edict of Saint-Germain en Laye of 24 February 1670. This edict arranged for the financing of the construction and for the upkeep of the establishment. The HRI was intended to save incapacitated officers and soldiers from the misery and mendicity that had been the lot of disabled veterans down the ages.
No expense was spared in the construction and decoration of the vast building. Louis XIV was conscious of the fact that his wars had led to these men losing limbs or eyesight. He was also proud of the institution and cited it in his last will and testament : « entre les différens éiablissemens que nous avons faits dans le cours de notre règne, il n'y en a point qui soit plus utile à l'Etat que celuy de l'hostel royal des invalides » (3).
Early this century, Robert Burnand wrote a remarkable book on the HRI (4). However, the most extensive source of information on the institution is Professor Jean-Pierre Bois' comprehensive book (5). His work provides considerable detail on the system of the Invalides and has a wealth of useful material on the functioning of the institution.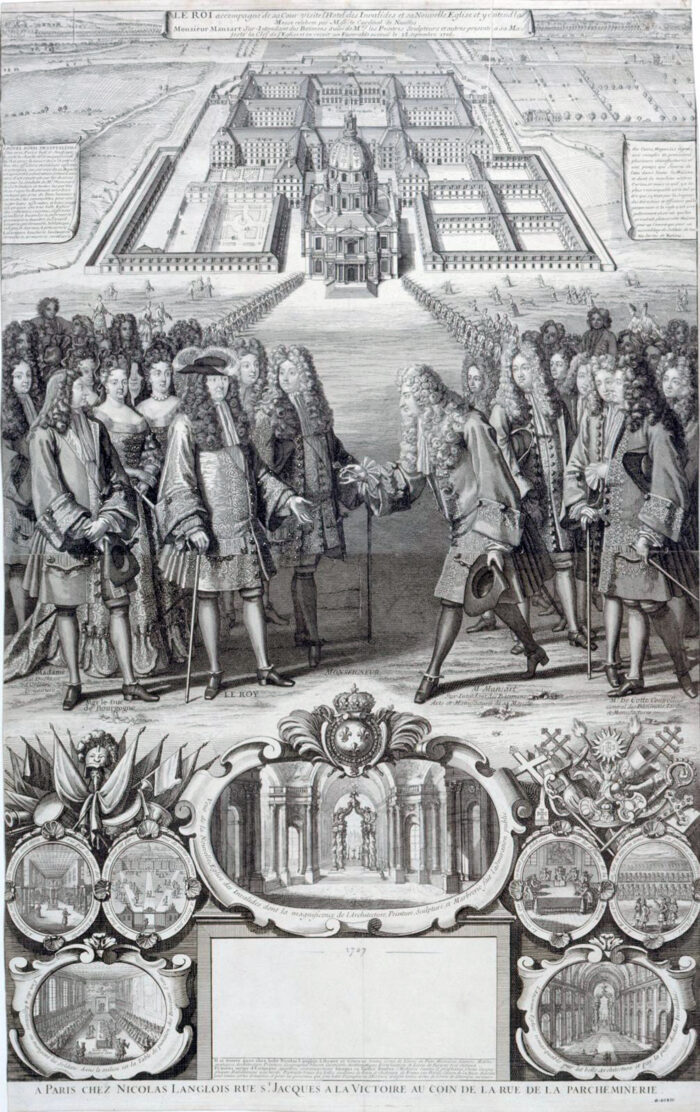 County of Origin of the Irish
For the 1,874 Irishmen who applied for admission to the Invalides between 1690 and 1769, the county of origin was indicated in 1,799 cases ; in some of the 75 other instances, the province of origin was shown. As the figure shows, every county in Ireland was represented. 723, or 40.2 %, of the men came from Munster ; 509, or 28.3 %, were of Leinster origin ; 385, or 21.4 % were from Ulster, and 182, or 10.1 %, were from Connacht.
The lowest number, eight, came from Leitrim which is small in area and population. The largest cohort came from county Cork (6) which was the county of origin of 298, or 16.6 %. Next in size was Limerick which was the home of 145, or 8.1 %, followed by Dublin with 138, or 7.7 %, Tipperary with 104, or 5.8 %, Kerry with 71, or 3.9 %, Galway with 69, or 3.8 %, Armagh with 68, or 3.8 %, Kilkenny with 66, or 3.7 %, and Clare with 64, or 3.6 %.
This wide spread of places of origin reflects the greater recruiting drives that were made in Munster, Leinster, Galway and Armagh where the population was positively disposed to the Stuart cause. The overall picture shows how broadly-based the recruitment for the Irish Brigade was. The Brigade constituted a unique melting-pot in which, for the first time, men from every county in Ireland served together. Indeed, there is evidence that a conscious effort was made to spread new recruits to the Irish regiments over the companies, so as to avoid regional cliques developing and so as to shift the men's loyalties towards the regiment and its constituent units and away from the notion of clan and region.
Some Individual Files
The HRI served as a model for the Royal Hospital at Kilmainham, for the Chelsea Hospital and for other similar old soldiers' homes elsewhere in Europe. It was a great military hospital which, apart from caring for incurable cases, also treated disabilities and wounds with a view to the rehabilitation of the men and their return to active service. This happened in rather few cases, however. An instance of an invalid who recovered sufficiently to re-enlist was that of a Dublin man who was admitted to the HRI on 31 March 1763 (7).
Jean Bigg, Irlandois, âgé de 55 ans, Natif de Dublin en Irlande, Soldat au Regt. de Berwick Irlandois, Comp. de…, ou il a Servy 14 ans, Et 19 dans Dillon. Est Incommodé de la suitte d'un Coup de Bayonnette qu'il a Reçu dans les cottes à la Bile, de Fontenoy, et d'un autre Coup à l'Epaule droite à la Bile, de Lawfeldt, est marié, est Cath.
Rentré au Service dans le regt. de recrues de Paris avec permission le 24 7bre. 1763. Retour du Service (date not shown).
Rentré de nouveau au Service dans le regt. de recrues de Limoges avec permission le 6 May 1764.
De Retour du Service sur une route de la Cour Vue au Conseil le 30 8bre 1766.
Bigg was a rare case of a veteran, with 33 years service, who was one of the fortunate few who survived bayonet wounds at the great battles of Fontenoy and Lafelt where the Irish Brigade had a prominent rôle. His two periods of re-enlistment were relatively brief but he took care to get the permission of the HRI authorities on each occasion and was entitled to return there. Soldiers who re-enlisted without prior permission were regarded as deserters and forfeited their rights to a place in the institution.
The story of John Keuouane (Keohane) and two other Irishmen – Denis Galway and Walter Thompson – admitted to the HRI many decades previously, in 1686, is further evidence of the fragility of the staying power of old soldiers who, loath to remain in the restricted forum of the HRI, returned to active service but who found themselves obliged to return to the Hôtel rather soon. John Keohane was admitted on 6 April 1686 and his record is as follows :
Agé de 60 ans, Irlandois de Nation, Caporal du S. de Tronquoy, Regiment de Normandie, ou il a Servi 34 ans, comme il paroist par son Certificat, et dit avoir Servi auparavant 12 ans dans Obrien, Ses blessures joint à son age le mettent hors de Service, et est Catôlique.
Le 8 Octobre 1688, il est rentré au Service dans la Compagnie du S. du Chauson Regiment d'Erlach.
Le 7 Janvier 1689, il est de retour. Le premier Mars 1697, il est décédé.
Galway and Thompson had also re-enlisted on 8 and 19 October 1688, respectively, and both were back on 7 January 1689.
Other veterans who had been accepted as disabled, but who felt sufficiently fit to be detached to serve outside the HRI, were more careless as regards respecting the formality of obtaining prior approval. One such case was that of a Roscommon man (8) admitted on 4 October 1742 whose entry (9) reads as follows :
Bryan Hedin, Irlandois, age de 46 ans, natif de Roscommon en Irlande, Grenadier du Sr. Manery regt. Irlandois de Dillon ou il a Servy 17 ans portés dans son Certificat, a une incontinence d'urine, est paralitique de la jambe gauche par une chutte quil a fait du haut du rempart de Longwy estant en faction, Catôlique.
Le 27 may 1743. Il a esté Rayé des Registres de l'hôtel s'étant Engagé dans le Regmt. de Fitzjames contre les deffences dans un détachement à Boulogne Comp. du Sr. Le Magnern.
The Bureaucratic and Spiritual Aspects of the HRI
The institution was highly bureaucratic in its organisation and followed a legalistic approach, even in instances that could be interpreted to its own benefit. In an edict of April 1674 dealing with finance, Louis XIV stipulated as follows :
…Comme le dit hotel n'étant destiné que pour le logemens, subsistance et entretêment desdits Officiers et Soldats estropiés et Invalides, le fonds ci-dessus mentionné dont nous l'avons doté est suffisant pour y subvenir, Nous voulons qu'il ne puisse être reçu et accepté pour ledit hotel aucunes fondations, dons et gratifications qui pourraient lui être faites par quelques personnes, et pour quelque cause et dans quelque prétexte que ce soit ; comme aussi qu'il ne puisse être fait pour iceluy aucune acquisition d'héritages, ni autres biens ni meubles quelconques, sinon les héritages des environs dud'hotel et qui y sont contigu.
In his last will and testament dated 13 March 1697, Victor de Frezas de Vabres, chevalier de Beaufort, named the HRI as his « légataire universel et particulier ». Having deliberated on the matter, the Council of the HRI decided on 10 October 1710 to refuse the heritage (10). This decision was taken after the extremely harsh winter of 1709 and at a time when there was a major shortfall in public revenues. It shows how conscienciously the authorities followed the rules whilst Louis XIV was alive. Later, however, this rule was relaxed and various bequests were accepted.
The HRI had a major spiritual dimension. The authorities saw to it that the veterans were prepared for the next world and the rules ensured that they attended Mass and respected the Easter duties as well as the Lenten fast. Apparently because the lay workers had been less than satisfactory, nuns of the order of the Sisters of Charity were introduced to give care to the ill and disabled. They proved to be popular with the old soldiers, on whom they lavished attention in the infirmary. There is no trace of a complaint made by the veterans about these nuns although, as garrulous old soldiers, they complained about everything from the quality of the wine to the bread supply. Indeed, during the Revolution, when the religious came under severe pressure, the Sisters in the HRI continued to be respected. On the other hand, the priests ministering there rapidly experienced unfavourable treatment and felt obliged to submit a memorandum « au sujet d'une Délibération de l'Administration pour qu'ils ayent a Justifier, par quittance, des frais de Sacristie » (11).
The Irish Applicants for Admission to the HRI up to 1692
During the period 1675 to 1689, 144 Irishmen applied for admission to the HRI. The following specific places of origin were recorded : 4 from Dublin, 4 from Kilkenny, 2 from Clare, 1 each from Hartiriork, Grand Plac en Irlande, Brosch Eveché d'Osrie and Smits. The others were stated to be « Irlandois de nation », « Irlandois » or « natif d'Irlande ». This absence of precision as to the place of origin of the Irish veterans was made good from 1687 onwards.
A similar problem existed in so far as surnames were concerned. In many instances, the clerk recorded a phonetic rendering of Irish family names : « Abrin », « Guillery », « Torn », « Quellay », « Lye », « Shar », « Hes », and so on. The clerk had less difficulty with the Christian names of the Irish, for most of the first names of the pre-1690 veterans were surprisingly international ; there were relatively few instances of old Celtic first names among these Irish.
The most frequent of the 46 first names they shared were : John, 17 ; James, 13 ; Denis and Thomas, 11 each ; Patrick, 7 ; Daniel, 6 ; and Raymond, Simon and William, 5 each. Denis and Daniel (which could be anglicisations of the old Irish names of Donncha and Donal, as could Alexander and Charles, 4 each, which could be renderings of Alastair and Cathal. Irish first names among these men were Deige (Tadhg), 2 ; Hugh, 2 ; Eugene (Eoghan), 1 ; Manqui (Maincin), 1 ; Niall, 1 ; Sidy (Sioda), 1. Another feature was the presence of names that were specific to certain families : Feilim Borne, Sioda McNamara and Tadhg Kelly, for instance, or Thibaud Bourke. Only one first name, Louis, could be seen to reflect French influence.
Some of these veterans had been wounded at the siege of Maastricht, where d'Artagnan was killed, on 25 June 1673, in dramatic circumstances when he tried to restrain Hamilton's Irish and English lifeguards from making a forlorn attempt to storm the defences. An interesting account of the event is contained in Jean-Christian Petitfils' book « Le véritable d'Artagnan ». Irishmen mentioned being wounded at that historic siege, when seeking admission to the HRI. Others cited wounds received « the day Turenne was killed » on 27 July 1675. Yet other Irish veterans referred to wounds received during the days following that calamity for the French army when four regiments, including Hamilton's with its large Irish content, covered the French retreat. So fierce was the pressure that 15 of the 16 captains in the La Ferté regiment were killed and the commander of the rearguard was also slain.
The Wild Geese of the HRI were survivors
Men admitted to the HRI had to establish a certain minimum length of service, as well as a significant degree of disability attributable to their military service. Because the Irish Brigade was frequently employed as a rearguard or as shock troops in difficult situations, the Brigade's casualties were frequently very heavy, at times. The battle of Lafelt, which was fought a few kilometres to the west of Maastricht on 2 July 1747, can be taken as an example of the costliness of an encounter.
The battle of Fontenoy on 11 May 1745, and the siege of Tournai in April/May 1745 caused heavy casualties in the ranks of the Wild Geese. Substantial picquets had also been sent to Scotland to help Bonnie Prince Charlie. A major recruiting drive had filled the gaps and Lord Clare, the commander of the Irish Brigade was able to write, prior to Lafelt, « …the Brigade being now complete, in a high state of discipline, and as fine a body of fellows as ever stepped on a parade ». So, the Brigade was at full strength before Lafelt.
After Lafelt, on 10 July 1747, the French army drew up a report on its overall strength. Each Irish regiment should have had 645 sergeants, corporals and men, if they were at full strength. However, the roll-call gave the following numbers under arms :

This gave a total of 2,016 men, or 52.1 % of what would have been the full manpower of the Irish Brigade, other than the officer corps. If the situation of the Lally regiment (which had been kept largely in reserve) is excluded, the five other regiments had 49.7 % of their manpower able to bear arms. The review stated that 682 men of the Irish Brigade, or a further 17.6 % of the Brigade's strength, were in military or other hospitals ; a high percentage of these men were unlikely to be fit for active service, ever again. The indications are that over 30 % of the strength of the Irish Brigade was lost in the battle of Lafelt. These heavy losses were known to the enemy. One English officer recorded in his diary that « The Irish Brigade are reduced to fifteen men per Company at most ».
In the 18th century, soldiers dreaded being taken to hospital, because of the high mortality rates in those institutions where conditions were truly terrible. Surgeons relied on bleeding the already weakened and dehydrated wounded ; and the risk of contracting diseases was very great in the unhygienic surroundings. Thus, many of the soldiers shown as fit to bear arms in that review may well have been in a poor condition. The rule whereby a company which fell below the level of ten soldiers lost allowances – for it was no longer considered to be a viable unit – was an incentive to officers to get a maximum turnout.
The officer corps of the Irish Brigade suffered even more heavily than the non-commissioned ; 195 reported present on 10 July 1747 and 141 (40 %) were missing. Overall, the erosion of the Brigade's manpower was heavy. In addition to losses in battles, sieges and skirmishes, there were steady ongoing losses of the order of 6 % a year through disease and through men leaving when their contract had expired – although every effort was made to retain them.
Recruitment
Recruitment for the Irish Brigade was continuous. As far as possible, the Brigade tried to find Irish, English or Scottish recruits. The process was fraught with danger but the bounties paid were so great that agents took terrible risks. After Fontenoy, Daniel White slipped into the English camp during August 1745 and was caught, as recorded in Skrine's book Fontenoy. He was « …try's for endeavouring to seduce men to desert, (sentenced) to receive 1000 lashes at the head of every brigade of foot of ye Line, and never to appear in camp or garrison, on pain of being hanged. To begin to-morrow, and continue as ye Provost shall find him able to bear it ». This was virtually a death sentence.
Chapter 7 of Aisling Ghéar by Breandân O Buachalla records that in Dublin on one day in the month of July 1714, twenty one men were hanged in connection with enlistment for the Stuart cause. That chapter of his book gives considerable details of many other draconian measures taken, over the decades, to discourage recruitment for the Irish Brigade.
Recruiting agents also operated in England, Scotland and Wales. O' Conor in his book The Irish Brigades in the Service of France describes how indiscreet recruiters « …passed over to England, where they made engagements in London and Dover, with so little caution, and so much notoriety, that some of them were arrested, and one of the sergeants of Rothe's regiment, besides some others, was hanged ».
John Offarell was among the Wild Geese recruiting officers who had an exciting life and survived to enter the HRI. He was admitted on 22 July 1769 and his entry is as follows :
Irlandois, age de 63 ans, natif de Monasteroray en Irlande, Province de Linster, cy devant Cavalier au Regiment de Fitzjames Cavalerie ou il a Servi environ 10 ans, ensuitte est entré dans Berwick Irlandois ou il a Servi 35 ans en qualité d'officier recruteur suivant la Lettre du Ministre du 21 du Courant, n'ayant produit aucune preuves du tems de sa service, ayant été forcé de Brûler tous ses Papiers lorsqu'il fut Poursuivi par les Anglois faisant recrues pour les Regiments Irlandois au Service de France – motif qui l'a privé de tous ses biens dans sa Patrie depuis 1765 ou il ne peut plus retourner, est marié, est Catholique.
Le 29 Novembre 1782. Mort à l'hôpital de Montreuil sur Mer étant Détaché, Comp. de la Haye.
Homesickness
It is evident from the HRI records that the Wild Geese were homesick. The following are some examples that illustrate this feeling. Robert Ashe :
Irlandois de nation aagé de 28 ans, Soldat de Macnamara au regiment d'Amilton ou il a Servy 4 ans est entièrement hors d'Estat de continuer Ses Services pour avoir eu les reins rompus par des chevaux qui le foulèrent aux pieds la campagne dernière au passage du Rhin, est porteur du congé de son Capitaine donné à Toul le 10 may der. auql. lieu il a demeuré depuis ce temps, n'est pas marié et est catoliq…
Le 22 aoust 1676 a demandé a se retirer en son pays ce qu'on luy a accordé et on luy a donné L 24.
This man was apparently badly disabled and unfit for further service. Had he opted to stay in the HRI, he could have been there for many decades. By allowing him to return to Ireland with a modest sum, the authorities freed a space for another veteran.
John Quetin (Keating) was another similar case :
Irlandois, aagé de 35 ans, soldat dans la Compagnie du Sr. de Macnamara capn. au regim. d'Hamilton ou il a servy deux ans, et d'où il sort présentement. Est estroppié d'une chute quil fit au combat de Sinsem qui l'empesche de continuer a rendre Service, est porteur du Congé de son Capitaine en datte du 1er 7bre. dernier, n'est pas marié et est Catholique, receu comme soldat le 23 may 1676.
Le 25 Janvier 1677. Il a demandé a renoncer pour se retirer en son pays et a receu 15 L outre son habit et deux garnitures de linge.
George Torn was in a different situation :
Irlandois de Nation, aagé de 40, soldat de Macarty au regiment d'Amilton ou il a Servy 6 ans, ne peut plus continuer ses Services pour estre demeuré entrepris de ses Jambes par un Rumatisme qui luy est survenu avec d'autres incommoditez comm'il appert par le Certificat du médecin de l'hospital de Toul en datte du 20 Juillet der. n'est pas marié et est Catolique.
Le 15 Aoust 1676. Refusé attendu qu'il n'est pas estropié et qu'il n'a pas le service necessaire… On luy a donné 15 L pour s'en aller en son Pays d'où il doit revenir lors qu'il sera guery.
Thomas Hayes, age not given, was not admitted, because he had only four years' service and because he suffered from scrofula, a contagious disease, was not admitted but was given 15 L to travel to Ireland. Thomas Donnines, aged 24, Matthew Kenne, aged 44, and John Morphey, aged 70, all opted to return to Ireland, after a short stay in the HRI. Thorilde Magdaniel, aged 24, who had had « quatre doigts de la main gauche emporté d'un coup de mousquet au combat de Saverne », was considered for admission on 12 September 1676. « Ayant esté jugé de qualité a estre receu, a mieux aimé retourner en son pays et on luy a donné 24 L pour cet efet ».
After a stay of 30 months, John Kelly aged 38, « estant parfaitement guery » was « renvoyé chez Luy et on luy a donné 15 Lie 12 Decemb. 1678 ».
James Sheridan, aged 24 who had five years' service, had a « passport du Sr. Britton son Major, et (un) Certificat du médecin de l'hopistal de Toul dattes le 19 May 1676 comme pour guérir de sa maladie, il faut qu'il reprenne son air natal, n'est pas marié… ». On 13 June 1676, he was refused admission, « attendu qu 'il n 'est point estropié et que le Certificat que le médecin luy a donné est pour retourner en son pays. On luy a donné 15 L ».
It is evident that many of the Wild Geese who could have remained in the comfort of the HRI opted to return to Ireland even though conditions there were precarious and where, being disabled, they were ill-equipped to earn a living. After the Treaty of Limerick, it is noteworthy that the Irish veterans who were admitted to the HRI ceased to abandon their right to a place in exchange for a payment of travel costs to Ireland.
Marriage
An examination of the lists of those admitted to the HRI shows that the rate of marriage among Irish soldiers was appreciably higher than the rate of marriage among men in the French regiments. This was partly attributable to the fact that large numbers of female dependants accompanied the Irish into exile in France and, despite the risky nature of military life, attempts were made to establish a sort of normality. Indeed, the records show that married men had a longer life expectancy, which may have been attributable to the fact that the care given to them by their spouse when ill or wounded made the difference between life and death. Life for these soldiers' wives was harsh, because of the constant movement from camp to camp. When the husband died, there was no source of income and widows and orphans suffered great privation. The following section outlines the stories of two Wild Geese families : the O Toole family which experienced great hardships, and the Finnegan family which fared quite well.
The O'Toole family
In mid 1729, the widow O Toole wrote for help. Her husband, an Irish captain, had been killed in the service of France. The file stated that the Marquis de Pontchartrain had taken five sons into his company of gendarmes ; however, the widow asked that the pay of her sixth son, who had died recently, be given to her or « quelqu 'autre secours pour sa fille et pour elle, n'ayant pas de pain ». On 6 August 1729, Mrs. O Toole, « veuve d'un Gentilhomme irlandoise » was given a pension of 240 livres. However, because they were poor, the sons could not purchase a commission, and the Irish colonels were not prepared to give them one gratis.
In June 1 736, the family recalled the three campaigns in Germany in which the sons had participated, their service in Italy and the loss of their father in the King's service. They drew attention to the fact that three of the brothers « ont mené 65 hommes de recrue en Italie dans le régiment d'Auvergne, dont le Colonel est très content ». M. de la Billardrie wrote of them to Cardinal Fleury, « …étant ici depuis 15 jours à ne savoir où donner la tête, n 'ayant pas le sol, et ne sachant où en avoir, Ils Espèrent que votre Eminence sera sensible à la triste situation… ».
By July 1737, three of them, Victor, Etienne and Louis, « sont entrés Gardes du Corps dans la Comp. de Noailles » and the two others, Nicolas and Louis, « sont entrés Gardes du Corps dans la compagnie d'Harcourt ».
Nicolas O Toole had his horse killed under him on the Main on 27 June 1743 « ou il s'est trouvé avec ses frères ». Surrounded and cut off from the rest, he received :
10 Blesures, sçavoir un coup de feu au front, un autre lui traverse la main gauche, un 3e à la cuisse, 6 coups de Bayonnette dans les cuisses et au Bras, et un coup de Sabre sur le côté gauche…, a été entièrement dépouillé, et fait prisonnier de guerre après avoir resté 3 heurs d'orloge sur le champ de Bataille sans connoissance et noyé dans son sang…
Nicolas was admitted to the HRI on 16 February 1747, and died at Landskron, on detachment, on 29 January 1754.
Louis Otoole, aged 40, was admitted to the HRI on 7 May 1744. He was stated to be a native of Sedan sur Meuse, « Garde du Corps du Roi de la compagnie commandé par M. le Duc d'Harcourt, brigade de la Luzerne, où il a servi 8 ans, auparavant 7 ans dans le régiment de Poitou, 4 ans volontaire dans celui de Dillon et 4 ans volontaire dans le régiment de Tallard ». He was « incommodé d'un crachement de sang occasionné par les fatigues de Cheval ». On the orders of Count d'Argenson, he was « reçu en qualité d'officier ». He died at Fratre de Mollo, on detachment, on 24 January 1774.
Etienne died at Lille on 15 May 1745 of wounds received at Fontenoy. There is a white marble plaque in the chapel of the Hospice Comtesse at Lille which commemorates him – « Etienne Otoole, garde du corps du Roy, de la compagnie de Noailles, brigade d'ordre » – and 29 others, including three Irish officers.
A third brother, Jean, was admitted to the HRI on 27 April 1747. Aged 47, and described as a native of Raucour near Sedan, he was a
Garde du Corps du Roi de la compagnie commandé par… le Duc maréchal de Noailles… où il a servi 11 ans, auparavant 20 ans en qualité d'officier, est incommodé des douleurs de Rhumatisme universel, est marié. He had « un ordre du comte d'Argenson pour estre receu en qualité d'officier avec 200 livres de pension… que Sa Majesté a bien voulu luy conserver… ».
The family's fortunes remained fragile, over the decades. Mrs. O Toole died early in 1743. In a summary dated 8 August 1743, it was stated that Nicolas O Toole « Demande tant pour luy que pour ses 4 frères, la continuation des 240 livres de pension dont jouissoit sa mère mort depuis 6 mois et qui luy avoient été accordés en consideration des Services du feu leur père… ».
The précis went on to state « Ajoute qu'ils sont Etrangers, n'ont d'autres ressources pour vivre que les bienfaits du Roy, et que la grace qu 'il demande servira à les ayder à se soutenir au Service, et a Secourir leur soeur qui est dans le besoin ». It is clear that, even though born in France, they were still regarded as Irish and foreigners.
The rather happier fortunes of another Irish family, the Finnegans, which became more fully integrated, are described below.
Brigadier Edmund Finnegan
Cross-walks between the various archives make it possible to trace careers. One interesting case of an Irishman who was admitted to the HRI was that of Brigadier Edmund Finnegan of the Fitzjames Irish cavalry regiment. This trooper's military discharge and permission to go to the HRI is among the papers filed in the de la Ponce documents conserved in Dublin (12). His discharge states :
Nous soussignés, certifions à tous ceux qu'il appartiendra, avoir donné Congé absolu pour aller à L'hôtel Royale au nommé Edmund Finnegan dit Finnegan Brigadier de la Compagnie de Fergus O Ferrall au Régiment de Fitzjames natif de Caselbillingham en la Province de Ultonie en Irlande jurisdiction de Dundalk âgé de 42 ans, de la taille de cinq pieds et six pouces les Cheveux et Sourcils Chatins les yeux gris le visage assez rond et bien fait de sa taille ayant servi sa Majesté vingt cinq ans en honette homme et bon Sujet sans reproche et donnant dans plusieurs occasions des preuves de sa Bravoure.
Faite à Haguenau le 16 Avril 1763.
The discharge was signed by his captain, O ffarrell of Ballintober, certified by MacDermott, the Aide Major of the Regiment, and given the visa of d'Argenson. Unusually, the foot of the discharge bore a special written permission, signed by de Geraldin, which authorised Finnegan to travel to Louvain to collect some of his effects, before going to the Invalides. This gives an interesting insight into the lives of Irish (and other) troopers who could transport only a limited amount of baggage with them on active service, and who had to leave their surplus effects in a safe place – which in Finnegan's case was probably the Franciscan college.
The HRI registers (13) show that he was admitted on 12 May 1763 with 24 other Irish – the largest number of Irish to be admitted on a single day.
25 other troopers of the Fitzjames cavalry regiment who were non-Irish were also admitted that day. The record states that he « had been shot through the neck at the affair of 24 June last ». (That was a reference to the last battle of the Fitzjames regiment, at Graebenstein near Cassel in Germany, when the regiment suffered heavy casualties covering the retreat of the French army) . The record stated also that he was married. He did not remain in the HRI, for he died in the town and parish of Faoüet in Brittany, being on pension, on 17 November 1777.
The parish records of Faoùet in Morbihan show that he was buried in the church cemetery the following day, in the presence of his widow, Mariejosephe Talhouarn, his son, Thomas Fenigan, and maître Jean Marie Talhouarn, Notaire royal, his brother-in-law.
Like the families of other Wild Geese, the Finnegans turned from the military way of life to law, and became assimilated in French – or Breton – circles, as the following paragraphs show.
On 16 October 1785, Edmond's son, Thomas Marie Fenigan, « avocat à la Cour », married Marie Anne Mancel, daughter of the late Maître Yves Jean Mancel, « procureur, notaire et receveur du domaine royal de Locronan », at Châteaulin, Finistère.
On 28 August 1825, Edouard Esprit Marie Fenigan, « avoué prés le tribunal de Châteaulin, né à Quimper le 27 mai 1798 », son of Thomas Marie Finegan, « avocat à la cour royale de Rennes », married Mélanie Foucault born at Chalonne, Maine et Loire, on 10 January 1808. She was the daughter of François Robert Foucault « receveur de l'enregistrement à Châteaulin ». Marie Anne Mancel had died at Rennes on 14 February 1809. Among the witnesses were the bridegroom's brother, Lilas-Thomas Finegan, docteur en droit, aged 31, and Thomas Alain O'Finegan, « principal clerc de Notaire à Rennes », aged 25. In all, five Finnegans signed the registration of this marriage.
Mélanie Finegan, born at Châteaulin on 14 June 1826, daughter of Edouard Esprit Marie Finegan and Mélanie Foucault, « propriétaire », married Raimond Bernard, « contrôleur des contributions », on 31 August 1846. Among the witnesses were Lilas-Thomas Finegan, aged 52, « conseiller à la Cour Royale à Rennes, Chevalier de la Légion d'honneur », her uncle, and Thomas Alain Finegan, aged 46, « avoué à Rennes » (14).
Some Black Sheep
The vast majority of the Irish who were admitted to the HRI were disciplined and drew no adverse comment from the authorities. However, there were some who gave rise to serious disciplinary problems. The reasons for their lapses were threefold : the consequences of excessive drinking, deranged because of the stress of battie or head wounds, or indiscipline. The following files are illustrative of some of the Irish cases.
Philip Reddan, aged 59, a native of Limerick, who had 24 years' service, was found to be unfit for further service, on 22 March 1715. He suffered from hernia and the effects of a sabre blow to the left ear as well as other wounds. Being mobile, he was not admitted to the HRI but was sent on detachment to the Isles Ste. Marguerittes. There, he became unmanageable as his record shows :
…Estant fort adonné au vin, mutin séditieux et Incorrigible estant en prison pour ce sujet. Le Sieur Sinsti Comre. des gardes voulait faire la Revue de cette Compagnie le 3 aoust de cette année demande de le faire sortir de prison pour le faire voire dans les rangs. En estant arrivé il avoit jette ses armes et refusait de les reprendre ce quil aurait fait après plusieurs menaces et Solicitations le Procès Verbal étant à l'occasion de ce soldat que pour 4 autres Irlandois yvrognes et mutineux de cette mesme Compagnie, et envoyé à Monseigneur Le Blanc qui ordonna que le dit Philippes Rhedan Irlandois Seroit Chassé de la Compagnie et de l'hôtel ce qui à esté exécuté le… 26 Septembre 1717.
Reddan 's indiscipline was an internal army matter. In other armies of the time, the consequence would have been a flogging prior to expulsion. The problems for the HRI were greater when breaches of law and order involved members of the public. One such incident concerned William Power, a native of Waterford, aged 30, who was admitted to the HRI on 2 December 1694. A sergeant in Brian O Rourke's company, « régiment de la Reine d'Angleterre » where he had seven years' service, his file reads as follows :
…A eu les bouts des deux pieds emportez d'un coup de Canon qu'il receut à la Battaille de la Marsaille ce qui le met hors de Service…
Le 9 Janvier 1703, il a esté conduit à Bicestre par ordre de Monseigneur Chamillart, pour trois ans, pour avoir donné des coups de Baton à un Prestre, et insulté beaucoup d'autres personnes dans la rue de Grenelle.
Le 20 décembre 1704 il est de retour à l'hôtel monseigneur Chamillart luy ayant fait grace.
Le 12 Septembre 1730. Il est Decedé.
Again, the institution had acted with great moderation towards an unruly veteran. He could have been expelled, which would have reduced him to indigence. Bicestre was a tough prison cum hospital and a period there served as a warning to others and would have tamed Power. By waiving two-thirds of the sentence, Chamillart showed clemency.
On 20 August 1693, Francis Higgins of Offaly, also aged 30 and a carabinier in Tobin 's company, régiment Royal Anglois, where he claimed he had served for two years and had previously served for three years in Ireland, was admitted to the status of invalid. He was :
« …estropié de la main gauche d'un coup de Sabre qu'il receut estant dans un détachement entre Marche et Liège, joint à d'autres blessures…».
On 5 May 1700, « a dezerté de la Compagnie du Pierle Capitaine au Detachmt. en Garnison à Amiens, après avoir tué le Nommé Jean Gauthier de Champagne ».
This was a capital offence and other invalids were hanged for similar killings. Higgins was wise to make a run for his life.
In a rather similar incident, David Condon, a Corkman whose left arm was crippled at Cremona, was killed by his comrade, William Dwyer of Tipperary, on 4June 1705. Dwyer also fled after the incident and does not appear to have been captured. These and other examples of extreme violence displayed by these ex-soldiers showed how brittle their tempers could be.
Affairs of the heart
As mentioned above, Irish soldiers in 18th century France were more likely to marry than were soldiers from other regions. Some of the unmarried Irish veterans who were admitted to the status of invalid, and who were already quite elderly, abandoned the security of the status and effectively eloped.
Nicolas Locke, a native of Dublin, was one such case. A trooper with 23 years' service in Francis Nugent's troop of Nugent's cavalry, he was admitted to the status of invalid on 5 April 1715, at the age of 58, because of his poor sight and other infirmities. Five years later, on detachment, his association with a woman came to the attention of his captain who had him confined to prison until he promised not to have anything more to do with her. The outcome is stated in his record :
…Estant de la Compagnie du Sieur de Mouchy au détachement en garnison au fort de Barraux ayant porté avec luy la Ceinture el la Baionette de la Compagnie avec son pass qu'il avoit receu pour 8 jours et une demi-quintal de froment et ce pour se marier avec une gueuse qu'il a emmené malgré le deffence que le Capitaine luy avoit fait de se marier l'ayant même tenu deux mois en prison d'où il n'avoit sorti que par la promesse qu'il avoit fait de n'y plus penser ce qu'il n'a pas fait ayant dezerté le lendemain. C'est pourquoy il a esté rayé le 2 mars 1722.
At that stage, Locke was 65 years old, with bad eyesight, almost unemployable, and his poverty was illustrated by his taking a small quantity of wheat. He was not heard from again and, despite the fact that he had stolen some military equipment, no active pursuit was launched. It is evident that the authorities knew more about his movements than was set out in the formal file endorsement. However, had he been arrested, the HRI would then have had the disagreeable problem of courtmartialling this old soldier for desertion and, secondly, for marrying without prior permission. By leaving, he actually released a place for some other veteran. The strict position adopted by the authorities in forbidding marriage of such old soldiers was related to the associated problem of accommodation. Nevertheless, if an old soldier appealed in such circumstances and had representations made on his behalf, he stood a chance of being rehabilitated. However, in Locke's case, his breach of the prior permission rule was aggravated by his stealing army property and he would have been unlikely to be forgiven.
Conclusion
When the Treaty of Limerick was signed, the Irish officers and men who remained loyal to James II and who had opted to follow Sarsfield sailed into exile in France. Their numbers appear to have totalled 19 000 and the first contingent landed at Brest on 3 December 1691. These experienced soldiers were reorganised into new formations and pressed into action in the armies of Louis XIV They comprised several regiments of foreign troops known later as the Irish Brigade and popularly called the Wild Geese. Recruitment continued until the 1780s.
Casualties in these regiments were heavy and the survivors made up the Irish contingent in the HRI. In addition to those who served in the Irish regiments loyal to the Stuarts, other Irishmen served in French regiments. The particulars of the military careers of these Irishmen, conserved in the HRI records, give a new insight into recruitment areas in Ireland – every region of Ireland wras represented but Munster counties provided the larger cohorts -, the organisation of the regiments, the battles and sieges in which they were involved, marital status and longevity. For the children of the Wild Geese, conditions were difficult, as illustrated by the Otoole family, because they were still regarded as foreigners. However, many were assimilated into the French population and, like the Finnegan family, turned to civil pursuits.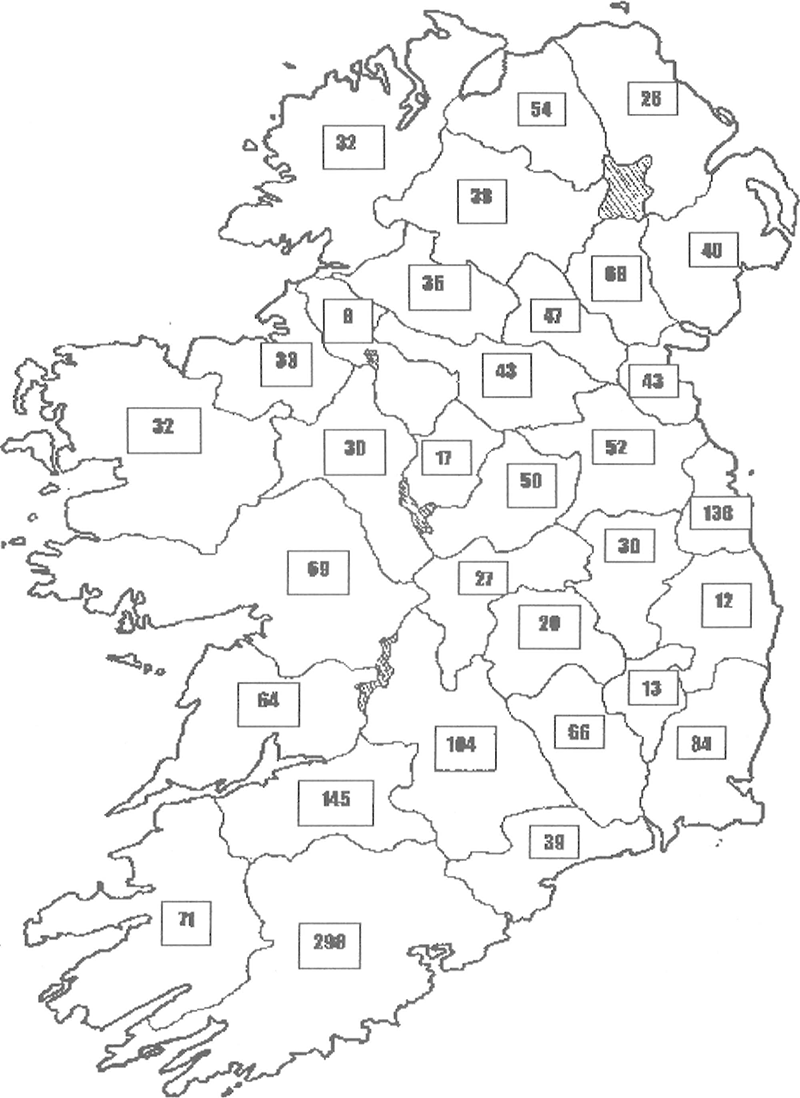 Numbers of Irish who applied to the HRI 1690-1769 by county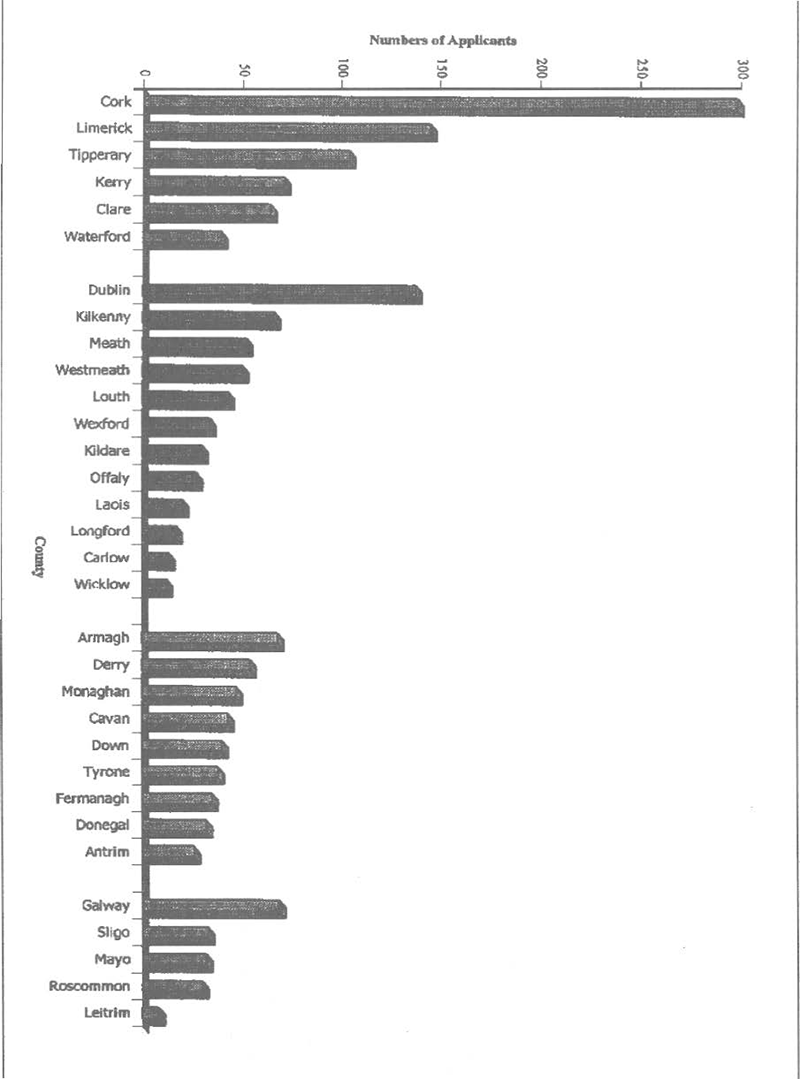 Numbers of Irish who applied to the HRI 1690-1769 by county
(1) See « Les oies sauvages et sédentarisées : la migration irlandaise en France au XVIIe siècle et les familles irlandaises en Bretagne », Dr. Eamon O Cîosâin, Congrès National de Généalogie, Brest, 14 au 16 mai 1999.
(2) Series Xy.
(3) Testament du Roy, 2 août 1714, Bibliothèque Nat., Lb 37 4442.
(4) L'Hôtel Royal des Invalides, Robert Burnand, Berger-Levrault, Paris, 1913.
(5)Jean-Pierre Bois, Les Anciens Soldats dans la Société Française au XVIIIe Siècle, Economica, Paris, 1990.
(6) An analysis of the Cork cohort is contained in the «Journal of the Cork Historical and Archaeological Society », 2000.
(7) Vol. 40, n° 92063.
(8) An analysis of Roscommon men who applied for admission to the HRI is contained in the « County Roscommon Historical and Archaeological Society Journal », 2000.
(9) Vol. 31, n° 63276.
(10) SHAT, HRI papers, carton 13.
(11) HRI Council record of proceedings of 18 September 1791.
(12) Royal Irish Academy, Mss. 12. N, pp. 13-14, item 470.
(13) Vol. 41, n° 94658.
(14) I am grateful to M. Alain Loncle de Forville of Nantes for researching this information on the descendants of Brigadier Edmund Finnegan.
Source: O Hannracháin Eoghan. Who Were the « Wild Geese ». In: Études irlandaises, n°25-1, 2000. pp. 105-123.
Persée – Who Were the « Wild Geese », O Hannracháin Eoghan, 2000.